Early goal-directed therapy in severe sepsis and septic shock: insights and comparisons to ProCESS, ProMISe, and ARISE
Abstract
Prior to 2001 there was no standard for early management of severe sepsis and septic shock in the emergency department. In the presence of standard or usual care, the prevailing mortality was over 40-50 %. In response, a systems-based approach, similar to that in acute myocardial infarction, stroke and trauma, called early goal-directed therapy was compared to standard care and this clinical trial resulted in a significant mortality reduction. Since the publication of that trial, similar outcome benefits have been reported in over 70 observational and randomized controlled studies comprising over 70,000 patients. As a result, early goal-directed therapy was largely incorporated into the first 6 hours of sepsis management (resuscitation bundle) adopted by the Surviving Sepsis Campaign and disseminated internationally as the standard of care for early sepsis management. Recently a trio of trials (ProCESS, ARISE, and ProMISe), while reporting an all-time low sepsis mortality, question the continued need for all of the elements of early goal-directed therapy or the need for protocolized care for patients with severe and septic shock. A review of the early hemodynamic pathogenesis, historical development, and definition of early goal-directed therapy, comparing trial conduction methodology and the changing landscape of sepsis mortality, are essential for an appropriate interpretation of these trials and their conclusions.
Keywords
Septic ShockSystemic Inflammatory Response SyndromeIntensive Care Unit AdmissionCentral Venous PressureSurvive Sepsis Campaign
Background
The early physiologic-hemodynamic response to severe sepsis and septic shock
In animal and human models of early sepsis, global tissue hypoxia results from hemodynamic perturbations that create an imbalance between systemic oxygen delivery and demands. These perturbations can include hypovolemia, decreased vasomotor tone, decreased arterial oxygen content, myocardial depression, increased metabolic demands, and impairment of systemic oxygen utilization via microcirculatory or mitochondrial derangements (cytopathic tissue hypoxia) [1]. A critical decrease in systemic oxygen delivery is followed by an increase in the systemic oxygen extraction ratio and a decrease in mixed or central venous (SvO2 or ScvO2) oxygen saturation. Anaerobic metabolism ensues when the limits of this compensatory mechanism cannot maintain systemic oxygen consumption leading to lactate production [2]. The final, and often terminal, stage is an impairment of systemic oxygen utilization. Patients in this stage have elevated ScvO2, increased lactate, and decreased systemic oxygen consumption (Additional file 1: Figure S1).
As a result of this early response, distinct hemodynamic phenotypes emerge. Characterizing patients by distinct hemodynamic phenotypes using ScvO2, lactate, and blood pressure provides diagnostic, therapeutic, and prognostic staging of sepsis for study comparisons. These hemodynamic phenotypes reflect distinct stages along a continuum of disease whether pre-hospital, in the emergency department (ED), on general practice floors or in the intensive care unit (ICU) setting.
The history and development of early goal-directed therapy (EGDT)
Beginning in the early 1990s, the EGDT Collaborative Group challenged the paradigm of sepsis care as an "ICU disease" by applying similar urgent diagnostic and therapeutic principles as used for acute myocardial infarction, stroke, and trauma at the point of presentation in the ED. At that time, no structured formal worldwide accepted protocols for early identification and treatment of patients with sepsis existed. The observations of high mortality, fractured, and unstructured care triggered a series of investigations using a system-based approach to identify delays in patient diagnosis and care before hospital admission. Combining system issues with the early pathogenesis and natural progression of sepsis required the development of unique diagnostic and risk stratification criteria to detect patients at risk and most likely to benefit (Fig.
1
) [
3
].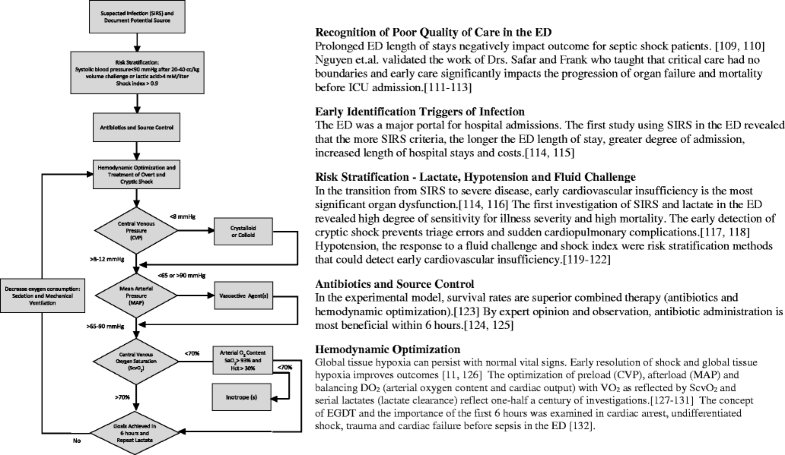 From EGDT to ProCESS, ARISE and ProMISe
EGDT is comprised of early identification of high-risk patients, appropriate cultures, source control, and administration of appropriate antibiotics. This is followed by early hemodynamic optimization of oxygen delivery, guided by preload (central venous pressure (CVP) or surrogate targeting with fluids), afterload (mean arterial pressure (MAP) targeted with vasopressors), arterial oxygen content (packed red blood cells and/or oxygen supplementation), contractility (inotropic agents), and decreasing oxygen consumption (mechanical ventilation and sedation), and guided by ScvO2. These principles were essentially best practice recommendations for sepsis management in the ICU setting (Fig. 1) [4].
After observing a local hospital mortality of over 50 % for severe sepsis and septic shock, an institutional quality improvement initiative led to the randomized controlled trial of EGDT between 1997 and 2000 [3]. After validity, reliability, and feasibility testing across multiple healthcare settings both nationally and internationally for over a decade, EGDT became part of the fundamental components of the sepsis resuscitation bundle for the Surviving Sepsis Campaign (SSC), the National Quality Forum and Centers for Medicare and Medicaid Services [5].
Since the EGDT publication, significant scientific interest was generated to "disassemble or unbundle" early sepsis resuscitation and question the value of its individual components [6, 7]. Even though EGDT was based on a series of investigations to systematically improve sepsis outcomes, it has been inappropriately characterized as a hemodynamic optimization study driven by CVP and ScvO2 as targets for early shock resolution [8–11]. There was also the additional question of its external validity because it was a single center study with an "unusually high" control group mortality of 46.5 %. Recently, a "trio of trials" which examined versions of EGDT called ProCESS (Protocol-Based Care for Early Septic Shock), ARISE (Australasian Resuscitation in Sepsis Evaluation) and ProMISe (Protocolized Management in Sepsis) were published from a related consortium of investigators [12–14].
The trio of trials of EGDT reported an unprecedented all-time low in sepsis mortality for all treatment groups compared to historical controls (Table
1
). However, they concluded: "EGDT does not show improved survival for patients randomized to receive EGDT compared to usual care or to less invasive alternative hemodynamic resuscitation protocols. EGDT is, however, associated with increased admission to ICU. Our findings do not support the systematic use of EGDT in the management of all patients with septic shock or its inclusion in the Surviving Sepsis Campaign guidelines" [
15
]. The purpose of this review is to provide the reader with the critical information needed to objectively interpret the purpose, methodology, results, and conclusion of the trio of EGDT trials [
16
–
19
].
Table 1
Comparison of observational studies before and during the EGDT, ProCESS, ProMISe and ARISE trials
Studies

Year

Mortality before (%)a

Mortality after (%)b

EGDT [3]

1997–2000

46.5

30.5

Shanker-Hari et al. (septic shock) [96] (n = 52, n = 166,479)

1993-2015

46.5

n/a

US observational Studies

Dombrovsky et al. (severe sepsis) [133]

2001

40.3

n/a

Ani et al. (severe sepsis) [134]

1999–2008

40.0

27.8

Stevenson et al. [135]

1993–2009

46.9

29.2

Kumar et al. (severe sepsis) [136]

2003–2009

39.6

27.3

Kumar et al. (septic shock) [136]

2000–2007

47.1

36.4

Mechanically ventilated patients [60]

2002–2012

64.1

39.7

Studies of EGDT (number of studies, number of patients)

2001–2016

45.8

28.5

Prospective observational (n = 38, n = 66,862) [43, 87, 91, 93, 94, 141–174]

2001–2016

40.3

27.6

Prospective with historical controls (n = 9, n = 2250) [175–183]

2001–2016

45.5

29.6

2001–2016

41.1

24.7

Randomized control trials (n = 11, n = 5756) [3, 12–14, 79, 194–199]

2001–2016

31.3

26.2

ProCESS [12]

2008–2013

18.9

19-20

United Kingdom observational studies

Padkin et al. [200]

1995–2000

47.0

n/a

Gao et al. [148]

2004–2005

55.0

29.0

Reuben et al. [201]

2004–2005

43.0

n/a

Melville et al. [202]

2005–2008

51.9

41.3

Daniels et al. [203]

2007–2008

44.1

20.0

Sivayoham et al. [189]

2006–2009

42.8

22.7

ProMISe [14]

2011–2014

25.6

24.6

Australia and New Zealand observational studies

Finfer et al. (severe sepsis) [204]

1999

37.5

n/a

Kaukonen et al. (severe sepsis, with co morbidities) [205]

2000–2012

46.3

23.4

Kaukonen et al. (severe sepsis) [205]

2000–2012

30.2

14.2

Kaukonen et al. (septic shock) [205]

2000–2012

40.3

22.0

ARISE [13]

2008–2014

18.8

18.6
Conclusions
EGDT has been shown to have internal and external validity in reducing mortality for the treatment of severe sepsis and septic shock. The various approaches examined by the trio of EGDT trials suggest that alternative strategies can provide an equal reduction in mortality. However, as a result of multiple methodological differences when compared to the original EGDT trial (including undefined usual care), the external validity of these alternative strategies remain to be determined. The combination of a diminishing treatment effect between these alternative strategies and EGDT, along with a global reduction in sepsis mortality over the last 15 years, can render even well-conducted control trials underpowered and inconclusive.
The trio of EGDT trials provides enormous insight into explaining the discrepancy in trials attempting to replicate a previously positive trial over a decade later. It has been shown that large prospective observational studies which have confirmed the external validity and reliability of the EGDT trial provide an equally reliable scientific alternative to randomized control trials [17–19, 107, 108].
In this era of global reductions in sepsis mortality, clinicians should view EGDT as a verb (series of actions) rather than a noun. Future research should focus on the precision for using invasive or non-invasive approaches at the initial presentation of high risk patients.
Abbreviations
ALI:

acute lung injury
APACHE:

Acute Physiology and Chronic Health Evaluation
ARISE:

Australasian Resuscitation in Sepsis Evaluation
CVC:

central venous catheter
CVP:

central venous pressure
ED:

emergency department
EGDT:

Early Goal-Directed Therapy
ICU:

intensive care unit
ITT:

intention-to-treat
ProCESS:

Protocol-Based Care for Early Septic Shock
ProMISe:

Protocolized Management in Sepsis
ScvO2 :

central venous oxygen saturation
SIRS:

systemic inflammatory response syndrome
SSC:

Surviving Sepsis Campaign
SvO2 :

mixed venous oxygen saturation
Declarations
Acknowledgement
We would like to thank Stephanie Stebens, MLIS, AHIP (Librarian, Sladen Library, K-17, Henry Ford Hospital, 2799 West Grand Blvd, Detroit, MI, 48202), for her help with the manuscript.
Authors' contributions
All authors read and approved the final manuscript.
Competing interests
The authors declare that they have no competing interests. The EGDT study was funded by Henry Ford Hospital Fund for Research. The EGDT study was performed without extramural (academic or industry) funding. All catheters used and equipment in the study were paid for by Henry Ford Hospital to Edwards Lifesciences. Emanuel P. Rivers received no compensation from industry during the conduct of the trials and has never received compensation for any intellectual properties related to this study. Steven Q. Simpson has lectured for the Surviving Sepsis Campaign.
Open AccessThis article is distributed under the terms of the Creative Commons Attribution 4.0 International License (http://creativecommons.org/licenses/by/4.0/), which permits unrestricted use, distribution, and reproduction in any medium, provided you give appropriate credit to the original author(s) and the source, provide a link to the Creative Commons license, and indicate if changes were made. The Creative Commons Public Domain Dedication waiver (http://creativecommons.org/publicdomain/zero/1.0/) applies to the data made available in this article, unless otherwise stated.
Authors' Affiliations
(1)
Department of Medicine, Pulmonary and Critical Care Medicine, Loma Linda University, Loma Linda, USA
(2)
Department of Emergency Medicine, Loma Linda University, Loma Linda, USA
(3)
Department of Emergency Medicine, Henry Ford Hospital, Wayne State University, Detroit, USA
(4)
Division of Pulmonary and Critical Care Medicine, Mayo Clinic Rochester, Rochester, USA
(5)
Department of Medicine, Pulmonary and Critical Care Medicine, Vanderbilt University, Nashville, USA
(6)
Department of Medicine, Pulmonary and Critical Care Medicine, Henry Ford Hospital, Wayne State University, Detroit, USA
(7)
Department of Medicine, Pulmonary and Critical Care Medicine, University of Kentucky, Lexington, USA
(8)
Department of Internal Medicine, Mercy Hospital Medical Center, Chicago, USA
(9)
Department of Internal Medicine, Division of Critical Care Medicine, University of Texas Health Science Center at Houston, Houston, USA
(10)
Department of Internal Medicine, Henry Ford Hospital, Wayne State University, Detroit, USA
(11)
CONEVID, Conocimiento y Evidencia Research Unit, Universidad Peruana Cayetano Heredia, Lima, PERU
(12)
Department of Emergency Medicine, Massachusetts General Hospital, Harvard Medical School, Boston, USA
(13)
Pulmonary and Critical Care Medicine, California Pacific Medical Center, San Francisco, USA
(14)
Pulmonary and Critical Care Medicine, University of Kansas, Kansas City, USA
(15)
Department of Emergency Medicine, Orlando Regional Medical Center, Orlando, USA
(16)
University of Central Florida College of Medicine, Orlando, USA
(17)
University of Florida College of Medicine, Orlando, USA
(18)
University of South Florida College of Medicine, Orlando, USA
(19)
Florida State University College of Medicine, Orlando, USA
(20)
Department of Surgery, Division of Surgical Critical Care, Icahn School of Medicine, Mount Sinai Hospital,, New York, USA
(21)
Department of Surgery, Henry Ford Hospital, Wayne State University, Detroit, USA
(22)
Department of Quality Assurance, Aspirus Hospital, Iron River, USA