The apelinergic system as an alternative to catecholamines in low-output septic shock
Received: 7 November 2017
Accepted: 3 January 2018
Published: 19 January 2018
Septic shock is a life-threatening condition initiated by an acute systemic inflammation with unbalanced host responses to microbial infection [1]. Persistent hypotension related to generalized vasodilation, refractory constrictive responsiveness, huge plasma capillary leak syndrome, coagulation/fibrinolysis imbalance, and metabolic disturbance highlighted by elevated bloodstream lactates are hallmarks of worst outcome in this critical condition [2]. Indeed, an alarming multiple organ failure (MOF) occurrence, aggravated by sustained low blood pressure/perfusion, is closely associated with high morbidity, long-term sequelae, and elevated mortality in septic shock [3].
Preventing insufficient blood delivery to tissues is rapidly recommended as a first-line treatment of septic shock after time-limited fluid resuscitation [2, 4]. This mandates the administration of catecholamine vasopressors such as norepinephrine (NE), a predominantly selective α-adrenergic receptor (α-AR) agonist [4]. Importantly, hemodynamics bedside assessment reveals a high prevalence of myocardial dysfunction which can be detected early in up to 60% of septic patients [5]. In such cases, when cardiac output remains low despite fluid resuscitation (defined per se as a low-output septic shock), additional stimulation of the β-adrenergic receptor (β-AR) by administration of dobutamine is suggested as a strong positive ino-/chronotrope drug [4]. However, whether recommended or only attempted, refractoriness of cardiac response to dobutamine is common in low-output septic shock, which negatively affects treatment efficacy and critically impacts survival, with increased mortality rates of up to 90% [6, 7]. Thus, can we do better than dobutamine? Yes, indeed, provided that lessons taught by history are remembered [8].
In this respect, alternative therapies with better potency/efficacy, less undesired effects, and improved vaso-/cardio-protective impact are urgently needed. The endogenous apelinergic system has recently emerged as a compelling target to sustain cardiovascular function in shock. Indeed, cardiac contractility and vascular tone, fluid homeostasis and kidney function, as well as energy metabolism, inflammatory response, and thrombosis are all physiological hallmarks impacted by apelin receptor (APJ) engagement (Fig.
1
) [
9
–
12
]. Collectively, the above effects would be beneficial in septic shock and related conditions, with potential added value for outcome. Considering the proven "druggability" of G-protein-coupled receptors (GPCRs) and existing preclinical data, we outline the promising therapeutic potential of the apelinergic system in critically ill septic patients, with a focus on the stabilization of failing cardiovascular hemodynamics and kidney function.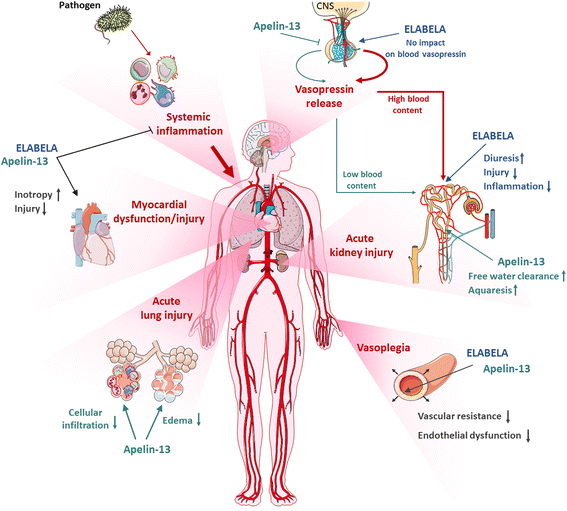 (1)
Division of Intensive Care Units, Department of Medicine, Université de Sherbrooke, 3001 - 12e Avenue Nord, Sherbrooke, QC, J1H 5 N4, Canada
(2)
Division of Cardiology, Department of Medicine, Université de Sherbrooke, Sherbrooke, Québec, Canada
(3)
Department of Pharmacology-Physiology, Université de Sherbrooke, Sherbrooke, Québec, Canada
(4)
Pharmacology Institute of Sherbrooke, Faculty of Medecine and Health Sciences, Université de Sherbrooke, Sherbrooke, Québec, Canada