Abnormal movements in critical care patients with brain injury: a diagnostic approach
Abstract
Abnormal movements are frequently encountered in patients with brain injury hospitalized in intensive care units (ICUs), yet characterization of these movements and their underlying pathophysiology is difficult due to the comatose or uncooperative state of the patient. In addition, the available diagnostic approaches are largely derived from outpatients with neurodegenerative or developmental disorders frequently encountered in the outpatient setting, thereby limiting the applicability to inpatients with acute brain injuries. Thus, we reviewed the available literature regarding abnormal movements encountered in acutely ill patients with brain injuries. We classified the brain injury into the following categories: anoxic, vascular, infectious, inflammatory, traumatic, toxic-metabolic, tumor-related and seizures. Then, we identified the abnormal movements seen in each category as well as their epidemiologic, semiologic and clinicopathologic correlates. We propose a practical paradigm that can be applied at the bedside for diagnosing abnormal movements in the ICU. This model seeks to classify observed abnormal movements in light of various patient-specific factors. It begins with classifying the patient's level of consciousness. Then, it integrates the frequency and type of each movement with the availability of ancillary diagnostic tests and the specific etiology of brain injury.
Keywords
Intensive Care UnitTraumatic Brain InjuryBrain InjuryDystoniaIntensive Care Unit Admission
Background
An important, yet understudied, area of critical care medicine is the diagnostic approach to abnormal movements in patients with brain injuries. Abnormal movements, alternatively described as dyskinesias or "paroxysmal" motor phenomena, often serve as valuable clues to the etiology of the injury and they have the potential to help guide treatment and prognostication [1]. In addition, early recognition of the abnormal movement may avoid unnecessary and often expensive diagnostic evaluation [2].
Seizure as a cause of motor paroxysms in the intensive care unit (ICU) cannot be overstated, as early recognition and treatment may improve patients' outcomes [3]. However, the observation that "not every shake in the ICU is a seizure" must also be emphasized. In a small study of 52 patients who underwent video-electroencephalogram (EEG) testing for suspicion of seizures in the ICU, epileptic seizures were identified as the etiology in only 27 % of all the events; the remainder were attributed to other etiologies, including tremor, multifocal myoclonus or semi-purposeful movements [4]. Thus, there is a need for a systematic diagnostic approach to differentiating these movements.
The typical and logical diagnostic approach to dyskinesia in the neurological subspecialty field of movement disorders is based on establishing the phenomenology, which leads to categorizing the movement and eventually generating a differential diagnosis of the possible etiologies [
5
]. The inter-observer reliability of such an approach is dependent on the operator expertise and such reliability has not been evaluated among intensivists [
6
–
8
]. In addition, expert neurologists may not be readily available in the ICU. Moreover, it is difficult to implement such an approach even by expert neurologists in certain ICU patients with brain injury since they are often comatose or uncooperative, limiting the clinician's ability to conduct a detailed neurological assessment. Furthermore, the etiology is often known at the time of ICU admission, limiting the usefulness of this approach. Thus, to create a practical paradigm for approaching abnormal movements in brain injury patients that takes into account the special case of ICU patients, we performed a selective review of the literature available through PubMed using the keywords "abnormal movement", "movement disorders", "dystonia", "tremor", "chorea", "myoclonus", "seizures", "brain injury", "stroke", "subarachnoid hemorrhage", "traumatic brain injury", "brain tumor", "cardiac arrest", and "paraneoplastic syndromes". We propose an approach based on the integration of the abnormal movement epidemiology, semiology, etiology of brain injury and mental state of brain injury patients. This approach is based first on classifying the patient's level of consciousness as comatose or awake. In the comatose state, identification of brain death state shifts the diagnostic paradigm towards spinal reflexes and avoids unnecessary work-up. Otherwise, comatose patients should undergo an EEG or continuous EEG (cEEG) to rule out seizures or non-convulsive status epilepticus (NCSE). Following these steps, an approach based on the integration of semiology and epidemiology according to the brain injury type will likely yield the correct diagnosis (Fig.
1
).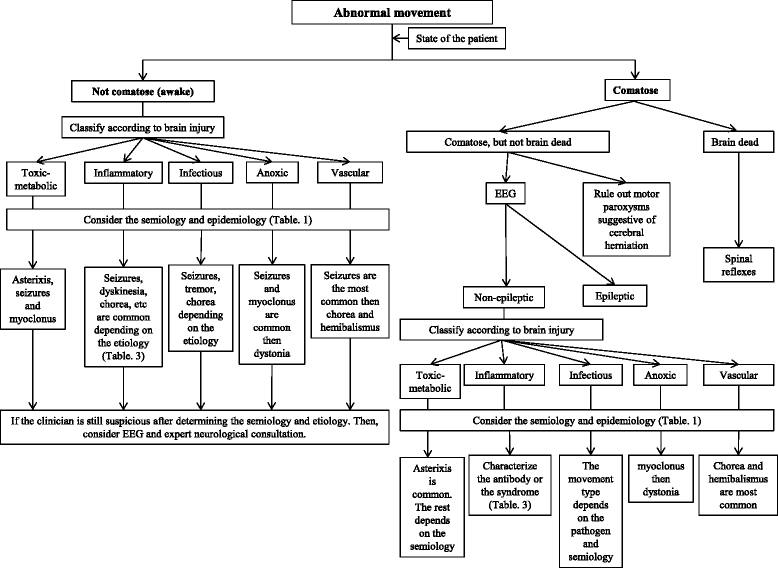 A different approach may be taken in awake patients. Careful attention to the phenomenology and epidemiology of the abnormal movement according to the brain injury may be the initial step (Fig. 1). An EEG may be used as an ancillary test in difficult cases or when the category of brain injury is highly epileptogenic. Expert neurological consultation can be sought in difficult cases. In the following sections, we review the basic definitions and clinical characteristics of abnormal movements encountered in the ICU. Then, we review these abnormal movements according to the type of brain injury.
Definitions
There are two principal categories of neurological syndromes in the field of movement disorders: those with a paucity of voluntary or automatic movements (hypokinesia) and those with excessive unnatural movements (interchangeably referred to as hyperkinesia, dyskinesia, or abnormal involuntary movements) [
5
]. Seizures, paroxysmal posturing and spinal reflexes are also well known to produce motor findings in the ICU [
9
,
10
]. For the purpose of this review and to create a practical approach for ICU patients, the term "abnormal movements" will refer to the variety of movements seen in the ICU accompanying different types of brain injuries, including the motor findings of seizures and NCSE, paroxysmal posturing movements accompanying cerebral herniation, shivering, clonus and the five major categories of dyskinesia in the field of movement disorders (chorea, dystonia, myoclonus, tics and tremor) [
5
,
9
–
11
] (Table
1
).
Table 1
Abnormal movement categories and their pathological origin listed in alphabetical order
Abnormal movement

Definition

Pathophysiological origin

Chorea

Involuntary, purposeless, nonrhythmic, non-sustained movements that flow from one body part to the other

Poorly understood. Could be due to loss of normal pallidal inhibitory input

Hemiballismus: a severe form of chorea, is characterized by vigorous irregular high amplitude movements on one side of the body

Hemiballismus happens secondary to injury of the subthalamic nucleus

Clonus

Rhythmic involuntary muscular contractions and relaxations

Upper motor neuron injury and its descending pathways

Dystonia

Sustained twisting movements that are often frequent and progresses to prolonged abnormal postures

Basal ganglia. Abnormalities are also seen in the cortex and reduction in spinal cord and brainstem inhibition

Myoclonus

Sudden, brief involuntary movements which may be caused by muscle contractions (positive myoclonus)

Widespread origin depending on the injury or type: cortical, subcortical (basal ganglia), brainstem or spinal cord in segmental myoclonus

Asterixis is considered a negative myoclonus secondary to sudden loss of tone

NCSE

Unilateral eye deviation, lip smacking, automatisms and some movements of the fingers

Cortical in origin

Paroxysmal posturing

Involuntary flexor or extensor posturing on one side or bilateral spontaneously or with pain. Opisthotonus posturing refers to hyperextension of the neck and back "arching position"

Damage above the red nucleus (flexion posturing) or below (extensor posturing) Midbrain injury or tetanus (opisthotonus)

Shivering

High frequency involuntary muscular contractions involving one group or more of muscles

Thermoregulatory (due to hypothermia) or non-thermoregulatory (not well understood)

Tics

Abnormal movements (motor) or sounds (phonic) which can be simple muscle jerks or complex when they consist of sequential movements in different parts of the body

May be related to abnormalities in the basal ganglia

Tremor

Oscillatory rhythmic movement that affects one or more parts of the body

Likely related to the presence of central oscillator in the basal ganglia or cerebellum
Hypokinesias are frequently seen in outpatient settings and, with the exception of catatonic psychosis, are rarely included within a differential diagnosis of coma [12]. On occasion, however, hypokinetic movements may accompany life threatening emergencies, such as rigidity in neuroleptic malignant syndrome [13]. Hyperkinetic movements (Table 1) and seizures are the most likely paroxysmal movements observed in the ICU setting [14–16]. Some features may help in differentiating these various types of movements. For example, motor phenomena of seizures are often associated with changes in vital signs such as tachycardia, hypertension or brief hypoxia as opposed to tremor, chorea or shivering [17]. Taking into consideration the distribution, frequency and duration of the movement may help as well. Chorea may be unilateral when it results from stroke while shivering tends to be bilateral or involves a muscular group [17], tremor often lasts longer than seizure twitches, higher frequency twitches suggest shivering more than seizures [18], and paroxysmal posturing due to cerebral herniation can be provoked by noxious stimuli compared with seizures, which tend to be spontaneous. Recently, however, stimulus-induced seizures have also been described [19].
Abnormal movements in comatose patients
Coma is a state of unresponsiveness due to various types of severe brain insults [20]. Different types of abnormal movements may be seen in the comatose state and may represent motor paroxysms in the setting of cerebral herniation, such as flexor or extensor posturing secondary to severe brain injury and subsequent cerebral edema (Table 1) [20]. On the other hand, the abnormal movement may be a direct consequence of the underlying primary insult (discussed below for each category of brain injury). Moreover, epileptic phenomena producing subtle motor activity is also common in the comatose state [21]. Thus, an approach based on recognition of seizures and signs of cerebral herniation and elevated intracranial pressure should initially be undertaken, as urgent medical or surgical intervention may alter the outcome of these patients [20]. After ruling out these etiologies, integrating the semiology and epidemiology of various abnormal movements according to the brain injury type may lead to the correct diagnosis, as discussed for each category of brain injury (Fig. 1). Moreover, the special state of brain death as a sequela of devastating injury needs to be recognized early as it dramatically changes the diagnostic approach (Fig. 1).
Brain death
Brain death is defined as the irreversible cessation of all brain and brain stem function secondary to catastrophic brain injury [22]. Despite brain inactivity, such patients are not always still and often exhibit a number of spinal reflex movements that may be complex [23]. The diagnosis can be often made clinically. Establishing the diagnosis may avoid unnecessary diagnostic testing. We believe that ruling out brain death should be the first step in approaching abnormal movement in an unresponsive patient (Fig. 1).
The most common movements observed in brain death include flexor or extensor plantar response, triple flexion, abdominal reflex, cremasteric reflex, tonic neck reflexes, and isolated jerks of the upper extremities [23]. Rare complex movements have been observed in the literature, such as repetitive leg movements resembling sleep periodic leg movements [24] and "Lazarus sign", described as rapid arm flexion with shoulder adduction, followed by returning of the arms to the patient's side, sometimes asymmetrically [25].
Abnormal movements according to the type of brain injury
Conclusion
Abnormal movement is an important phenomenon in the ICU and is associated with diverse etiologies and therapeutic implications. Based on previous data, a high degree of vigilance in identifying seizures and motor paroxysms due to impending herniation should be maintained, as early intervention often leads to improved outcome [96, 97]. Although not urgent, identification of other abnormal movements should not be overlooked and may prove very helpful in ICU patient management. An approach based on integrating the semiology and frequency of the movement according to the brain injury type may lead to correct diagnosis. Expert neurological consultation may be necessary in difficult cases.
Abbreviations
AIS:

Acute ischemic stroke
cEEG:

Continuous electroencephalogram
EEG:

Electroencephalogram
ICH:

Intracranial hemorrhage
ICP:

Intracranial pressure
ICU:

Intensive care unit
MRI:

Magnetic resonance imaging
NCSE:

Non-convulsive status epilepticus
NMS:

Neuroleptic malignant syndrome
PHM:

Post-hypoxic myoclonus
PTS:

Post-traumatic seizure
SAH:

Subarachnoid hemorrhage
SIRPID:

Stimulus-induced rhythmic periodic or ictal discharge
TBI:

Traumatic brain injury
Declarations
Open AccessThis article is distributed under the terms of the Creative Commons Attribution 4.0 International License (http://creativecommons.org/licenses/by/4.0/), which permits unrestricted use, distribution, and reproduction in any medium, provided you give appropriate credit to the original author(s) and the source, provide a link to the Creative Commons license, and indicate if changes were made. The Creative Commons Public Domain Dedication waiver (http://creativecommons.org/publicdomain/zero/1.0/) applies to the data made available in this article, unless otherwise stated.
Authors' Affiliations
(1)
Neurosciences Critical Care Division, Department of Anesthesiology and Critical Care Medicine, Johns Hopkins University, Baltimore, USA
(2)
Department of Neurology, Johns Hopkins University, Baltimore, USA
(3)
Present address: Division of Cerebrovascular Diseases and Neurocritical Care, Department of Neurology, The Ohio State University, Columbus, USA
(4)
Department of Medicine, Massachusetts General Hospital, Harvard Medical School, Boston, USA
(5)
Department of Neurosurgery, Johns Hopkins University, Baltimore, USA