Neuroprotection in acute brain injury: an up-to-date review
Abstract
Neuroprotective strategies that limit secondary tissue loss and/or improve functional outcomes have been identified in multiple animal models of ischemic, hemorrhagic, traumatic and nontraumatic cerebral lesions. However, use of these potential interventions in human randomized controlled studies has generally given disappointing results. In this paper, we summarize the current status in terms of neuroprotective strategies, both in the immediate and later stages of acute brain injury in adults. We also review potential new strategies and highlight areas for future research.
Keywords
Traumatic Brain InjuryCerebral Blood FlowHepatic EncephalopathyAcute Ischemic StrokeCerebral Perfusion Pressure
Introduction
Acute brain injury, whatever its cause, is associated with considerable short-term and long-term morbidity and mortality. In the USA it is estimated that 52,000 fatalities arise as a result of traumatic brain injury (TBI) every year, and approximately 5.3 million people live with TBI-related disabilities [1]. These figures are similar in the European Union, where an estimated 7.7 million people have TBI-related disabilities [2]. Accurate data from emerging economies, where TBI is increasing due to greater motorization, are lacking, but are likely to be similar or worse [3]. Stroke is the second leading cause of death and the third leading cause of disability-adjusted life-years worldwide, and its global burden is increasing [4]. Other ischemic and hemorrhagic lesions to the brain, such as subarachnoid hemorrhage or ischemia–reperfusion after cardiac arrest, are also associated with high mortality and devastating sequelae [5,6].
Following the primary cerebral insult, a cascade of events amplifies the initial damage regardless of the etiology of the precipitating event. Secondary biochemical changes contribute to subsequent tissue damage with associated neuronal cell death. The time course over which these effects occur may be longer than assumed previously, potentially providing a wider time window for interventions. Neuroprotective agents that can limit secondary tissue loss and/or improve behavioral outcomes have been identified in multiple animal models of acute brain injury. However, translation to the clinical setting has been largely disappointing. Box 1 summarizes important methodological issues in animal studies that have often not been adequately addressed before clinical trial.
Given the severity and long-term consequences and costs of brain damage from many different etiologies, strategies for neuroprotection are of obvious importance. In this review, based on expert opinion and nonsystematic literature review, we provide an up-to-date summary of the current evidence for strategies to protect the brain from secondary insults and highlight areas for future experimental and clinical research. We have focused on general concepts in selected pathophysiological events, because complete coverage of all acute brain injuries is not feasible in one manuscript, and we restricted our analysis to adult patients.
Existing therapeutic modalities for neuroprotection
Novel therapeutic modalities
Lessons learned
Providing protection to the brain from different injuries has proven to be an ambitious goal, with a long series of clinical trial failures, especially for pharmacologic protection after TBI. In some instances, there may have been flaws in the experimental methodology (for example, relevance and quality of models, incomplete understanding of treatment mechanisms and inadequate elucidation of brain pharmacokinetics of the drug used). Many important methodological issues in animal studies are not adequately addressed before clinical trials are commenced (Box 1). It is often assumed that a disease mechanism detected in an animal model is also present in human disease, and that it has the same relevance, timing and duration as seen in the model. It is also often assumed that a candidate drug which is effective in reducing a pathophysiological process in animal models will have the same effect in humans. A careful analysis of failed neuroprotection trials suggests that these assumptions are unsafe [105]. The comprehensive monitoring of cerebral physiology and biochemistry commonly employed in critically ill patients with acute brain injury (especially TBI and SAH) provides a valuable opportunity to challenge some of these assumptions in preliminary studies, or as part of early phase II trials, before proceeding to more definitive studies (Box 2). Closer collaborations between preclinical investigators and clinical counterparts will be key to improving methodologies in both settings.
In clinical trials of TBI, outcome measures may not have been sufficiently sensitive and there has been a failure to adequately address the inherent heterogeneity of the patient populations [106]. The IMPACT studies have addressed methodological issues of trial design in TBI with an emphasis on dealing with the population heterogeneity and increasing sensitivity of outcome analysis [107] (Box 3). Although the IMPACT project has resulted in substantial advances by addressing problems related to prognostic heterogeneity, it did not address heterogeneity related to mechanism. Early mechanistic endpoints, which can serve as intermediate outcome markers in TBI trials, are still lacking. It will be impossible to mount a sufficient number of adequately powered clinical trials to address all existing uncertainties in the management of TBI. Alternative designs should therefore be considered. Rather than dealing with heterogeneity, we may be able to make use of it by employing comparative effectiveness research approaches [108].
Adaptive clinical trial design can reduce the risk of uninformative failed trials resulting from studies based on erroneous assumptions. Adaptive trials allow the preplanned modification of key clinical trial characteristics during the trial implementation phase based upon new information acquired within the trial itself and a set of carefully simulated rules (for example, changing the number of treatment arms, available dosing levels, randomization ratios and inclusion/exclusion criteria). The goal is to achieve statistical efficiency, improved ethical balance and scientific validity [109,110]. Compared with a traditional, fixed trial methodology, a well-designed adaptive trial can increase the probability of correctly identifying a truly effective therapy and can hasten the identification of futility, allowing scarce resources to be more rapidly directed towards the next promising target or project [111].
Conclusion
Despite all the disappointments, there are many new therapeutic possibilities still to be explored and tested. Moreover, although the outcome benefits of specific agents and interventions have not been demonstrated, major advances in the clinical outcomes of our patients have been made in recent decades by applying a package of clinical measures, including meticulous monitoring and careful prevention and limitation of secondary insults in the early phases after injury (see Figure
1
) [
112
].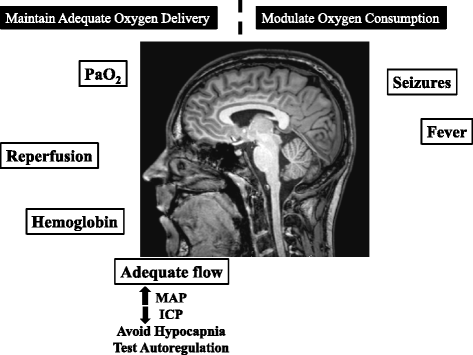 Box 1. Important aspects that need to be considered to improve preclinical studies in neuroprotection
1.

Effects evaluated across injury severities.

2.

Randomization and blinding procedures used.

3.

Demonstrated effectiveness of structurally different drugs and genetic manipulation to confirm mechanism.

4.

Evaluation of clinically relevant therapeutic window.

5.

Examination of late functional outcomes as well as histological ones.

6.

Elucidated pharmacokinetics and brain concentrations of drug associated with treatment efficacy.

7.

Evaluation of treatment across sex and age spectrum.

8.

Comparison of effects in multiple models and species.

9.

Replication of therapeutic effect across laboratories.
Box 2. Approaches to optimize translation of interventions from animal studies to clinical neuroprotection using experimental medicine approaches
1.

Demonstration of existence, timing, and duration of target pathophysiology affected by candidate intervention in human disease (proof of mechanism).

2.

Demonstration that the target molecule enters the brain in patients, at levels needed to produce benefit (favorable central nervous system pharmacokinetics).

3.

Demonstration that the target molecule results in changes in target pathophysiological process in human disease (proof of concept).
Box 3. Recommendations for clinical trial design from the International Mission on Prognosis and Analysis of randomized Controlled Trials in TBI study group
1.

Inclusion criteria should be as broad as is compatible with the current understanding of the mechanism of action of the intervention being evaluated.

2.

The statistical analysis should incorporate prespecified covariate adjustment to mitigate the effects of heterogeneity.

3.

The statistical analysis should use an ordinal approach, based on either sliding dichotomy or proportional odds methodology.
Abbreviations
CBF:

Cerebral blood flow
CPP:

Cerebral perfusion pressure
Hb:

Hemoglobin
ICH:

Intracerebral hemorrhage
ICP:

Intracranial pressure
IMPACT:

International Mission on Prognosis and Analysis of randomized Controlled Trials
MSC:

Mesenchymal stromal cell
PbtO2 :

Brain tissue oxygen tension
SAH:

Subarachnoid hemorrhage
TBI:

Traumatic brain injury
TH:

Therapeutic hypothermia
Authors' Affiliations
(1)
Department of Physiopathology and Transplant, Milan University, Fondazione IRCCS Cà Granda Ospedale Maggiore Policlinico, Milan, Italy
(2)
Neuro ICU, Fondazione IRCCS Cà Granda Ospedale Maggiore Policlinico, Milan, Italy
(3)
Department of Intensive Care, Erasme Hospital, Université libre de Bruxelles, Brussels, Belgium
(4)
Department of Health Science, University of Milan-Bicocca, Ospedale San Gerardo, Monza, Italy
(5)
NeuroIntensive Care, Department of Emergency and Intensive Care, Ospedale San Gerardo, Monza, Italy
(6)
Department of Emergency Medicine, University of Texas Southwestern Medical Center at Dallas, Dallas, USA
(7)
Department of Neurosurgery, Lankenau Medical Center, Wynnewood, USA
(8)
Department of Intensive Care Medicine, Centre Hospitalier Universitaire Vaudois (CHUV) University Hospital, Faculty of Biology and Medicine, University of Lausanne, Lausanne, Switzerland
(9)
Department of Critical Care Medicine, University of Pittsburgh Medical Center, Pittsburgh, USA
(10)
Division of Neuroscience Critical Care, Division of Adult Critical Care, Johns Hopkins Medicine, Baltimore, USA
(11)
NETT Clinical Coordinating Center, University of Michigan, Ann Arbor, USA
(12)
Department of Neurosurgery, University Hospital Antwerp and University of Antwerp, Edegem, Belgium
(13)
Department of Intensive Care, UZ Leuven, Campus Gasthuisberg, Leuven, Belgium
(14)
Department of Critical Care Medicine and the Safar Center for Resuscitation Research, University of Pittsburgh Medical Center, Pittsburgh, USA
(15)
Department of Neurocritical Care, David Geffen School of Medicine at UCLA, Los Angeles, USA
(16)
Center for Shock, Trauma & Anesthesiology Research (STAR), University of Maryland School of Medicine, Baltimore, USA
(17)
Department of Neurology, Neurocritical Care Unit, Innsbruck Medical University, Innsbruck, Austria
(18)
Department of Surgery, R Adams Cowley Shock Trauma Center, University of Maryland School of Medicine, Baltimore, USA
(19)
IRCCS – Istituto di Ricerche Farmacologiche Mario Negri, Department of Neuroscience, Milan, Italy
(20)
Department of Emergency Medicine, University of Arizona, Tucson, USA
(21)
Institute of Liver Studies, King's College Hospital, Denmark Hill, London, UK
(22)
Division of Anaesthesia, University of Cambridge, Addenbrooke's Hospital, Cambridge, UK
Copyright
© Stocchetti et al.; licensee BioMed Central. 2015
This is an Open Access article distributed under the terms of the Creative Commons Attribution License (http://creativecommons.org/licenses/by/4.0), which permits unrestricted use, distribution, and reproduction in any medium, provided the original work is properly credited. The Creative Commons Public Domain Dedication waiver (http://creativecommons.org/publicdomain/zero/1.0/) applies to the data made available in this article, unless otherwise stated.