The microcirculation is the motor of sepsis
Critical Care
2005
9(Suppl 4):S13
Published: 25 August 2005
Abstract
Regional tissue distress caused by microcirculatory dysfunction and mitochondrial depression underlies the condition in sepsis and shock where, despite correction of systemic oxygen delivery variables, regional hypoxia and oxygen extraction deficit persist. We have termed this condition microcirculatory and mitochondrial distress syndrome (MMDS). Orthogonal polarization spectral imaging allowed the first clinical observation of the microcirculation in human internal organs, and has identified the pivotal role of microcirculatory abnormalities in defining the severity of sepsis, a condition not revealed by systemic hemodynamic or oxygen-derived variables. Recently, sublingual sidestream dark-field (SDF) imaging has been introduced, allowing observation of the microcirculation in even greater detail. Microcirculatory recruitment is needed to ensure adequate microcirculatory perfusion and the oxygenation of tissue cells that follows. In sepsis, where inflammation-induced autoregulatory dysfunction persists and oxygen need is not matched by supply, the microcirculation can be recruited by reducing pathological shunting, promoting microcirculatory perfusion, supporting pump function, and controlling hemorheology and coagulation. Resuscitation following MMDS must include focused recruitment of hypoxic-shunted microcirculatory units and/or resuscitation of the mitochondria. A combination of agents is required for successful rescue of the microcirculation. Single compounds such as activated protein C, which acts on multiple pathways, can be expected to be beneficial in rescuing the microcirculation in sepsis.
Keywords
Septic Shock PatientMicrocirculatory Blood FlowMicrocirculatory DysfunctionMicrocirculatory PerfusionOrthogonal Polarization Spectral
Introduction
The recent development of new medical imaging techniques, together with data from clinical investigations, has helped to identify the microcirculation as playing a key role in sepsis [
1
]. The array of pathogenic factors that occur in sepsis affects almost every cellular component of the microcirculation, including endothelial cells, smooth muscle cells, leukocytes, erythrocytes, and tissue cells. If not corrected directly, a poorly functioning microvasculature can lead to respiratory distress in tissue cells further fuelling microcirculatory dysfunction in a cascade of pathogenic mechanisms leading to organ failure (Fig.
1
). Sakr and colleagues [
2
] showed that microcirculatory distress not corrected for 24 hours was the single independent factor predicting patient outcome. The central role of the microcirculation in providing oxygen to the tissue cells makes it of prime importance in determining organ function. Microcirculatory dysfunction persisting for extended periods of time can act as a motor driving the pathogenic effects of sepsis leading to organ failure in much the same way as the gut was considered to be the motor of multiorgan failure [
3
].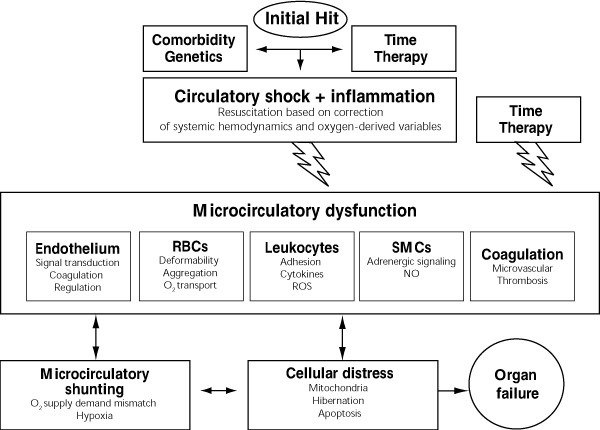 The microcirculation
Microcirculatory function is the main prerequisite for adequate tissue oxygenation and thus organ function. Its purpose is to transport oxygen and nutrients to tissue cells, ensure adequate immunological function and, in disease, to deliver therapeutic drugs to target cells. The microcirculation consists of the smallest blood vessels (<100 μm diameter) where oxygen release to the tissues takes place, and consists of arterioles, capillaries, and venules. The main cell types comprising the microcirculation are the endothelial cells lining the inside of the microvessels, smooth muscle cells (mostly in arterioles), red blood cells, leukocytes, and plasma components in blood. The structure and function of the microcirculation is highly heterogeneous in different organ systems. In general, driving pressure, arteriolar tone, hemorheology, and capillary patency are the main determinants of capillary blood flow.
Rescuing the microcirculation
The presence of microcirculatory distress, despite resuscitation based on hemodynamic and oxygen-derived endpoints, strongly suggests that microcirculatory failure is a key factor in the raised lactate levels, disturbed acid–base balance, and high gastric and/or oral CO2 levels sometimes seen under such conditions. Microcirculatory failure can occur in the presence of normal or supranormal systemic hemodynamic- and oxygen-derived variables, with microcirculatory distress being masked from the systemic circulation by shunting pathways [2, 12]. Thus, monitoring techniques are required to verify that recruitment strategies for the microcirculation are indeed effective.
Monitoring the microcirculation to optimize treatment
Several methods have been used to monitor microcirculatory function during circulatory failure in surgery and intensive care [37]. These include CO2 measurements for sublingual, buccal, and subcutaneous microcirculatory CO2 levels [38–41], as well as absorbance, reflectance and near infrared spectroscopy (NIRS), for measuring microcirculatory hemoglobin saturation [14, 42, 43]. Orthogonal polarization spectral (OPS) imaging after validation [44] was introduced by us into surgery and allowed the first direct observation of the microcirculation of human internal organs [45–48]. The technique allows microscopic visualization of the deeper lying microcirculation and the flow of red blood cells in the variably ordered microvessels of the microcirculation [45]. When applied sublingually, OPS provides a sensitivity and specificity for gauging the severity of the distributive defect in sepsis not achieved by conventional monitoring of systemic hemodynamic- or oxygen-derived variables [2]. Sublingual capnography combined with OPS imaging has been used to investigate the relationship between the microcirculation and metabolic state during resuscitation [38]. In cardiac surgery, simultaneous measurement of sublingual NIRS for deeper regional oxygenation, and reflectance spectrophotometry for measurement of superficial microcirculatory oxygen availability, gave integrative information about the redistribution of microcirculatory oxygenation occurring between these compartments during cardiac surgery. Such combinations, looking at different functional compartments of the microcirculation, can integratively ascertain the distributive alterations of oxygen transport during sepsis, septic shock, and therapy that are not provided by conventional monitoring of systemic hemodynamic- and oxygen-derived variables.
Studies by de Backer and colleagues [7], Spronk and colleagues [10], and Sakr and colleagues [2] on the sublingual microcirculation using OPS imaging in septic patients have directly associated the degree of microcirculatory distress with disease severity and response to therapy. These OPS studies have shown that the distributive defect associated with sepsis is characterized by obstructed stagnant blood flow in the smallest capillaries with near to normal flow in the larger microcirculatory vessels. This underlines the need to clinically monitor the blood flow in these small capillaries. OPS imaging is limited in this respect since OPS images of the capillaries are blurred and cannot always be detected. To this background we developed a new improved imaging modality for observation of the microcirculation called sidestream dark-field (SDF) imaging [49].
SDF imaging consists of a light guide, surrounded by 530 nm light-emitting diodes (LEDs), a wavelength of light that is absorbed by the hemoglobin of red blood cells, allowing their observation as dark cells flowing in the microcirculation (Fig.
2a
; see
http://www.sdfimaging.net
for real-time movies). The LEDs at the tip of the guide are optically isolated from the inner image-conducting core, and pump light deep into the tissue, illuminating the microcirculation from within. This dark-field illumination applied from the side completely avoids tissue surface reflections, giving clear images of microcirculatory structures and red, as well as white, blood cell flow. The improved imaging of the leukocytes is shown in Fig.
2b
. Such magnified images are providing new insights into cellular and microcirculatory properties at a level of detail not attained previously. It is expected that SDF imaging will improve the imaging modality for the microcirculation, especially for capillaries.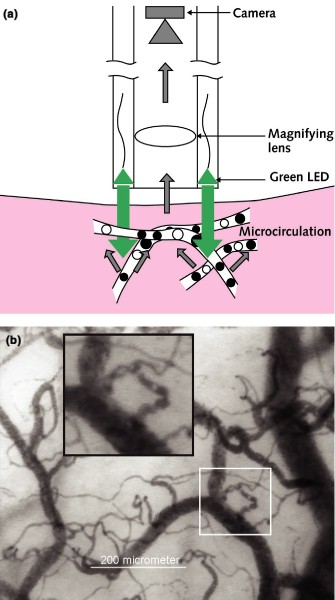 Therapeutic options
Several therapeutic options are available for resuscitating the microcirculation in septic patients.
Conclusion
In this review, we discuss the role of microcirculatory dysfunction in the development and treatment of the circulatory distributive defect associated with sepsis leading to organ failure. Conventional systemic hemodynamic- and oxygen-derived variables fail to detect such microcirculatory dysfunction and its response to the therapy. If left uncorrected, microcirculatory dysfunction can fuel cellular distress of the parenchymal cells and lead to organ dysfunction. From this perspective the microcirculation can indeed be regarded as the motor of sepsis. Recruitment maneuvers and monitoring of microcirculatory function are expected to contribute to the diagnosis and treatment of sepsis.
Abbreviations
APC:

activated protein C
iNOS:

inducible nitric oxide synthase
LED:

light-emitting diode
MMDS:

microcirculatory and mitochondrial distress syndrome
NO:

nitric oxide
NIRS:

near infrared spectroscopy
OPS:

orthogonal polarization spectral
pCO2:

partial pressure of CO2
pO2:

partial pressure of O2
μpO2:

microcirculatory pO2
SDF:

sidestream dark-field.
Authors' Affiliations
(1)
Department of Physiology, University of Amsterdam, Amsterdam, the Netherlands
Copyright
© BioMed Central Ltd 2005