Clinical review: Influence of vasoactive and other therapies on intestinal and hepatic circulations in patients with septic shock
Published: 29 December 2003
Abstract
The organs of the hepatosplanchnic system are considered to play a key role in the development of multiorgan failure during septic shock. Impaired oxygenation of the intestinal mucosa can lead to disruption of the intestinal barrier, which may promote a vicious cycle of inflammatory response, increased oxygen demand and inadequate oxygen supply. Standard septic shock therapy includes supportive treatment such as fluid resuscitation, administration of vasopressors (adrenergic and nonadrenergic drugs), and respiratory and renal support. These therapies may have beneficial or detrimental effects not only on systemic haemodynamics but also on splanchnic haemodynamics, at both the macrocirculatory and microcirculatory levels. This clinical review focuses on the splanchnic haemodynamic and metabolic effects of standard therapies used in patients with septic shock, as well as on the recently described nonconventional therapies such as vasopressin, prostacyclin and N-acetyl cysteine.
Keywords
adrenergic drugs
nonconventional treatments
septic shock
splanchnic circulation
supportive treatment
Introduction
Research interest has focused on the intestinal and hepatic circulations in various models of shock, and particularly in septic shock. The splanchnic area is reported to be the 'motor' of multiple organ failure [1] and the 'canary' of the body [2]. In fact, because of its peculiar vascular anatomy, the hepatosplanchnic area is jeopardized during septic shock, which may potentially lead to a vicious circle of inflammatory responses, culminating in multiple organ failure syndrome.
The present clinical review briefly discusses the splanchnic vascular anatomy and focuses on the different therapeutic approaches that have been proposed to promote perfusion of the gastrointestinal tract during resuscitation of patients with septic shock. When possible and reasonable, we propose therapeutic recommendations.
References were obtained from Medline database (from the earliest records to 2003). We used the following keywords: gastric mucosal pH or pHi, splanchnic, haemodynamics, microcirculation, sepsis, septic shock, vasoactive drugs, dobutamine, dopamine, norepinephrine, epinephrine, dopexamine vasopressin, terlipressin, prostacyclin, N-acetyl cysteine, dialysis and haemofiltration. We also reviewed the reference lists of all available review articles and primary studies to identify references not found in computerized searches. We placed emphasis on prospective, randomized, controlled clinical trials.
Anatomy of hepatosplanchnic vascular bed
The splanchnic vasculature includes both serial and parallel vascular beds (Fig.
1
). The gut is perfused by the coeliac trunk and mesenteric arteries, and is drained via the portal system. The liver has a unique and special blood supply that includes both arterial (the common hepatic artery) and venous (the portal vein) inflow. The portal vein supplies 75–80% of the liver blood flow and the hepatic artery supplies 20–25%. Physiologically, there is an interdependent response with a compensatory blood flow between the portal vein and the hepatic artery called the hepatic arterial buffer response [
3
]. The hepatosplanchnic blood flow accounts for 25–30% of the cardiac output [
4
], and the regional oxygen extraction is slightly higher than the whole body oxygen extraction. During sepsis or septic shock, splanchnic oxygen extraction is increased compared with nonseptic patients (44% versus 30%), which leads to an increase in the hepatic venous/mixed venous haemoglobin oxygen saturation gradient [
4
]. In clinical practice it is generally not possible to determine portal venous flow in isolation, and measurements are taken from the hepatosplanchnic region as a whole. The flow is estimated at bedside by the method of primed, constant infusion of indocyanine green (ICG) with hepatic venous catheterization [
5
].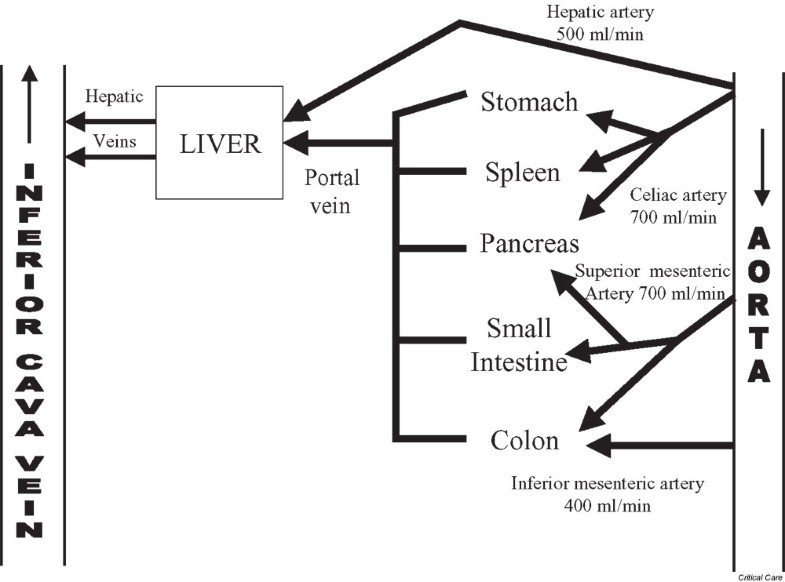 The intestinal villus is supplied by a single, unbranched arterial vessel that arborizes at the villus tip into a network of surface capillaries drained by a central villus vein. This anatomical arrangement allows countercurrent exchange and shunting of diffusible molecules such as oxygen, and hypoxia may occur at the tip of the villus even during moderate decreases in macrocirculatory flow [6]. In addition, intestinal villi perfusion is highly heterogeneous, as suggested by the wide range of intestinal surface oxygen saturation [7].
In patients with sepsis, splanchnic blood flow usually increases in proportion to cardiac output [8] and is associated with decreased hepatic vein oxygen haemoglobin saturation. Two different interpretations are possible: first, the increase in splanchnic blood flow is insufficient to meet the increased oxygen consumption; and second, hepatic arterial blood flow is reduced as a consequence of the hepatic arterial buffer response. The latter hypothesis is supported by the observations of De Backer and coworkers [9], who demonstrated that there is usually no net lactate production from the hepatosplanchnic area. In addition, the observation that splanchnic blood flow is increased does not rule out an impairment in microvascular blood flow [10–12] or the presence of cytopathic hypoxia [13].
In normal conditions the partial carbon dioxide tension (PCO2) gap, which is defined as the difference between mucosal PCO2 measured with a tonometer and arterial PCO2, is low. In case of inadequate mucosal blood flow, whether tissue hypoxia is present or not, the PCO2 gap increases. Levy and coworkers [14] recently reported that a PCO2 gap greater than 20 mmHg was associated with poor outcome in patients with septic shock. Unfortunately, there is no apparent correlation between PCO2 gap and global or regional haemodynamic measurements in septic patients [15] because the PCO2 gap mirrors both variations in microvascular flow [10] and in carbon dioxide metabolism [16]. For these reasons variations in PCO2 gap must be interpreted with caution.
Conclusion
In this review we summarize different, and potentially opposing, approaches to management of splanchnic circulation in patients with septic shock. However, in these studies the measurements were focused on the effect of the drug on splanchnic blood flow or a surrogate such as the PCO2 gap, but none of these studies reported convincing results with respect to mortality and/or morbidity.
Abbreviations
ICG:

indocyanine green
ICU:

intensive care unit
MEGX:

monoethylglycinexylidide
NAC:

N-acetyl cysteine
PCO2:

partial carbon dioxide tension
pHi:

intramucosal pH.
Authors' Affiliations
(1)
Staff Physician, Département de Réanimation Médicale, Centre Hospitalier Universitaire, Angers, France
(2)
Staff Physician, Département de Réanimation Médicale, Hôpital Erasme, Université Libre, Bruxelles, Belgium
(3)
Head, Klinik für Anästhesie, Intensivmedizin und Schmerztherapie, Helios Klinikum, Erfurt, Germany
(4)
Section Head, Sektion Anästhesiologische Pathophysiologie und Verfahrensentwicklung, Universitätsklinikum, Ulm, Germany
(5)
Staff Physician, Department of Anesthesiology and Intensive Care Medicine, Friedrich-Schiller University, Jena, Germany
Copyright
© BioMed Central Ltd 2004