Thrombocytopenia in the ICU: disseminated intravascular coagulation and thrombotic microangiopathies—what intensivists need to know
Received: 26 January 2018
Accepted: 21 May 2018
Published: 13 June 2018
Thrombocytopenia affects 25–55% of intensive care unit (ICU) patients [
1
]. The reasons for thrombocytopenia in the ICU are numerous, including, among others, sepsis, drugs, and the use of extracorporeal devices (Fig.
1
) [
1
]. Some patients with thrombocytopenia also have microangiopathic hemolytic anemia (MAHA), accompanied by elevated serum lactate dehydrogenase levels and schistocytes on the blood film [
2
,
3
]. This combination of thrombocytopenia and MAHA, in which thrombi form in the microvasculature and schistocytes develop from red cell destruction as they pass over these thrombi [
2
], occurs in patients with disseminated intravascular coagulation (DIC), but also in those with thrombotic microangiopathies (TMAs), including thrombotic thrombocytopenic purpura (TTP) and hemolytic uremic syndrome (HUS).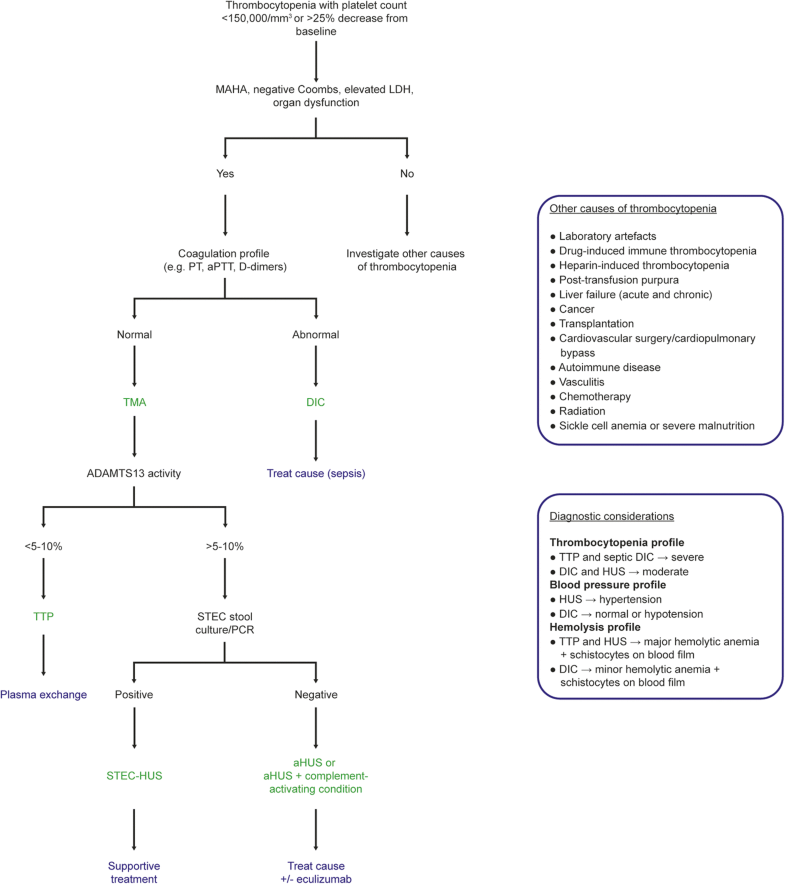 DIC is relatively common, developing in 9–19% of ICU patients, usually as a result of sepsis [4], with an incidence of 18/100,000 in the overall population [2, 5]. By contrast, TTP and Shiga-toxin producing Escherichia coli (STEC)-associated HUS have estimated incidences of 6 and up to 29 cases per million, respectively, and atypical HUS (aHUS) a prevalence of 0.2–0.4 cases per million [6, 7], making these conditions far rarer than DIC. Although TTP is described as a pentad of fever, thrombocytopenia, MAHA, renal dysfunction, and neurological impairment, often some of these features are not present [7]. Accordingly, TTP may be confused with HUS, which is most commonly characterized by the triad of thrombocytopenia, MAHA, and renal dysfunction [3]. These clinical similarities of DIC, TTP, and HUS are a major concern because they pose a risk of misdiagnosis as intensivists are more likely to consider a diagnosis of DIC than of the rarer TTP or HUS, thus delaying potentially lifesaving treatment.
Several diagnostic algorithms for TMA have been published [3, 8–10]. However, currently the only available guidance specific to the ICU are the recently published expert statements of Azoulay and colleagues [11]. This publication provides an excellent guide for the differential diagnosis of TMAs but only briefly mentions DIC. A concise diagnostic algorithm tailored to intensivists would aid rapid differential diagnosis of TTP and HUS from DIC, and enable early appropriate treatment.
(1)
Department of Intensive Care, Erasme University Hospital, Université libre de Bruxelles, Brussels, Belgium
(2)
Medical Intensive Care Unit, Hospital Clinic of Barcelona, IDIBAPS, University of Barcelona, Barcelona, Spain
(3)
Thrombosis and Haemophilia Centre, Guy's and St Thomas' NHS Foundation Trust, London, UK
(4)
Clinic for Nephrology, Transplantation Medicine and Intensive Care Medicine, University Witten/Herdecke Medical Centre, Cologne-Merheim, Germany
(5)
Division of Nephrology, Instituto de Investigación Hospital 12 de Octubre (imas12), Complutense University of Madrid, Madrid, Spain
(6)
Intensive Care Unit, Obstetric Medicine and Internal Medicine, Gestion Salud IPS Clinic, University of Cartagena, Cartagena, Colombia
(7)
Department of Emergency and Critical Care Medicine, Eastern Chiba Medical Center, Togane City, Japan