Pathophysiology, echocardiographic evaluation, biomarker findings, and prognostic implications of septic cardiomyopathy: a review of the literature
Received: 4 January 2018
Accepted: 16 April 2018
Published: 4 May 2018
Abstract
Background
Sepsis is a common condition encountered by emergency and critical care physicians, with significant costs, both economic and human. Myocardial dysfunction in sepsis is a well-recognized but poorly understood phenomenon. There is an extensive body of literature on this subject, yet results are conflicting and no objective definition of septic cardiomyopathy exists, representing a critical knowledge gap.
Objectives
In this article, we review the pathophysiology of septic cardiomyopathy, covering the effects of key inflammatory mediators on both the heart and the peripheral vasculature, highlighting the interconnectedness of these two systems. We focus on the extant literature on echocardiographic and laboratory assessment of the heart in sepsis, highlighting gaps therein and suggesting avenues for future research. Implications for treatment are briefly discussed.
Conclusions
As a result of conflicting data, echocardiographic measures of left ventricular (systolic or diastolic) or right ventricular function cannot currently provide reliable prognostic information in patients with sepsis. Natriuretic peptides and cardiac troponins are of similarly unclear utility. Heterogeneous classification of illness, treatment variability, and lack of formal diagnostic criteria for septic cardiomyopathy contribute to the conflicting results. Development of formal diagnostic criteria, and use thereof in future studies, may help elucidate the link between cardiac performance and outcomes in patients with sepsis.
Keywords
EchocardiographySepsisTroponinB-type natriuretic peptideUltrasound
Background
Septic cardiomyopathy (SC) is often diagnosed when some acute perturbation in cardiac function exists in the setting of sepsis. At present, no formalized or consensus definition of SC exists, representing a critical knowledge gap. Complexity of the cardiovascular system, myriad methods of assessment, and variations in the pre-septic state of the heart make elucidation of a cause-and-effect relationship difficult.
SC has been recognized for 40 years [1, 2] and may be present in up to 44% of patients [3, 4], but it remains incompletely understood. While results are varied, some studies suggest that mortality is two to three times greater when SC is present [5, 6]. Understanding how the heart behaves is critical when making treatment decisions for septic patients. For example, aggressive fluid resuscitation has been integral in the treatment of sepsis for nearly two decades, but recent literature suggests that excessive fluid resuscitation is deleterious in some patients [7, 8]. Variations in myocardial performance could explain, at least in part, these observed differences.
Early studies utilized invasive assessment methods or radionuclide imaging [4, 9]; while providing a plethora of data, these techniques are of limited utility to emergency and critical care physicians given that they cannot be performed at the point-of-care and are difficult to repeat.
Echocardiography, however, is widely available, non-invasive, and easily repeatable, making it an optimal modality for evaluation of SC. Measurement of serum cardiac biomarkers provides separate, but related, information about the state of the heart [10] and thus may be complementary to echocardiographically derived data.
The purpose of this article is to review the extant literature on SC, with a focus on the evaluation and prognostic implications of various echocardiographic and laboratory measures thereof.
Pathophysiology
The pathophysiologic cascade of sepsis begins when the host immune system responds to an invading pathogen, resulting in activation of the innate immune response [11]. This culminates in the generation and release of pro-inflammatory mediators and signaling molecules that may be physiologic (beneficial) or pathologic (harmful) to the host; concomitant release of anti-inflammatory mediators occurs as well. These molecules, acting through varied signal transduction pathways, which in some cases alter gene expression, activate both positive and negative feedback loops within the immune system [12]. Recent advances in oxidative lipidomics have identified products of upstream lipid metabolism that are involved in the initiation (eicosanoids) and recovery phases (lipoxins, resolvins) [13]. Sepsis-induced dysregulation of the normal immune response can lead to a variety of deleterious effects, including SC, multi-system organ failure, and ultimately death in some patients [5] .
Septic shock is often classified as a type of "distributive" shock—relative hypovolemia resulting from maldistribution of circulating volume due to peripheral vasodilation, glycocalyx dysfunction, and increased capillary permeability. It has also been described as a biphasic disorder with an early, hyperdynamic phase (high cardiac output (CO), low systemic vascular resistance (SVR), warm extremities) and a late, hypodynamic phase (low CO, poor perfusion) [5, 6]. Circulating inflammatory mediators are believed to be the causative agents, acting directly on cardiomyocytes and the peripheral vasculature, which affects myocardial performance via alterations in SVR and venous return.
While preload augmentation has long been a primary intervention for sepsis and can increase CO via the Frank-Starling mechanism, its ability to do so depends on the functional state of the heart. However, measures of preload, such as central venous pressure (CVP) and inferior vena cava (IVC) dimensions, provide limited information on underlying cardiac function. Even when volume responsiveness is suggested by low CVP, increased respiratory variation of IVC diameter, or other invasive methods, guidance of resuscitation based on these measures has not been found to improve outcomes [14–16].
Changes in afterload also affect the ability of the heart to deliver blood to the peripheral tissues. Thus, a heart with poor intrinsic contractility may be able to increase CO when SVR is low—thereby giving the impression of normal function—when in fact systolic performance is impaired. This dysfunction may only become apparent when SVR returns to normal via natural (recovery from sepsis) or artificial means (vasopressor use). Boissier et al. [17] demonstrated such an inverse relationship between ejection fraction and SVR in septic patients.
An early hypothesis, based on animal models, was that SC was caused by global myocardial ischemia resulting from decreased coronary blood flow [
18
]. Subsequent investigation, including human studies, showed preserved or increased coronary perfusion in some septic patients [
19
]. Derangements in cardiomyocyte physiology are still believed to play a role, but at the microcirculatory, rather than the macrocirculatory, level [
20
]. Inflammatory molecules are thought to be responsible for this via pleiotropic effects [
5
]. Damage occurs via changes in endothelial permeability, leading to edema, increased neutrophil transduction into the interstitium, fibrin deposition, and in some cases, activation of the coagulation cascade [
21
]. Increased oxidative stress may induce mitochondrial dysfunction and disruption of normal calcium handling [
22
]—critical events given the high-energy demands of cardiac tissue. The exact mechanism that culminates in cardiac dysfunction is not clear; one theory posits that myocardial edema leads to disruption or malfunction of the contractile apparatus [
23
]. Autonomic dysregulation leading to decreased expression of adrenergic receptors and thus resistance to endogenous catecholamines may also be present [
22
]. Figure
1
illustrates the complex interactions between host and pathogen factors that contribute to the development of SC.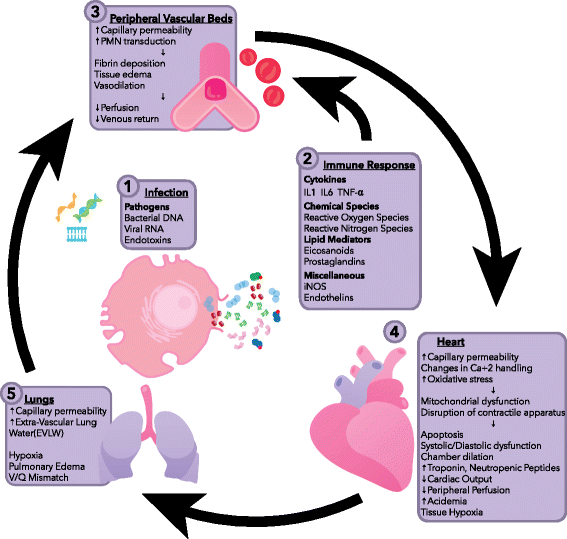 Despite such pathology, a cardinal feature of SC is its apparent reversibility, with many studies reporting that patients' cardiac function recovered fully to their pre-morbid state [1, 5, 20, 24]. Cardiac magnetic resonance has detected changes suggesting myocardial edema or an altered metabolic state, a pattern distinct from that seen with ischemia and necrosis, the former being consistent with reversibility [25]. Thus, some theorize that SC represents a protective "hibernating" state [26], as has been demonstrated in subsets of patients with acute myocardial ischemia [27]. A reversible—and incompletely understood—takotsubo pattern has also been described in septic patients. The physiologic stresses of sepsis are thought to play a role, but its place within the SC continuum is not clear given the paucity of extant data [28].
Implications for treatment
Currently, no treatment recommendations exist that specifically address the presence of SC. Patients with SC may be at greater risk for excessive fluid resuscitation and more likely to require inotropic support, as hypoperfusion would less likely be corrected by IVF administration alone. However, data comparing use of vasopressors, inotropes, and other treatments in patients with and without SC are scant and subject to extensive confounding. Where treatment data are stratified by presence or absence of SC [31, 44, 52, 78], only two found significant differences between groups. Brown et al. [52] found that patients with less severe DD received less IVF than those with more significant abnormalities (2.6 versus 5.5 l). Pulido et al. [31] reported higher doses of noradrenaline (norepinephrine) in patients with LV and RV systolic dysfunction, but no overall difference in the number of patients receiving it. Establishment of a standardized, objective definition of SC and adoption of more uniform study protocols amongst research groups would improve understanding of differences in treatment requirements for patients with SC.
Positive inotropic agents have the same putative benefits of vasopressors—increasing CO, thereby improving oxygen delivery to the peripheral tissues. Recommendations to titrate therapy to central venous oxygen saturation > 65% are of uncertain utility, as a normal value does not necessarily indicate adequate resuscitation [79]. Furthermore, excessive β stimulation may be harmful, and there is some evidence that β-blockade may be beneficial in some patients [80]. Preliminary trials of levosimendan, a calcium sensitizer and positive inotrope, reported reduced mortality [81], but no benefit was found in a subsequent larger study [82].
Conclusions
SC is a multi-factorial process that involves complex interactions between host and pathogen factors, and a full understanding of the disease process remains elusive. Prognostic implications of echocardiographic and biomarker findings are precluded by conflicting data from extant literature. Formal diagnostic criteria for SC do not exist; development of these, and studies based thereon, should be priorities for future research.
Abbreviations
ASE:

American society of echocardiography
BNP:

B-type natriuretic peptide
CAD:

Coronary artery disease
CI:

Confidence interval
CO:

Cardiac output
cTnT/cTnI:

Contemporary troponin T/I
CVP:

Central venous pressure
DT:

Mitral inflow deceleration time
EDV:

End diastolic volume
ESV:

End systolic volume
GLPS:

Global longitudinal peak strain
GLS:

Global longitudinal strain
HR:

Hazard ratio
hsTnT:

High-sensitivity troponin T
ICU:

Intensive care unit
IVC:

Inferior vena cava
LAVI:

Left atrial volume index
LV:

Left ventricle
LVEF:

Left ventricular ejection fraction
MAPSE:

Mitral annular plane systolic excursion
msec:

Millisecond
NP:

Natriuretic peptide
NT pro-BNP:

Amino-terminal pro-BNP
OR:

Odds ratio
Sa:

Tissue doppler velocity measurement of mitral annulus
SC:

Septic cardiomyopathy
SN:

Sensitivity
SP:

Specificity
STE:

Speckle tracking echocardiography
SVR:

Systemic vascular resistance
TDI:

Tissue doppler imaging
Declarations
Acknowledgements
The authors would like to acknowledge Daniel Foley, BS for the creation of Fig. 1.
Authors' contributions
RE and PL conceived the article; AS created the tables; CR created the conceptual framework of Fig. 1 and provided basic science expertise for the pathophysiology section; all of the authors contributed substantially to drafting and revising the manuscript and have given final approval of the submitted draft; RE takes responsibility for the manuscript as a whole.
Competing interests
PL received consulting fees from the following companies/organizations: Novartis Pharmaceuticals, Cardiorentis Inc., Trevena Inc., Apex Innovations, Roche Diagnostics, Siemens, Shire, Sciex. PL received consulting fees from the following institutions/organizations: Novartis Pharmaceuticals, Cardiorentis Inc., Trevena Inc., Amgen, BMS, Edwards Lifesciences, AHRQ (1 R01 HS025411), NHLBI (1 R34 HL136986 and 5 R01 HL127215), NIH Admin (1 U24 NS100680), PCORI (FC14-1409-21,656), Blue Cross Blue Shield of MI Foundation. The other authors have no competing interests.
Publisher's Note
Springer Nature remains neutral with regard to jurisdictional claims in published maps and institutional affiliations.
Open AccessThis article is distributed under the terms of the Creative Commons Attribution 4.0 International License (http://creativecommons.org/licenses/by/4.0/), which permits unrestricted use, distribution, and reproduction in any medium, provided you give appropriate credit to the original author(s) and the source, provide a link to the Creative Commons license, and indicate if changes were made. The Creative Commons Public Domain Dedication waiver (http://creativecommons.org/publicdomain/zero/1.0/) applies to the data made available in this article, unless otherwise stated.
Authors' Affiliations
(1)
Department of Emergency Medicine, Wayne State University School of Medicine, Detroit Medical Center/Sinai-Grace Hospital, Detroit, USA
(2)
Department of Emergency Medicine, Wayne State University School of Medicine, St. John Hospital and Medical Center, Detroit, USA
(3)
Department of Emergency Medicine, Cardiovascular Research Institute, Wayne State University School of Medicine, Detroit, USA
(4)
Division of Cardiology, Wayne State University School of Medicine, John D. Dingell VA Medical Center, Detroit, USA
(5)
Department of Emergency Medicine, Wayne State University School of Medicine, Detroit Medical Center/Detroit Receiving Hospital, Detroit, USA