Mechanical circulatory assist devices: a primer for critical care and emergency physicians
Abstract
Mechanical circulatory assist devices are now commonly used in the treatment of severe heart failure as bridges to cardiac transplant, as destination therapy for patients who are not transplant candidates, and as bridges to recovery and "decision-making". These devices, which can be used to support the left or right ventricles or both, restore circulation to the tissues, thereby improving organ function. Left ventricular assist devices (LVADs) are the most common support devices. To care for patients with these devices, health care providers in emergency departments (EDs) and intensive care units (ICUs) need to understand the physiology of the devices, the vocabulary of mechanical support, the types of complications patients may have, diagnostic techniques, and decision-making regarding treatment. Patients with LVADs who come to the ED or are admitted to the ICU usually have nonspecific clinical symptoms, most commonly shortness of breath, hypotension, anemia, chest pain, syncope, hemoptysis, gastrointestinal bleeding, jaundice, fever, oliguria and hematuria, altered mental status, headache, seizure, and back pain. Other patients are seen for cardiac arrest, psychiatric issues, sequelae of noncardiac surgery, and trauma. Although most patients have LVADs, some may have biventricular support devices or total artificial hearts. Involving a team of cardiac surgeons, perfusion experts, and heart-failure physicians, as well as ED and ICU physicians and nurses, is critical for managing treatment for these patients and for successful outcomes. This review is designed for critical care providers who may be the first to see these patients in the ED or ICU.
Keywords
Biventricular assist deviceCardiac arrestDevice failureGastrointestinal bleedingHemodynamicHypotensionMechanical circulatory assist devicesSepsisShortness of breathTotal artificial heart
Background
Mechanical circulatory assist devices are now commonly used to support the failing heart: as a bridge to transplant (BTT) to support cardiac function before heart transplantation; as a bridge to recovery to give the native heart a chance to recover; as a bridge to decision until a determination can be made regarding a patient's eligibility for cardiac transplantation; as a bridge until a more definitive device can be implanted (e.g., a biventricular assist device [BiVAD] to a left ventricular assist device [LVAD]); and as destination therapy (DT) to support cardiac function for the remainder of a patient's life [1, 2].
Mechanical circulatory assist devices restore tissue circulation by increasing blood supply, thereby improving organ function. However, they can be challenging to manage and are associated with complications, some of which are life-threatening. With increasing numbers of devices being implanted both for BTT and for DT, critical care and emergency physicians should become familiar with the different types of devices (Fig.
1
) [
3
,
4
], understand the unique physiology associated with them, be familiar with the clinical presentation of patients who experience complications, and know how to manage symptoms and complications.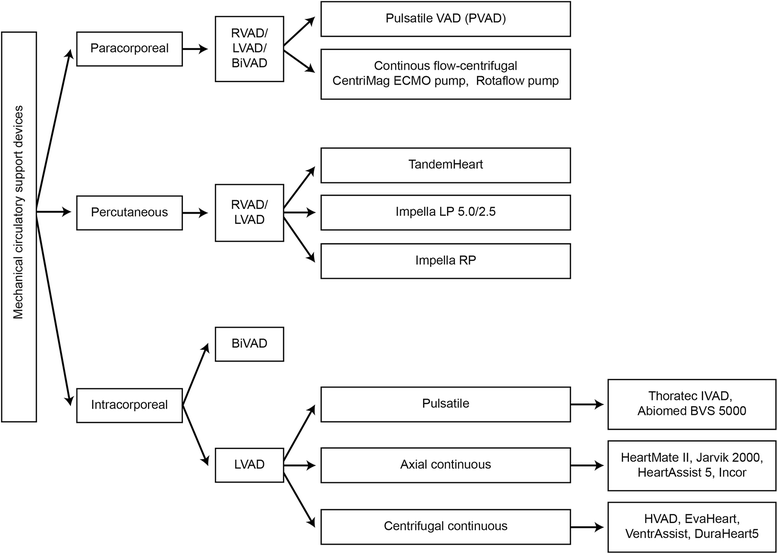 Device descriptions
Depending upon the indication, one of the following types of devices, often called
pumps
, may be implanted: paracorporeal or extracorporeal devices, which are placed outside the patient's body, and intracorporeal devices, which are implanted in a preperitoneal position either above (in the pericardial space) or below the diaphragm (Fig.
2
). All of the currently available implantable pumps have external controllers and power sources. Of the implantable devices, LVADs, as the name suggests, support left ventricular (LV) function in a situation where right ventricular (RV) function is adequate and RV assist devices (RVADs) support right ventricular function when LV function is adequate. For patients who require both RV and LV support, a BiVAD configuration can be used. BiVADs are composed of two separate devices: one for support of the RV and one for support of the LV. For patients with little remaining native cardiac function and no hope for a recovery, a total artificial heart (TAH) may be the only option. TAHs replace all functions of the native heart.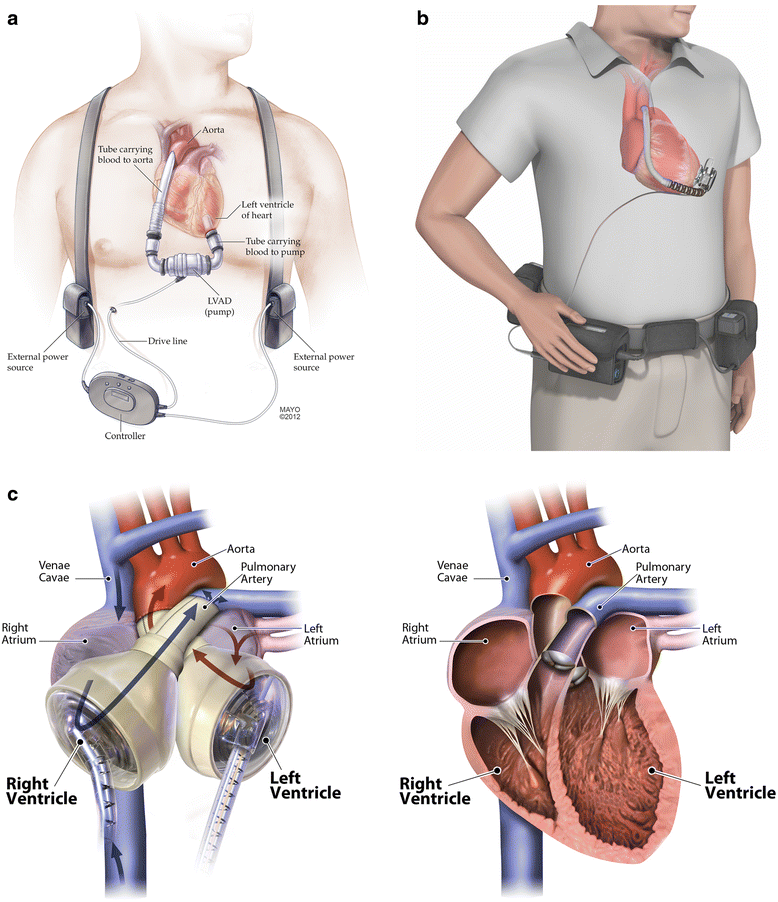 Blood-flow characteristics
Mechanical circulatory assist devices produce either pulsatile or continuous blood flow. The first LVADs were pulsatile or displacement (pusher-plate) pumps. These devices were too large for an average-sized person, had a number of parts that could fail (e.g., valves, inflow and outflow conduits), and were associated with a variety of complications. They have been replaced with a new generation of continuous-flow pumps, which have inlet and outlet ports and a single, rotating element that imparts energy to the blood to increase arterial blood flow and pressure [5]. Blood is pulled into the impeller of the pump via an inflow cannula connected to the LV apex and delivered to the systemic circulation via an outflow cannula connected to either the ascending or descending aorta. Because the continuous-flow pumps have few moving parts, when properly functioning they seldom fail and are also associated with fewer complications than their predecessors, which has improved the quality of life for BTT and DT patients [6–8].
Continuous-flow LVADs available today produce two types of blood flow: centrifugal or axial [
9
]. In a centrifugal pump, blood is captured between rotating blades, which spin and, basically, throw the blood tangentially out from the blade tips (an induced force). In an axial-flow device, the rotating impeller operates like a propeller in a pipe. This mechanism can be thought of as an auger, trying to screw itself into the blood coming through the inlet cannula against the resistance force at the outlet cannula to overcome the difference between preload and afterload (Fig.
3
). The two most commonly used devices today are the HeartMate II (Thoratec Corp.), an axial-flow device, and the HeartWare HVAD System (HeartWare Inc.), a centrifugal-flow device.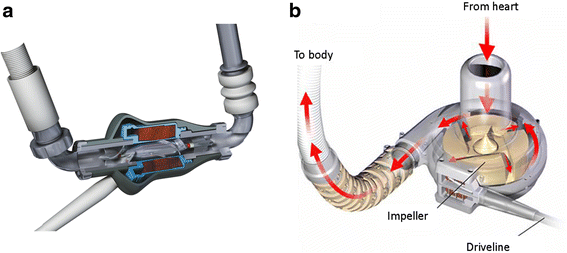 Definitions
The following selected definitions are important to the understanding of how mechanical support devices operate.
RPM
The revolutions per minute (RPMs), which determine pump flow, are set for each device by the heart failure physician caring for the patient. They are modified as flow needs change.
Flow
The continuous flow from the LVAD is created by a spinning impeller, which generates forward flow [10]. A change in pump function or patient condition leads to changes in flow. The device flow is directly proportional to the rotor speed and inversely related to the difference of pressure in the inflow and outflow cannulas, i.e., Device flow = Rotor speed/(Pumpinflow − Pumpoutflow). Therefore, in addition to low RPM rate, a low flow rate could be caused by a number of conditions that would decrease preload to the device, such as decreased intravascular volume, RV failure, tamponade, thrombus, or kinking in the inflow cannula. In addition, low flow can occur with high afterload, such as when a patient has a hypertensive emergency or when the outflow cannula is obstructed.
Pump power
LVAD pump power is a measure of the current and voltage applied to the motor and varies directly with pump speed and flow [10]. When flow is obstructed unrelated to contact with the rotor, power is reduced, whereas power is increased (and flows decreased) when thrombus forms on the rotor.
Pulsatility index
The pulsatility index (PI) corresponds to the magnitude of flow pulse through the pump. The magnitude of flow pulse is measured and averaged over a 15-s interval to produce the PI for the HeartMate II (but not the HeartWare) [11]. The PI fluctuates with changes in volume status and the heart's contractility. It increases when preload and contractility increase and decreases when blood volume and afterload are reduced and when there is an obstruction to inflow or outflow that causes low flow and abnormal power.
Suction events
A suction event occurs when there is reduced filling of the pump (reduced preload), which increases negative pressure within the LV. When this occurs, part of the LV wall is sucked over and covers the pump's inlet cannula; the pump then sounds an alarm and the speed will decrease to release the suction. Suction events are caused by low volume; RV failure or tamponade, which causes low LV filling; and inflow cannula obstruction. Suction events can lead to low LVAD flows and can trigger ventricular arrhythmias. The management includes decreasing the RPM rate and administering fluid [10].
Abnormal LVAD parameters and their diagnosis and management are listed in Table
1
.
Table 1
Diagnosis and management of abnormal LVAD parameters
Abnormality

Cause

Interventions

High power

Pump thrombus

Anticoagulation therapy, pump exchange

Low power

Device problem

Check batteries, power source

High pulsatility index

Recovery of LV function

Wean LVAD support

Lead damage

Check LVAD and driveline

Low pulsatility index

Worsening native ventricular function

Increase pump speed, inotropic therapy

Hypovolemia

Administer fluid therapy

Excess pump speed

Lower pump speed

High flow rate

Vasodilation (SALAD [sepsis/anaphylaxis/liver dysfunction/adrenal insufficiency/medications])

Identify and treat causes of sepsis; administer vasopressors for low mean arterial pressure

Low flow rate

Hypovolemia/bleeding RV failure/tamponade/hypertensive emergency

Administer intravenous fluids/blood

Assess and treat

Arrhythmias

Assess and treat

Suction events

All causes of low flow

Administer fluid therapy

Excessive LV unloading

Lower pump speed
Modes
Two modes can be set for the HeartMate II: fixed and auto. In fixed-rate mode, the pump rate is set close to the patient's baseline value and does not vary, although the rate can be adjusted by using the system monitor. In auto mode, the LVAD responds to the patient's activity and volume status, filling and emptying as needed to meet physiologic demand.
Clinical presentations of patients with LVADs
Patients with LVADs who come to the emergency department (ED) or are admitted to the intensive care unit (ICU) usually have symptoms but not a clinical diagnosis. The following review will hopefully direct the provider in an ED or critical care unit to an approach for a differential diagnosis of symptoms for ventricular assist device (VAD)-specific and non-VAD-specific causes. Although this primer is meant for providers who see patients in an emergency setting, the approaches are also relevant for diagnosing and treating patients with new LVADs in a postoperative setting.
The common symptoms of patients with LVADs are nonspecific and include shortness of breath, hypotension, anemia, chest pain, syncope, hemoptysis, nausea, vomiting, diarrhea, gastrointestinal (GI) bleeding, jaundice, fever, chills, oliguria and hematuria, altered mental status, headache, seizure, and back pain. Other patients are seen for cardiac arrest, psychiatric issues, sequelae of noncardiac surgery, issues related to pregnancy, and trauma. The critical care physician may also need to evaluate patients for brain death and organ donation.
Symptom approach
The following section describes a symptom-oriented approach for critical care providers to use in determining differential diagnoses and treating patients with LVADs.
Conclusions
Current, continuous-flow mechanical circulatory assist devices are smaller, more durable, safer, and more effective for treating patients with severe heart failure than their pulsatile-flow predecessors. With the FDA's market approval of the HeartMate II, more patients are having these devices implanted, and additional devices are currently undergoing clinical trials. Thus, health care providers in EDs and ICUs need to have a good knowledge of the symptoms and signs associated with complications of these devices and be able to make the differential diagnosis and begin the management steps required for a successful outcome for these patients. A multidisciplinary team-based approach is the first essential step to improved patient outcomes.
Abbreviations
AICD:

automated implantable cardioverter defibrillator
AKI:

acute kidney injury
BiVAD:

biventricular assist device
BTT:

bridge to transplant
CO:

cardiac output
CT:

computed tomography
DT:

destination therapy
ED:

emergency department
FDA:

US Food and Drug Administration
Fio 2 :

fraction of inspired oxygen
GAVE:

gastric antral vascular ectasia syndrome
GI:

gastrointestinal
ICU:

intensive care unit
LDH:

lactase dehydrogenase
LV:

left ventricle/left ventricular
LVAD:

left ventricular assist device
MAP:

mean arterial pressure
MI:

myocardial infarction
PEEP:

positive end-expiratory pressure
PI:

pulsatility index
PVAD:

pulsatile ventricular assist device
RPM:

revolutions per minute
RV:

right ventricle/right ventricular
RVAD:

right ventricular assist device
TAH:

total artificial heart
TEE:

transesophageal echocardiography
VAD:

ventricular assist device
Declarations
Acknowledgments
We would like to acknowledge Marianne Mallia, ELS, Editor, Scientific Publications, Mayo Clinic, for assistance with editing and proofreading this manuscript. This is an invited review and the authors did not receive any funding from external or internal sources.
Open AccessThis article is distributed under the terms of the Creative Commons Attribution 4.0 International License (http://creativecommons.org/licenses/by/4.0/), which permits unrestricted use, distribution, and reproduction in any medium, provided you give appropriate credit to the original author(s) and the source, provide a link to the Creative Commons license, and indicate if changes were made. The Creative Commons Public Domain Dedication waiver (http://creativecommons.org/publicdomain/zero/1.0/) applies to the data made available in this article, unless otherwise stated.
Authors' Affiliations
(1)
Department of Critical Care Medicine, Mayo Clinic Hospital, Phoenix, USA
(2)
Division of Cardiovascular and Thoracic Surgery, Mayo Clinic Hospital, Phoenix, USA
(3)
Division of Nephrology and Hypertension, Mayo Clinic, Rochester, USA
(4)
Division of Pulmonary and Critical Care Medicine, Mayo Clinic, Rochester, USA
(5)
Department of Critical Care Medicine, Mayo Clinic Jacksonville, Florida, USA