Optimizing sedation in patients with acute brain injury
Abstract
Daily interruption of sedative therapy and limitation of deep sedation have been shown in several randomized trials to reduce the duration of mechanical ventilation and hospital length of stay, and to improve the outcome of critically ill patients. However, patients with severe acute brain injury (ABI; including subjects with coma after traumatic brain injury, ischaemic/haemorrhagic stroke, cardiac arrest, status epilepticus) were excluded from these studies. Therefore, whether the new paradigm of minimal sedation can be translated to the neuro-ICU (NICU) is unclear. In patients with ABI, sedation has 'general' indications (control of anxiety, pain, discomfort, agitation, facilitation of mechanical ventilation) and 'neuro-specific' indications (reduction of cerebral metabolic demand, improved brain tolerance to ischaemia). Sedation also is an essential therapeutic component of intracranial pressure therapy, targeted temperature management and seizure control. Given the lack of large trials which have evaluated clinically relevant endpoints, sedative selection depends on the effect of each agent on cerebral and systemic haemodynamics. Titration and withdrawal of sedation in the NICU setting has to be balanced between the risk that interrupting sedation might exacerbate brain injury (e.g. intracranial pressure elevation) and the potential benefits of enhanced neurological function and reduced complications. In this review, we provide a concise summary of cerebral physiologic effects of sedatives and analgesics, the advantages/disadvantages of each agent, the comparative effects of standard sedatives (propofol and midazolam) and the emerging role of alternative drugs (ketamine). We suggest a pragmatic approach for the use of sedation-analgesia in the NICU, focusing on some practical aspects, including optimal titration and management of sedation withdrawal according to ABI severity.
Keywords
Traumatic Brain InjuryStatus EpilepticusDexmedetomidineCerebral Perfusion PressureMean Arterial Blood Pressure
Background
It is now well established, based on randomized trials conducted in the general ICU adult and paediatric populations, that minimizing or avoiding sedation provides a better outcome, including shorter duration of mechanical ventilation and length of hospital stay [1]. Less sedation also facilitates early mobilization, reduces the need for additional examinations such as cerebral computed tomography scan or electroencephalography (EEG) to assess brain function, and might reduce delirium and healthcare costs [2].
Patients with severe acute brain injury (ABI; including severe traumatic brain injury, poor-grade subarachnoid haemorrhage, severe ischaemic/haemorrhagic stroke, comatose cardiac arrest, status epilepticus) have traditionally been kept deeply sedated, at least in the early phase following ICU admission. Sedation has specific roles following ABI. First, sedation/analgesia is used for control of pain, anxiety, agitation and patient–ventilator synchrony. Second, sedation/analgesia has additional 'neuro-specific' indications in the acute phase that might significantly influence its use in this setting [3]. Whether a strategy of avoiding sedation is applicable to neurointensive care is unknown: this must be balanced between the potential benefit that daily interruption of sedation might have on enhancing awakening and monitoring of neurological function and the risk that stopping sedatives (hypnotics) and analgesics (opioids) might exacerbate intracranial hypertension in patients with reduced brain compliance. In addition, ABI patients were generally excluded from randomized trials on sedation, and therefore the level of evidence to guide sedative choice or algorithms for sedation–analgesia management is generally low [4, 5].
In this review, we provide a concise summary of the main cerebral physiologic effects of sedatives and analgesics, the advantages/disadvantages of each agent, the comparative effects of standard sedatives (mainly propofol and midazolam) in patients with ABI, and the emerging role of alternative sedatives, particularly ketamine. ICU delirium is not covered here, because no delirium assessment tools have been validated in the ABI population. We suggest a practical approach for the use of sedation and analgesia in the neuro-ICU (NICU), with specific attention on how to best initiate, titrate and stop sedation, according to ABI severity.
Rationale for the use of sedation and analgesia after ABI
In patients with ABI, sedation exerts specific cerebral protective effects which can be summarized as follows.
Indications for sedation in ABI patients
General indications
Continuous infusion of sedative and opioid agents is generally considered to protect the injured brain in the acute phase (first 24 h up to 48 h), especially in comatose NICU patients with severe injury and abnormal head computed tomography, to prevent pain, anxiety and agitation and to enable mechanical ventilation.
Specific indications
Sedation/analgesia is part of management in other particular conditions, which include targeted temperature management (TTM), elevated ICP and refractory status epilepticus:
In all other conditions, sedation has no specific role and should be limited as in the general ICU. This will allow repeated daily clinical examination, which remains the most accurate way to detect neurological worsening in this scenario [23]. Light sedation and pain control might be considered in case of agitation when all other treatable causes have been excluded, before invasive manoeuvres (e.g. such as endotracheal aspiration) and in cases of severe patient-ventilator asynchrony.
How to select sedatives and analgesics in the NICU
A practical approach for the use of sedation and analgesia in the NICU
A practical algorithm for the management of sedation in the NICU is proposed in Fig.
1
. The approach to sedation should first consider the severity of ABI and the cerebral physiological state, mainly ICP. Attention should be given to adequately control pain, control agitation and promote ventilator synchrony. In patients with intracranial hypertension, ICP and multimodal monitoring is an important asset and therapeutic targets for sedation and analgesia should be titrated to control ICP and (when available) brain tissue oxygen pressure (PbtO
2
). The implementation of local protocols for sedation-analgesia which incorporate a clinical sedation target may limit excessive sedation [
45
].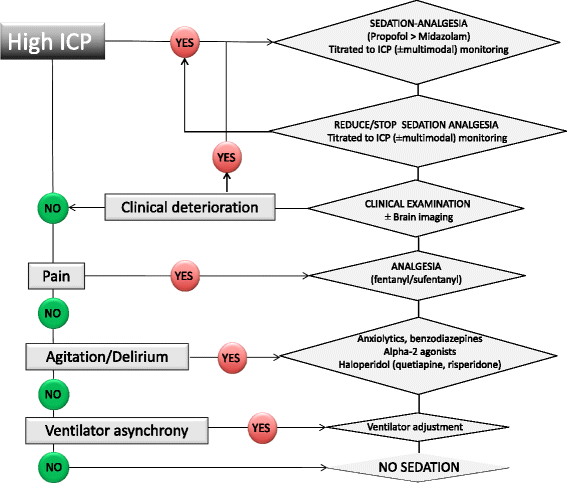 Monitoring of sedation and analgesia in the NICU
Conventional validated sedation scoring tools for critical care, such as the Richmond Agitation Sedation Scale and the Sedation-Agitation Scale, may be reasonable to use in ABI patients [46]. However, in deeply sedated patients or in those treated with neuromuscular blocking agents, the role of EEG to monitor sedation has been a topic of clinical investigation. Simplified EEG tools providing quantitative bispectral index (BIS) monitoring showed that BIS values significantly correlated with Richmond Agitation Sedation Scale and Sedation-Agitation Scale scores in ABI patients [47]. In another study, the BIS reliably assessed sedation levels during continuous propofol infusion in traumatic brain injury patients [48]. Utilization of BIS in the NICU was limited by the reliability of these techniques (muscle artefacts, shivering) in the particular environment of the ICU. Also, the BIS was initially developed for monitoring the depth of general anaesthesia in patients without brain pathology. ABI may influence the BIS algorithm because of EEG changes related to the pathology itself rather than to the sedative state. Whether new EEG techniques will allow better sedation monitoring in the NICU needs further investigation.
Assessment of the adequacy of analgesia presents special challenges. The Numeric Rating Scale is the preferred approach in alert patients, with either the Behavioral Pain Scale or the Critical Care Pain Observation Tool in subjects who are not able to respond. However, uncertainties remain about the performance of these scales in ABI patients [49]. The Nociception Coma Scale has recently emerged as a valid tool to assess pain in patients with disorders of consciousness [50]. The determination of the adequacy of analgesia for these patients still relies upon the observation of indirect signs of pain; for example, tachycardia, systemic hypertension and elevation in ICP during painful interventions.
Pharmacology and side effects
Withdrawal of sedation in NICU patients
Based on trials in the general ICU population, it is clear that patients have improved outcomes with sedation minimization strategies such as daily sedation interruption (SI) [67]. However, sedation minimization is not easily applicable to NICU patients, particularly in the acute phase [68]. Furthermore, sedation has 'neuro-specific' indications and ABI patients generally were excluded from studies evaluating the impact of SI [4, 5], so data from these trials cannot be extrapolated to the NICU population. Indeed, in a survey conducted in 16 Scandinavian centres, half of them never performed neurological wake-up tests in sedated ABI patients [31]. Withdrawal of sedation and SI by daily wake-up tests may appear beneficial to NICU patients by allowing clinical neuro-monitoring and timely detection of warning neurological signs [69]. Daily SI trials have the potential to reduce mechanical ventilation duration and the need for tracheostomy [70]. These potential benefits, however, must be balanced against the risk of further cerebral haemodynamic deterioration when sedation is stopped abruptly [68]. SI may lead to significant ICP elevation and CPP reductions, which were more relevant in the first days after ABI than after 4–5 days [71]. Skoglund et al. [69] showed that abrupt SI for neurological wake-up tests increased circulating levels of stress hormones, such as cortisol and endogenous catecholamines, was associated with clinical signs of adrenergic activation and was associated with a slight but significant increase in ICP. Given that adrenergic activation might exacerbate secondary brain injury and that sympathetic blockade improves neurological outcome in both experimental and human settings [72], the use of SI may raise concern in the setting of ABI. Furthermore, while SI may cause an unwanted increase of ICP and decrease of PbtO2, the strategy also actually detected new neurological signs only in a very low number of wake-up tests [68].
A reasonable approach is to recommend avoidance of SI in all patients at risk for (clinical and radiological signs of brain oedema) or having ICP elevation, and in those undergoing TTM and treatment of refractory status epilepticus. In these patients, sedation should never be stopped abruptly but rather withdrawn progressively, titrating the sedation dose to ICP (and, if available, PbtO2) targets. In all other ABI patients, withdrawal should proceed as in the general ICU and daily SI is not contraindicated.
Conclusions
Sedation and analgesia is frequently used in neurointensive care both for 'general' (reduction of pain, anxiety, discomfort, patient–ventilator asynchrony) and 'neuro-specific' indications (ICP control, TTM, seizure management). Sedation is not without risk and, as in the general ICU, might prolong the length of stay and impact morbidity and mortality. Management of sedation/analgesia is based on consideration of the patient clinical scenario, potential benefits and risks, and the side effects related to each agent. Midazolam and propofol are most frequently used and recommended as first-line sedatives. In comparative studies, both agents are equally effective in controlling ICP, but midazolam may prolong the duration of mechanical ventilation and ICU stay. Amongst alternative agents, ketamine appears promising. Because of limited data, dexmedetomidine cannot be recommended at this time in the NICU.
A practical approach should be used in the NICU, individualized to the severity of ABI and intracranial monitoring-derived therapeutic targets (ICP, CPP and PbtO2), aiming to optimize analgesia and to minimize sedative doses.
Note
This article is part of a series on Neurocritical care, edited by Fabio Taccone. Other articles in this series can be found at http://ccforum.com/series/NCRC.
Abbreviations
ABI:

Acute brain injury
BIS:

Bispectral index
CBF:

Cerebral blood flow
CMRO2 :

Cerebral metabolic rate for oxygen
CPP:

Cerebral perfusion pressure
EEG:

Electroencephalography
ICP:

Intracranial pressure
MAP:

Mean arterial blood pressure
NICU:

Neuro-ICU
PbtO2 :

Brain tissue oxygen pressure
PRIS:

Propofol infusion syndrome
SI:

Sedation interruption
TTM:

Targeted temperature management
Declarations
Open AccessThis article is distributed under the terms of the Creative Commons Attribution 4.0 International License (http://creativecommons.org/licenses/by/4.0/), which permits unrestricted use, distribution, and reproduction in any medium, provided you give appropriate credit to the original author(s) and the source, provide a link to the Creative Commons license, and indicate if changes were made. The Creative Commons Public Domain Dedication waiver (http://creativecommons.org/publicdomain/zero/1.0/) applies to the data made available in this article, unless otherwise stated.
Authors' Affiliations
(1)
Department of Intensive Care Medicine, CHUV-University Hospital, Lausanne, Switzerland
(2)
Faculty of Biology and Medicine, University of Lausanne, Lausanne, Switzerland
(3)
School of Medicine and Surgery, University of Milan-Bicocca, Milan, Italy
(4)
Neurointensive Care, Department of Emergency and Intensive Care, San Gerardo Hospital, Monza, Italy
(5)
Department of Intensive Care, Erasme Hospital, Université Libre de Bruxelles, Brussels, Belgium
(6)
Department of Medicine and Interdepartmental Division of Critical Care Medicine, Mount Sinai Hospital, University of Toronto, Toronto, Canada
(7)
Division of Anaesthesia, Department of Medicine, University of Cambridge, Addenbrooke's Hospital, Cambridge, UK
(8)
Department of Anesthesiology and Intensive Care, Hôpital Michallon, Grenoble University Hospital, Grenoble, France