Importance of a registered and structured protocol when conducting systematic reviews: comments about nebulized antibiotics for ventilator-associated pneumonia
Published: 20 August 2015
Keywords
Confidence Interval
Observational Study
Mechanical Ventilation
Control Design
Clinical Success
We appreciate Gu's [1] interest in our study. We apologize and agree with his comment about attributing units to standardized mean difference (SMD). Nevertheless, similar to the SMD, results in mean difference (control – nebulized) were unaffected by nebulized antibiotics (2.67 days, 95 % confidence interval (CI) –2.89, 8.23 for ICU length of stay (LOS); and 0.70 days, 95 % CI −3.40, 4.80 for mechanical ventilation). However, we strongly disagree with other points raised by the letter.
First, the study protocol was defined a priori [2]. We disagree that combining observational studies with intervention studies is reserved only for safety evaluation. This topic has been discussed in the literature and combining both types of studies was adequate for our aim [3]. Furthermore, we presented the main results separating interventional studies from observational studies, thereby allowing the reader to interpret both analyses independently.
Second, both of the studies cited as "case–control studies" [
1
] received this denomination in their title and abstract. However, by reading their methods it becomes clear that they are actually matched cohort studies [
4
,
5
]. Indeed, they matched exposed patients ("nebulized group") to unexposed patients ("no-nebulized group"). A case–control design starts with the outcome (case = "clinical success") and matches them with controls ("clinical failures"). Therefore, our measure of effect was correct [
5
]. For exploration, we report the analysis for clinical cure using the odds ratio (OR) (Fig.
1
). The results are unchanged.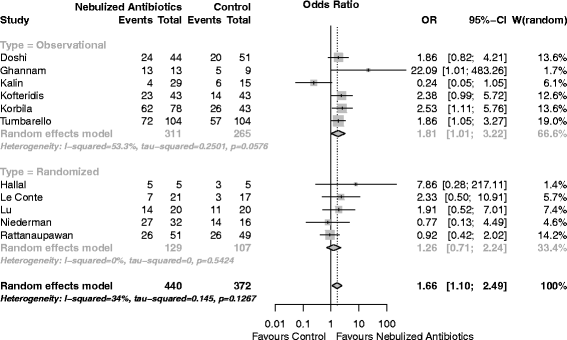 Third, Kalin's study was included because it fulfilled our inclusion/exclusion criteria [2]. Gu's suggestion to exclude this study based solely on its effects in heterogeneity could be considered selective reporting [1].
Our study provided data for further trials aiming to evaluate the effect of nebulized antibiotics in ventilator-associated pneumonia (VAP) [2].
Abbreviations
CI:

Confidence interval
LOS:

Length of stay
OR:

Odds ratio
SMD:

Standardized mean difference
VAP:

Ventilator-associated pneumonia
Declarations
Open Access This article is distributed under the terms of the Creative Commons Attribution 4.0 International License (http://creativecommons.org/licenses/by/4.0/), which permits unrestricted use, distribution, and reproduction in any medium, provided you give appropriate credit to the original author(s) and the source, provide a link to the Creative Commons license, and indicate if changes were made. The Creative Commons Public Domain Dedication waiver (http://creativecommons.org/publicdomain/zero/1.0/) applies to the data made available in this article, unless otherwise stated.
Authors' Affiliations
(1)
Cooperative Network for Research—AMIB-Net, Associação de Medicina Intensiva Brasileira, São Paulo, Brazil
(2)
Emergency Medicine Discipline, Faculty of Medicine, University of São Paulo, São Paulo, Brazil
(3)
Intensive Care Unit, Hospital Alemão Oswaldo Cruz, São Paulo, Brazil
(4)
Adult Intensive Care Unit, A.C. Camargo Cancer Center, São Paulo, Brazil
(5)
Intensive Care Unit, University Hospital Prof. Edgar Santos, Universidade Federal da Bahia, Rua Augusto Viana, Salvador, Brazil
(6)
Research and Education Institute (IEP), Hospital Sirio-Libanes, São Paulo, Brazil
(7)
Department of Pulmonology, Hospital Clinic of Barcelona, Institut D'investigacions August Pi I Sunyer (IDIBAPS), University of Barcelona, Ciber de Enfermedades Respiratorias (CIBERES), Barcelona, Spain
(8)
Amil Critical Care Group, Hospital Paulistano, São Paulo, Brazil
(9)
Respiratory Intensive Care Unit, Pulmonary Division, Heart Institute, Hospital das Clínicas, University of São Paulo, Sao Paulo, Brazil