Divergent changes in regional pulmonary filling characteristics during endotoxin-induced acute lung injury in pigs
Critical Care volume 15, Article number: P145 (2011)
Introduction
Divergent regional filling characteristics of the lung may explain ventilator-induced lung injury. In this descriptive study, the potential of electrical impedance tomography (EIT) to determine progressive changes in regional filling characteristics during acute lung injury was explored.
Methods
Endotoxin was infused during 150 minutes in 11 mechanically ventilated pigs (VC, TV 10 ml/kg, PEEP 5, RR set to normocapnia at I:E 1:2). EIT (Evaluation Kit 2; Dräger Medical) was used to monitor global and regional (four equal ventrodorsal regions of interest, ROIs 1 to 4) impedance changes at the mid-thoracic level. The tidal regional versus global impedance changes were normalized and analysed by second-degree polynomial correlation [1]. A square coefficient (x2) <0 indicates hyperinflation, >0 indicates recruitment and a value around 0 indicates homogeneous regional to global filling. Statistical evaluation was by ANOVA and Kruskal-Wallis post-hoc test, significance was set at P < 0.05.
Results
Endotoxinaemia increased the A-a O2 gradient and shunt, Qs/Qt, from 5.7 ± 3.6 to 33 ± 24 kPa and from 9.2 ± 2 to 27 ± 6%. Homogeneous filling in all four ROIs occurred at baseline (Figure 1) but progressively changed to hyperinflation in ROI 1 (x2 = -0.36) and recruitment (x2 = 0.66) in ROI 4 at 150 minutes, with ROIs 2 and 3 showing intermediate but similar changes. The x2 gradient from ROIs 1 to 4 (dotted line) increased significantly consistent with increased regional heterogeneity comprising hyperinflation as well as recruitment.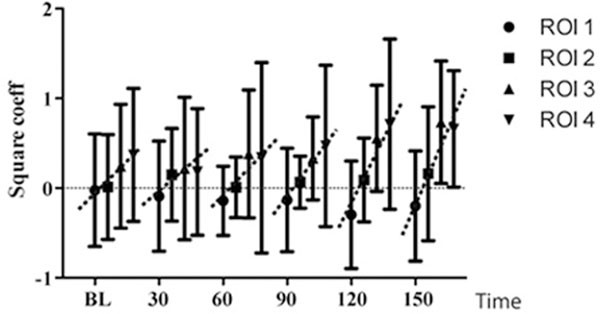 Conclusions
EIT can identify lung areas showing hyperinflation, recruitment or homogeneous filling, allowing ventilator settings to be adjusted to optimize pulmonary filling characteristics. Monitoring by EIT may thus potentially be used to minimize ventilator-induced lung injury.
References
Hinz , et al.: Regional filling characteristics of the lungs in mechanically ventilated patients with acute lung injury. Eur J Anaesth 2007, 24: 414-424. 10.1017/S0265021506001517
Rights and permissions
This article is licensed under a Creative Commons Attribution 4.0 International License, which permits use, sharing, adaptation, distribution and reproduction in any medium or format, as long as you give appropriate credit to the original author(s) and the source, provide a link to the Creative Commons licence, and indicate if changes were made. The images or other third party material in this article are included in the article's Creative Commons licence, unless indicated otherwise in a credit line to the material. If material is not included in the article's Creative Commons licence and your intended use is not permitted by statutory regulation or exceeds the permitted use, you will need to obtain permission directly from the copyright holder. To view a copy of this licence, visit http://creativecommons.org/licenses/by/4.0/. The Creative Commons Public Domain Dedication waiver (http://creativecommons.org/publicdomain/zero/1.0/) applies to the data made available in this article, unless otherwise stated in a credit line to the data.
About this article
Cite this article
Aneman, A., Sondergaard, S., Fagerberg, A. et al. Divergent changes in regional pulmonary filling characteristics during endotoxin-induced acute lung injury in pigs. Crit Care 15 (Suppl 1), P145 (2011). https://doi.org/10.1186/cc9565
Published:

DOI: https://doi.org/10.1186/cc9565
Keywords
Lung Injury

Statistical Evaluation

Acute Lung Injury

Descriptive Study

Electrical Impedance Tomography