Vacuum-assisted closure device in intensive care unit patients and dissemination of Gram-negative bacteria
We read with interest the study by Batacchi and colleagues in a recent issue of Critical Care [1]. Vacuum-assisted closure (VAC) decompression is promising for the management of open abdomen, but our limited experience with this system suggests that dissemination of bacteria may occur.
Recently, two patients were treated with VAC in our intensive care unit (ICU). Patient 1 was a 62-year-old man who was originally operated on for paraganglioma and underwent left nephrectomy and gastrojejunal anastomosis. Patient 2 was a 54-year-old woman who was admitted to the ICU two months after a complicated laparoscopic sleeve gastrectomy for morbid obesity. In both patients, at a certain point during their course, intra-abdominal sepsis developed, and they were both managed with extensive debridement, drainage, and VAC placement. Both patients developed fistulas, and although dressings and VAC pump containers were meticulously changed, leaks were repeatedly observed around the dressings.
Furthermore, 2 to 4 weeks after the placement of VAC, a rise of positive cultures for Gram-negative bacteria was observed in all patients in our ICU (Figure
1
). As depicted in Figure
2
,
Klebsiella pneumoniae
species became prevalent in our flora despite barrier measures and the isolation of both patients in a separate ward. In 12 out of 34 cases, KPC
K. pneumoniae
was isolated, whereas in one case it was resistant to all antibiotics.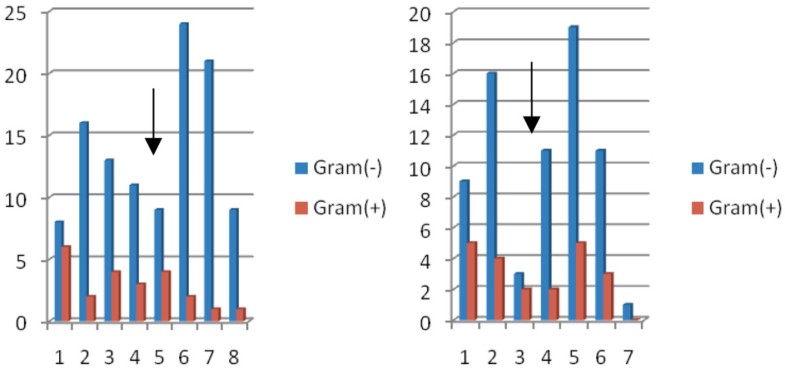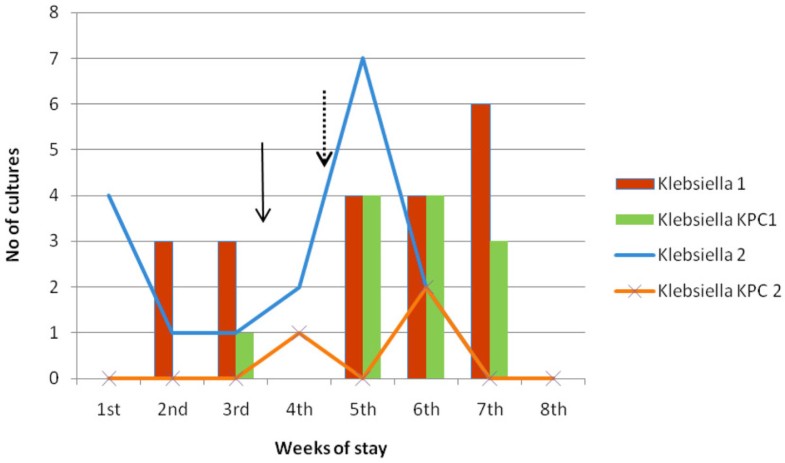 Recent literature is inconclusive on this subject. We believe that further studies are needed to confirm the dissemination of bacteria from patients with VAC devices and abdominal leaks.
(1)
Intensive Care Unit, Hippokrateion General Hospital, 114, Vas. Sofias Ave., Athens, 11521, Greece
(2)
Microbiology Department, Hippokrateion General Hospital, 114, Vas. Sofias Ave, Athens, 11521, Greece
Batacchi S, Matano S, Nella A, Zagli G, Bonizzoli M, Pasquini A, Anichini V, Tucci V, Manca G, Ban K, Valeri A, Peris A: Vacuum-assisted closure device enhances recovery of critically ill patients following emergency surgical procedures. Crit Care 2009, 13: R194. 10.1186/cc8193PubMed CentralView ArticlePubMedGoogle Scholar
Stevens P: Vacuum-assisted closure of laparostomy wounds: a critical review of the literature. Int Wound J 2009, 6: 259-66. 10.1111/j.1742-481X.2009.00614.xView ArticlePubMedGoogle Scholar
Bigazzi E, Turrisi L, Zagli G, Pecile P, Bonizzoli M, Peris A: Bay rooms vs single-bed rooms in intensive care unit nosocomial infections: a case-control study. Crit Care 2010,14(Suppl 1):P458. 10.1186/cc8690PubMed CentralView ArticleGoogle Scholar
© BioMed Central Ltd 2010