Cardiac output augmentation with fluid resuscitation improves brain tissue oxygenation after severe brain injury
Critical Care volume 14, Article number: P347 (2010)
Introduction
The objective of this study was to investigate the relationship between cardiac output response to a fluid challenge and changes in brain tissue oxygen pressure (PbtO2) in patients with severe brain injury.
Methods
Prospective observational study conducted in a neurological ICU in a university hospital. Seventy-eight fluid challenges were administered to 17 consecutive comatose patients that underwent multimodality monitoring of cardiac output, intracranial pressure (ICP), and PbtO2. The relationship between cardiac output and PbtO2 was analyzed with logistic regression utilizing GEE with an exchangeable correlation structure.
Results
Of the 78 fluid boluses analyzed, 34 (44%) resulted in a ≥10% increase in cardiac output. Median absolute (+5.4 vs +0.7 mmHg) and percentage (20% vs 3%) changes in PbtO2 were greater in cardiac output responders than in nonresponders within 30 minutes after the end of the fluid bolus infusion. In a multivariable model, a cardiac output response was independently associated with PbtO2 response (adjusted odds ratio 15.4, 95% CI 1.9 to 122.0, P = 0.01) after adjusting for mean arterial pressure, intracranial pressure and end-tidal CO2. Stroke volume variation showed a good ability to predict cardiac output response with an area under the ROC curve of 0.85 with a best cutoff value of 8%. See Figures 1 and 2.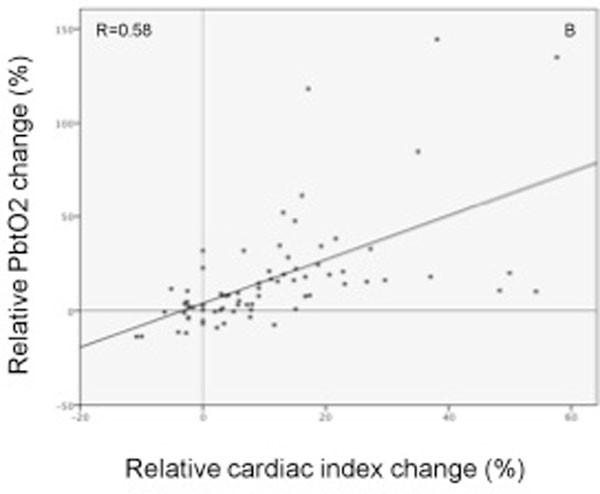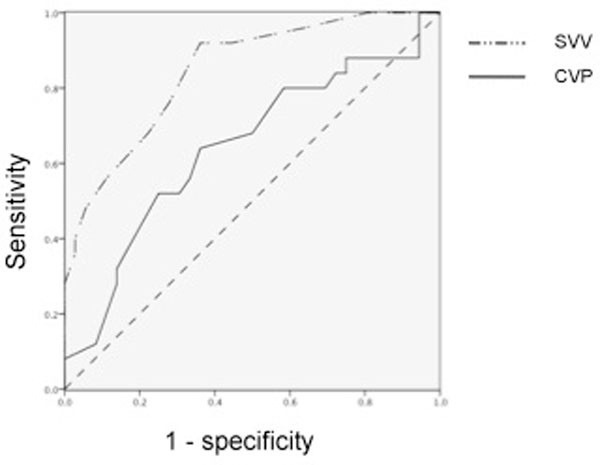 Conclusions
Bolus fluid resuscitation resulting in augmentation of cardiac output can improve cerebral oxygenation after severe brain injury.
About this article
Cite this article
Helbok, R., Kurtz, P., Claassen, J. et al. Cardiac output augmentation with fluid resuscitation improves brain tissue oxygenation after severe brain injury. Crit Care 14, P347 (2010). https://doi.org/10.1186/cc8579
Keywords
Cardiac Output

Fluid Resuscitation

Cerebral Oxygenation

Stroke Volume Variation

Fluid Challenge