Phenotypical analysis of peripheral human T lymphocytes in early sepsis
Critical Care volume 14, Article number: P15 (2010)
Introduction
T lymphocytes are crucial immune cells. We analysed T-cell subsets phenotypes and tested, on a single cell level, their ability to produce key cytokines in early human sepsis.
Methods
Whole blood was collected from septic patients on ICU admission. Peripheral blood mononuclear cells (PBMC) were isolated and T-cell subsets analysed. To study cytokine production, PMBC were cultured in the presence of PMA/ionomycin (50/750 ng/ml) in supplemented RPMI 1640 for 5 hours. Intracellular cytokines IL-4, IL-10, IL-17, IFNγ were stained in CD3+/CD4+, CD3+/CD8+ cells using flow cytometry for both. The number of cytokine producing cells was compared with age/sex-matched healthy human volunteers. Data are expressed as mean ± SEM.
Results
There were 12 patients (66 years old, six males, APACHE II-24, eight survivors) and nine volunteers. We found a relative increase in the frequency of Treg cells while the proportion of CD4+ cells remained unchanged in septic patients. The PMA/ionomycin lead to maximal T-cell stimulation, testing the ability of individual cell subsets to produce cytokines. Septic patients displayed reduction of IFNγ (10.5 ± 0.8% vs 14.7 ± 1.9%, P < 0.01) and a tendency to higher number of IL-10 (1.7 ± 0.3% vs 0.5 ± 0.1%, P = 0.10) producing CD4+ cells, while the proportion of IFNγ-positive CD8+ cells increased (42.8 ± 5.8% vs 28.1 ± 4.9%, P = 0.03). However, the overall CD8+ T-cell population was reduced (14.29 ± 1.6% vs 25 ± 1.2%) following ex vivo activation in patients. The number of IL-4 and IL-17 staining cells was unchanged (Figure 1).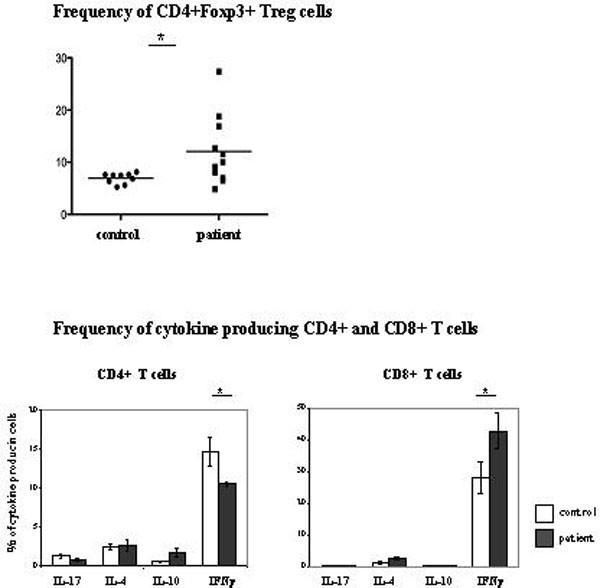 Conclusions
Our results confirm a relative increase of Treg [1] and a skew towards Th2 lineage in the CD4+ cells. The highly activated CD8+ cells appear to be more susceptible to activation-induced cell death.
References
Venet F, et al.: Intensive Care Med. 2009, 35: 678-686. 10.1007/s00134-008-1337-8
About this article
Cite this article
Nalos, M., Santner-Nanan, B., Weisbrodt, L. et al. Phenotypical analysis of peripheral human T lymphocytes in early sepsis. Crit Care 14 (Suppl 1), P15 (2010). https://doi.org/10.1186/cc8247
Published:

DOI: https://doi.org/10.1186/cc8247
Keywords
Peripheral Blood Mononuclear Cell

Treg Cell

Septic Patient

Single Cell Level

Intracellular Cytokine