Tight glycemic control: comparison of a real-time continuous interstitial tissue glucose monitoring system with arterial plasma glucose measurement in critically ill patients
Critical Care volume 12, Article number: P168 (2008)
1084 Accesses

1 Citations
Introduction
The purpose of the study was to compare the results of interstitial glucose measurements obtained by the Guardian Real-time system and arterial plasma glucose concentration in mechanically ventilated, critically ill patients. The Guardian Real-time continuous glucose monitoring system is an external device that uses a subcutaneous microsensor that measures the concentrations of glucose in interstitial fluid.
Methods
Ten mechanically ventilated critically ill patients with tight glycemic control based on arterial blood glucose measurements admitted to the six-bed multidisciplinary ICU of a tertiary care hospital, with no clinical and laboratory signs of inadequate tissue perfusion, were included in this single-center study. Interstitial glucose concentrations were measured by the Guardian Real-time monitoring system and compared with a standard reference method of plasma glucose measurement. The Guardian Real-time system was calibrated against the arterial plasma glucose measurement every 8 hours. Arterial blood glucose concentrations were measured every 60 minutes (glucose oxidation reaction) and the Guardian Real-time data were downloaded and paired with plasma glucose. Data were analyzed using the Bland–Altman method and the correlation coefficient was calculated.
Results
Two hundred and seventeen paired results were obtained and analyzed. Correlation between both methods was reasonable, but not perfect (correlation coefficient r = 0.6930, P < 0.0001). This was confirmed by Bland–Altman analysis (Figure 1), demonstrating broad limits of agreement: +2.3 and -3.1 mmol/l.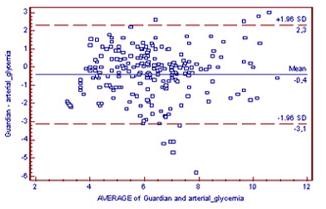 Conclusion
The observed, clinically unacceptable broad limits of agreement do not support the use of the Guardian Real-time system for tight glycemic control management in mechanically ventilated, critically ill patients.
References
1.

Aussedat B, et al.: Am J Physiol Endocrinol Metab. 2000, 278: E16-E28.
Acknowledgements
Supported by MZO 00179906.
About this article
Cite this article
Vlkova, A., Musil, F., Dostal, P. et al. Tight glycemic control: comparison of a real-time continuous interstitial tissue glucose monitoring system with arterial plasma glucose measurement in critically ill patients. Crit Care 12, P168 (2008). https://doi.org/10.1186/cc6389
Published:

DOI: https://doi.org/10.1186/cc6389
Keywords
Glucose Measurement

Continuous Glucose Monitoring

Blood Glucose Measurement

Tight Glycemic Control

Continuous Glucose Monitoring System