Poster presentation

Open Access
Pooled analysis of safety for micafungin
Critical Care
2008
12(Suppl 2):P21
Keywords
Alkaline Phosphatase
Fungal Infection
Amphotericin
Fluconazole
Safety Profile
Methods
We characterised the safety of MICA by analysing pooled adverse event (AE) data from 17 clinical studies conducted worldwide. All patients (n = 3,028) received ≥ 1 dose of intravenous MICA; a median daily dose of 100 mg for adults and 1.5 mg/kg for children over a mean duration of 18 and 29 days, respectively.
Results
Median age was 40.5 (range <0.1–92) years, including 296 (9.8%) children (<16 years old) and 387 (12.8%) elderly patients (≥ 65 years old). Common underlying conditions were haematopoietic stem cell or other transplantation (26%), malignancies (21%) and HIV (33%). The most frequently reported MICA-related AEs were nausea (2.8%), vomiting (2.5%), phlebitis (2.5%), hypokalaemia (2.1%), pyrexia (2.1%), diarrhoea (2.0%), and increases in alkaline phosphatase (2.7%), aspartate aminotransferase (2.3%) and alanine aminotransferase (2.0%). In comparative studies, the MICA safety profile was superior to liposomal amphotericin B, and similar to fluconazole and caspofungin (Figure
1
).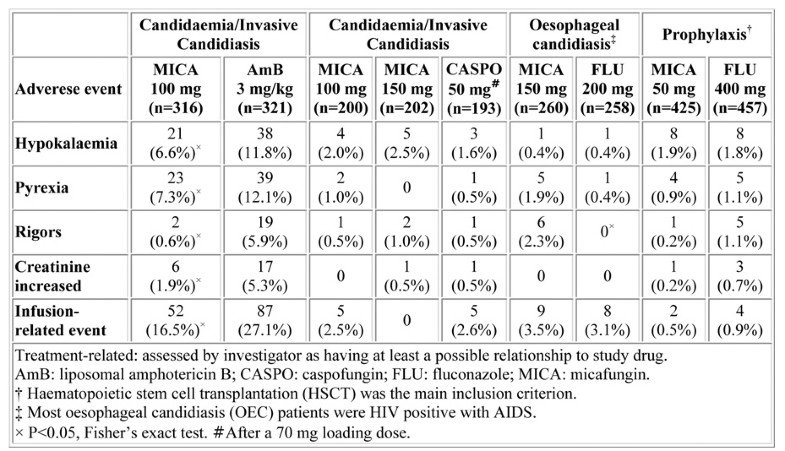 Conclusion
This large database with more than 3,000 patients demonstrated a favourable clinical safety profile for micafungin.
Authors' Affiliations
(1)
Universität Klinikum Köln, Germany
(2)
Astellas Pharma Europe BV, Leiderdorp, The Netherlands
(3)
Klinikum derJohannes Gutenberg-Universität, Mainz, Germany
Copyright
© BioMed Central Ltd 2008
This article is published under license to BioMed Central Ltd.