Poster presentation

Open Access
Validation of logistic organ dysfunction score prediction compared with APACHE II score prediction hospital outcome in Thai patients
Critical Care volume 11, Article number: P459 (2007)
Introduction
To assess the performance of the logistic organ dysfunction (LOD) score and Acute Physiology and Chronic Health Evaluation II (APACHE II) score in a mixed medical–surgical ICU of a tertiary referral university hospital in Thailand.
Methods
The data were collected prospectively on consecutive patients admitted to the ICU of Songklanagarind Hospital over a 24-month period from 1 July 2004 until 30 June 2006.
Results
A total of 1,962 patients were enrolled, with 432 deaths (22%) prior to hospital discharge. Both systems provided overprediction of hospital mortality. LOD and APACHE II scores predicted hospital mortality of 25.4 ± 26.5 and 29.6 ± 27.8, respectively. Both models showed excellent discrimination. The receiver operating characteristic curves of both systems are shown in Figure 1. The area under the receiver operating characteristic curve (AUROC) of LOD was 0.867 (95% CI = 0.846–0.886) and the AUROC was 0.906 (95% CI = 0.889–0.923) for APACHE II. Both models presented a poor calibration in overall population. However, the LOD score had good discrimination and calibration in subgroups of nonoperative patients (AUROC 0.854, the Hosmer–Lemeshow goodness-of-fit H statistic 11.67, P = 0.166) and patients that exclude coronary artery disease and cardiac surgery (AUROC 0.860, the Hosmer–Lemeshow goodness-of-fit H statistic 10.03, P = 0.263).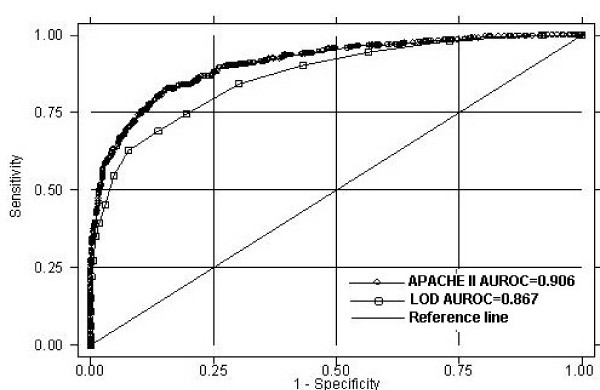 Conclusion
The LOD score showed good accuracy to predict hospital mortality in subgroups of nonoperative critically ill patients and excluded coronary heart disease and cardiac surgical critically ill patients in Thailand.
About this article
Cite this article
Khwannimit, B. Validation of logistic organ dysfunction score prediction compared with APACHE II score prediction hospital outcome in Thai patients. Crit Care 11, P459 (2007). https://doi.org/10.1186/cc5619
Keywords
Hospital Mortality

Chronic Health Evaluation

Score Prediction

Hospital Outcome

Thai Patient