Poster presentation

Open Access
Survey of acute renal failure in patients after cardiovascular surgery
Critical Care volume 11, Article number: P391 (2007)
Introduction
Acute renal failure (ARF) is one of the major complications after cardiovascular surgery. To investigate the incidence and prognosis of ARF after cardiac surgery, we performed a retrospective study. Our hypothesis is that ARF is more common in patients who underwent surgery for great vessel diseases than in those who underwent coronary or valve surgery.
Methods
We enrolled patients over 18 years old who underwent cardiovascular surgery and entered our ICU between 2004 and 2005. The background diseases were classified into two groups: great vessel disease, and coronary/valve disease. We determined ARF when serum creatinine increased by more than 50% of the preoperative values, or when renal replacement therapy was newly started. By reviewing ICU charts, we collected data before, on admission to the ICU and during the ICU stay.
Results
ARF occurred more frequently in patients with great vessel disease than in those with coronary/valve disease (33.5% vs 11.2%, P < 0.05). The prognosis of patients with ARF was poorer than those without ARF in both groups (Figure 1). Patients with ARF showed a longer operation time, larger intraoperative bleeding and a higher level of blood lactate on admission to the ICU than those without ARF. Patients with ARF showed higher incidence of liver dysfunction, and needed a longer mechanical ventilation and ICU stay.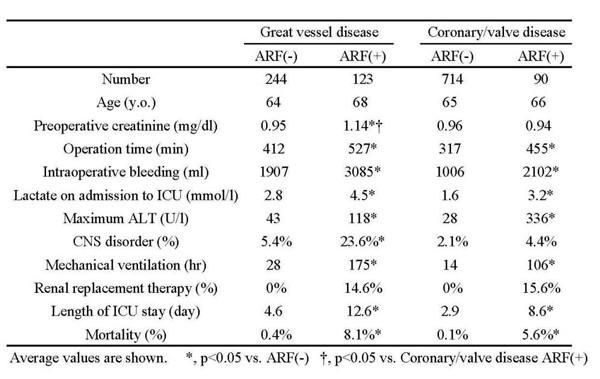 Conclusion
ARF is common after cardiovascular surgery, especially after surgery for great vessel disease. ARF was associated with more postoperative organ disorders.
About this article
Cite this article
Iguchi, N., Imanaka, H., Takeuchi, M. et al. Survey of acute renal failure in patients after cardiovascular surgery. Crit Care 11, P391 (2007). https://doi.org/10.1186/cc5551
Keywords
Lactate

Creatinine

Mechanical Ventilation

Serum Creatinine

Acute Renal Failure