Poster presentation

Open Access
Long-term prognosis of octagenarian patients with ST-elevation acute myocardial infarction treated by primary angioplasty
Critical Care volume 11, Article number: P228 (2007)
Introduction
The incidence of acute myocardial infarction (AMI) in old patients is increasing due to rapid aging of the population. This is of particular concern because AMI in patients who are ≥ 80 years old is associated with high mortality. However, the role of reperfusion therapies is not clear in these patients.
Objective
To evaluate the mid-term and long-term prognosis of octogenarian patients with ST-elevation myocardial infarction (STEMI) treated with primary coronary angioplasty (PCA).
Methods
We studied retrospectively, from January 2000 to March 2005, 73 patients ≥ 80 years with STEMI treated with PCA. At the end of follow-up, we assessed the incidence of death, myocardial infarction and necessity of new procedures of revascularization of the treated vessel.
Results
The average age was 84 ± 3.6 years, 39 (58%) were women. The location of the AMI was anterior in 56%, and 25% were diabetic. The average follow-up time was 19 ± 17 months. During the follow-up, 43 patients developed events, most of them (n = 28) consisting of death (23 by cardiac death). However, most of these events occurred in the first month after the admission, the mortality between 1 month and 3 years being low (Figure 1).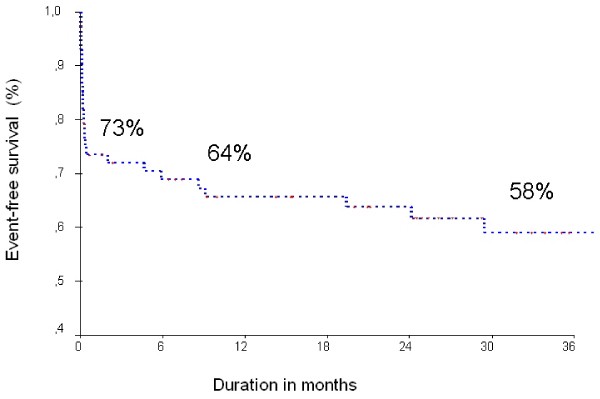 Conclusion
Our data show that the octogenarian patients with STEMI treated by primary PCA developed a very high mortality. However, this mortality especially concentrates in the first month after the procedure, being low between 1 month and 3 years.
About this article
Cite this article
Assi, E.A. Long-term prognosis of octagenarian patients with ST-elevation acute myocardial infarction treated by primary angioplasty. Crit Care 11, P228 (2007). https://doi.org/10.1186/cc5388
Keywords
Public Health

Myocardial Infarction

High Mortality

Emergency Medicine

Acute Myocardial Infarction