Importance of nonlinearities to quantify mechanical pulmonary stress under dynamic conditions: stress index and SLICE method
Critical Care volume 11, Article number: P181 (2007)
Methods
One hundred and two respiratory datasets from 70 patients (28 ARDS, 24 postanesthesia care, 18 other) were analyzed. The SI and SLICE were performed using exactly the same database (SLICE_SI) in addition to the conventional SLICE that includes inspiratory and expiratory data (SLICE_CONV). A compliance-based index (CSI) directly comparable with the SI was generated from the compliance data.
Results
The SI and CSI highly correlated when calculation of the CSI was based on the same database (Figure 1). According to the resulting regression formula (Figure 1), the SI can be reliably predicted from SLICE_SI (Figure 2). However, if SLICE_CONV was used for calculation of the SI (Figure 3), noticeable differences were found. Analysis of individual datasets showed three major reasons for the observed differences: differences in excluded data at low volumes respective to high volumes, nonlinearity of resistance, and differences in mechanics between inspiration and expiration.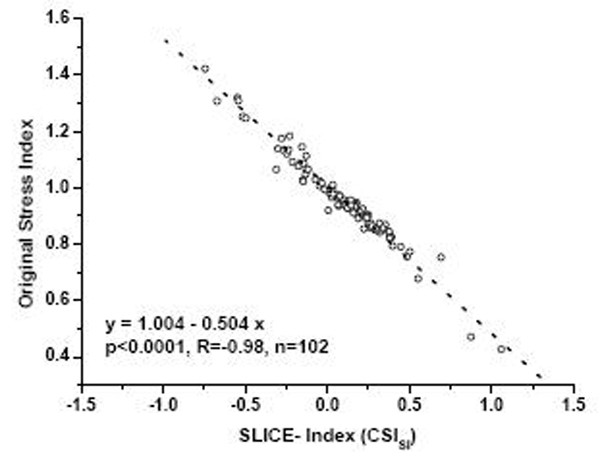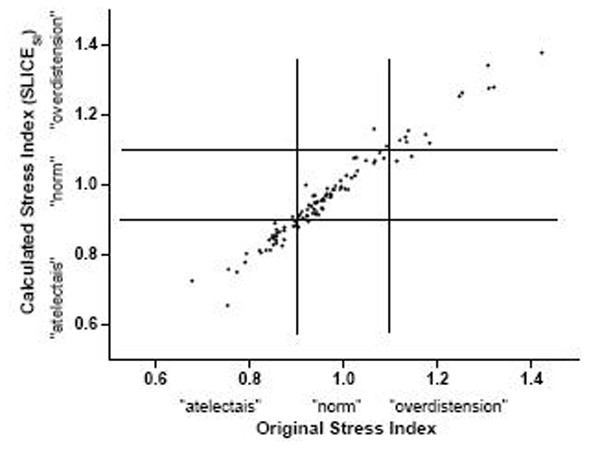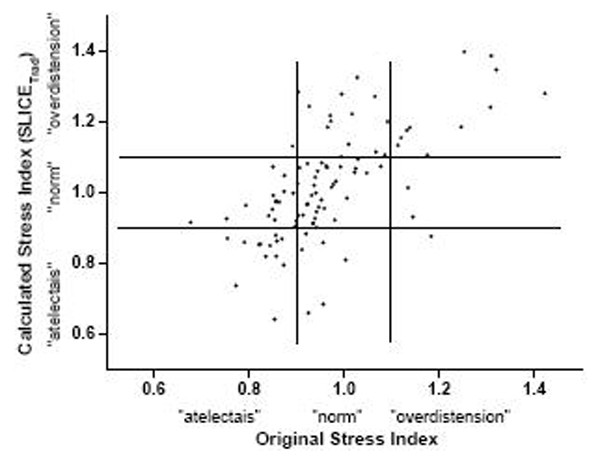 Conclusion
The SI and SLICE similarly measure the nonlinearity of compliance. The SI can be predicted from SLICE. However, nonlinearities of the respiratory system are not restricted to compliance alone; it might therefore be necessary to include nonlinearities of resistance and asymmetries between inspiration and expiration in the analysis of dynamic respiratory mechanics.
References
1.

Stahl CA, et al.: Dynamic versus static respiratory mechanics in acute lung injury and acute respiratory distress syndrome. Crit Care Med 2006, 34: 2090-2098. 10.1097/01.CCM.0000227220.67613.0D

2.

Ranieri VM, et al.: Pressure–time curve predicts minimally injurious ventilatory strategy in an isolated rat lung model. Anesthesiology 2000, 93: 1320-1328. 10.1097/00000542-200011000-00027

3.

Guttmann J, et al.: Determination of volume-dependent respiratory system mechanics in mechanically ventilated patients using the new SLICE method. Technol Health Care 1994, 2: 175-191.
About this article
Cite this article
Stahl, C., Meißner, H., Steinmann, D. et al. Importance of nonlinearities to quantify mechanical pulmonary stress under dynamic conditions: stress index and SLICE method. Crit Care 11, P181 (2007). https://doi.org/10.1186/cc5341
Keywords
Public Health

High Volume

Emergency Medicine

Static Measurement

Dynamic Condition