Clinical relevance of data from the pulmonary artery catheter
Critical Care
2006
10(Suppl 3):S3
Published: 27 November 2006
Abstract
The usefulness of parameters measured using the pulmonary artery catheter has been challenged because no benefit in patient outcome has been observed in clinical trials. However, technological advances have been made, including continuous measurement of cardiac output (CO), mixed venous saturation (SvO2), and right ventricle end-diastolic volume (CEDV) have been made. Pulmonary artery occlusion pressure (PAOP), CEDV and right atrial pressure (RAP) are not good predictors of fluid load responsiveness except when very low. Despite this methodological limitation, variation of these parameters during fluid loading remains a good indicator of fluid challenge tolerance. Accuracy of continuous thermodilution and SvO2 measurement has been demonstrated in vitro and at bedside. A decrease in SvO2 is a global index of an inadequate oxygen delivery (DO2)/oxygen requirement relationship. In this setting, a therapeutic decision to improve determinants of SvO2 should be considered with the help of all other PAC parameters. Technological improvement transforms PAC in a real time integrated physiological device and allows one to observe the impact of therapeutic intervention. What we need now is a clinical trial with a PAC-guided treatment algorithm taking into account the above integrated PAC parameters.
Keywords
Cardiac OutputPulmonary Arterial HypertensionPulmonary Artery CatheterFluid ChallengeRight Ventricular Ejection Fraction
Introduction
More than 35 years ago, Harold James Swan (who died on 7 February 2005, just after writing his last contribution, published in Anesthesiology [1]), along with William Ganz and collaborators, reported an article entitled 'Catheterization of the heart in man with the use of a flow-directed balloon-tipped catheter' [2]. The first catheter was intended exclusively to measure right heart and pulmonary artery (either occluded or not) pressures. Following an idea by Ganz, a thermistor was incorporated into the catheter and a reliable method to measure cardiac output (CO) by thermodilution was developed. The first report on the pulmonary artery catheter (PAC) was centred on myocardial ischaemia, but application of the PAC was quickly extended to other pathologies and settings including cardiac failure, septic shock, acute respiratory distress syndrome (ARDS), cardiac surgery and high-risk surgery.
The general design of the PAC did not change for more than three decades; however, technological progress has recently been achieved. The incorporation of a rapid response thermistor permitted continuous measurements of CO, right ventricular ejection fraction (RVEF) and right ventricular end-diastolic volume (RVEDV). Also, the addition of an fibreoptic canal permitted continuous spectrophotometric measurement of mixed venous oxygen saturation (SvO2).
Are the classic and new parameters reliable at the bedside? When using PAC, how may we better understand the various pathologies and how may we devise a better therapeutic strategy in critical care and anaesthesiology? These are some of the questions we address in the present review.
Parameters from the pulmonary artery catheter
Pulmonary artery catheter as an integrated physiological tool in clinical practice
To this day data on PAC use does not indicate benefit for unstable patients in the intensive care unit [43–46]. Some results are more promising in high-risk surgical patients but remain contradictory [45, 47, 48]. In a recent report a large database of patients with severe trauma was developed; patients with severe trauma, severe shock and older patients had better survival when treated with the help of a PAC. Therefore, data from PAC use are rather confusing and somewhat contradictory. The lack of benefit reflects more the lack of controlled trials with treatment algorithms including all PAC parameters than the ineffectiveness of PAC guidance. Some of them compared PAOP with central venous pressure in predicting response to fluid loading. However, neither PAOP nor central venous pressure is a good indicator of preload dependency [5]. Other trials used CO measurement by PAC to achieve 'supranormal' oxygen transport in critically ill patients [49, 50]. In this latter setting, it is not the accuracy of CO measurement by PAC that is challenged but the pathophysiological hypothesis that there is any benefit from a 'supranormal' oxygen transport [49–52].
It does not make sense to use a PAC, with the attendant potential adverse events of right cardiac catheterization, without using all of its capabilities. CO is probably the main parameter used in most studies, but CO is a regulated variable and it is necessarily arbitrary to predetermine a CO threshold value. There is no good or bad CO value, but there is CO that permits or does not permit an adequate DO2. As a global index of adequacy between VO2 and DO2, SvO2 is the target of choice for therapeutic decisions. SvO2 should be kept above a threshold value and all other PAC parameters should be used to choose how to maintain SvO2 above this threshold value. As described above, a threshold value between 65 and 70% should be used in future studies. There are few studies using SvO2 as one of the main therapeutic targets. In a study conducted in cardiac surgery patients [28], the first objective in the goal-oriented haemodynamic group was to keep the SvO2 above 70% and lactate serum concentration below 2 mmol/l. This SvO2 goal was achieved by giving more fluid loading, more inotropic drugs and less vassopressor medication. The result was a decrease in morbidity and in-hospital stay. A more impressive example was reported by Rivers and coworkers [42]. The very early timing of the protocol and the quick transfer to intensive care certainly played some role in the success of this study. Clearly, ScvO2 is the therapeutic target that explained most of the difference between the control and the optimized group, prompting faster fluid loading, more red blood cell transfusions and – in a few patients – administration of an inotropic drug (dobutamine). Therefore, in future studies using a PAC, SvO2 should be at the centre of the haemodynamic algorithm. Preload indicators (PAOP, right atrial pressure, CEDV), CO and other parameters such as hemoglobin concentration and arterial oxyhaemoglobin fraction must be used to choose the optimal way to achieve the desired objective of an SvO2 above 70%. Of course, such a strategy should not be applied in too dogmatic a way. The clinical context should always be taken into consideration. For example, a patient with a severe systolic dysfunction following extensive myocardial infarction would certainly have an SvO2 below 70%. However, if the function of the other organs is not compromised, then optimization of CO by inotropic drugs might impair the myocardial dysfunction further and have an affect opposite to that expected.
Conclusion
Since the beginning of the 1970s, PAC has been the reference method for haemodynamic monitoring in critically ill patients. Despite the arrival of new devices (invasive or not), thermodilution is the reference method for measuring CO at bedside. The possibility to measure continuously some parameters such as CO, SvO2 and CEDV provides further insight when monitoring. With former PAC technology (as opposed to the continuous PAC), the haemodynamic status of patients was assessed every 4–6 hours in the best case. Many haemodynamic events were missed by intermittent measurements. Several studies, most of them conducted in patients who had undergone cardiac surgery, revealed unpredictable variations in CO or SvO2 without necessarily any change in other haemodynamic parameters [33, 34, 53]. More importantly, continuous monitoring allows physicians to observe the impact of therapeutic interventions, such as fluid loading, inotropic agents, vasopressor and blood transfusion. Continuous monitoring provides a useful guide to therapeutic intervention, and the initial diagnosis may be challenged in case of therapeutic failure.
Numerous devices have been introduced during the past decade for haemodynamic monitoring, some of which are less invasive than PAC placement. Echocardiography is an impressive diagnostic tool, but it can not be repeated indefinitely over time and is operator dependent. Pulse contour methodology has the same limitations as thermodilution (or dye dilution) with respect to calibration, and it is largely influenced by variation in arterial compliance. Oesophageal Doppler must be replaced frequently if patients are not deeply sedated. All of these devices are less invasive than PAC, but at the same time they have their own limitations. In our view, the most relevant difference between PAC and other haemodynamic monitoring is that the PAC – a single device – permits assessment CO, several preload and fluid challenge tolerances (CEDV and PAOP) and provides a global index of whether oxygen transport is adequate for demand (SvO2). Continuous measurement of all of this information transforms the PAC into an integrated physiological device.
Insertion of a PAC is rational if, and only if, all parameters are considered as a whole. The issue is not whether the insertion of a PAC per se will improve the prognosis of critically ill patients or high-risk surgical patients, but whether PAC parameters taken together as an integrated component of treatment decision making can improve patient outcomes. Indeed, no monitoring device, regardless of how accurate, invasive, or sophisticated it is, will improve outcome if it is not associated with a specific treatment, taking into account the device's specificity and with an appreciation of the underlying physiopathology. No benefit in terms of outcome is associated with the mere use of echocardiography, blood gas sampling, or determination of blood lactate concentration, but will we cease to use them? Of course not!
It is surprising that no controlled trial of a goal-directed therapy using PAC is actually being conducted. We present an example of an algorithm, adapted from that proposed by Pinsky and Vincent [
54
] (Figure
4
), which could be used in the design of such a trial. Of course, this simple algorithm is not universal and may require modification based on the specificity and the severity of the pathology. Other parameters from different monitoring devices (such as variation in arterial pressure during mechanical ventilation to assess preload dependency) could be integrated into this strategy. We now need a clinical trial using PAC parameters in a treatment algorithm to determine whether PAC use can improve outcomes in critically ill and high-risk surgical patients.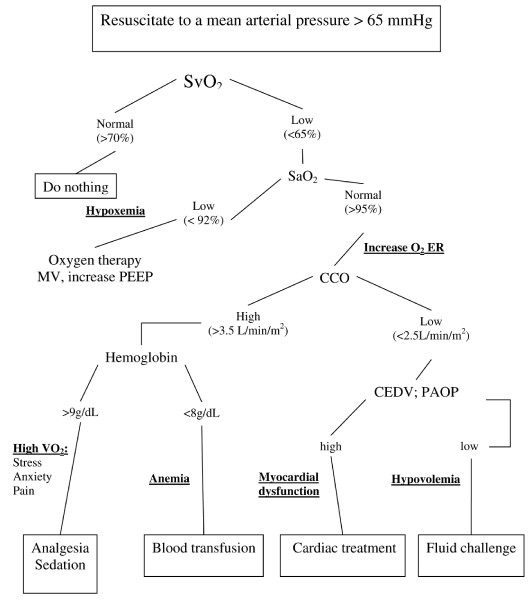 Abbreviations
ARDS:

acute respiratory distress syndrome
CEDV:

continuous RVEDV
CCO:

continuous CO
CO:

cardiac output
DO2:

oxygen delivery
LVEDP:

left ventricular end-diastolic pressure
LVEDV:

left ventricular end-diastolic volume
PAC:

pulmonary artery catheter
PAOP:

pulmonary artery occlusion pressure
PAP:

pulmonary artery pressure
Pcp:

pulmonary capillary pressure
RVEDV:

right ventricular end-diastolic volume
RVEF:

right ventricular ejection fraction
SaO2:

arterial oxygen saturation
ScvO2:

central venous oxygen saturation
SvO2:

mixed venous oxygen saturation
VO2:

oxygen consumption.
Authors' Affiliations
(1)
Department of Anesthesiology and Critical Care, University Hospital, Lille, France
Copyright
© BioMed Central Ltd 2006