Mortality in the Brussels burn unit: a 7-year longitudinal study
Critical Care volume 10, Article number: P426 (2006)
Background
Logistic regression techniques evidence that the Baux Score, the Edlich Burn Score, and the Zawacki Score highly correlate with burn patient survival [1]. All these scoring systems put significant weight on the size of burns and the patient's age. The Baux Score is a summation of these two variables. The presence of inhalation injury has also been recognized as another risk factor [2].
Objective
The mortality rate of the patients hospitalized in our unit was studied for the past 7 years (1999–30 November 2005).
Results
For the period a total of 1887 patients were entered into the cohort, corresponding to a yearly average of 270 ± 36 patients. Yearly cohorts were compared for age, total burn surface area (TBSA) and incidence of inhalation injury, and were found to be matched for all three parameters (Fig. 1). The mean age range was 34–39 years, TBSA ranged between 9.9% and 12.3%, inhalation incidence between 6% and 11%. The overall mortality rate decreased during the time period considered (from 4.8% to 2.8%, r2 = 0.69) (Fig. 2).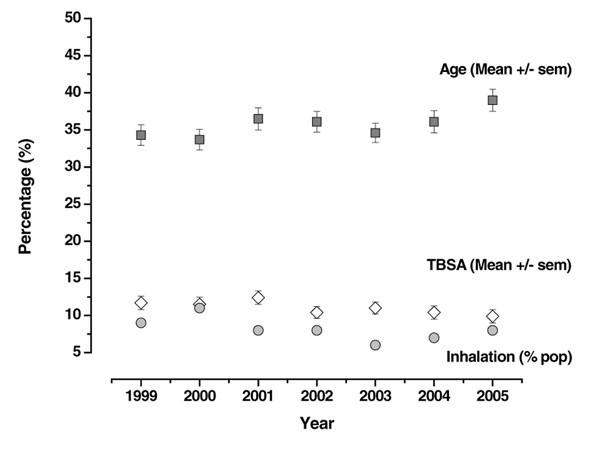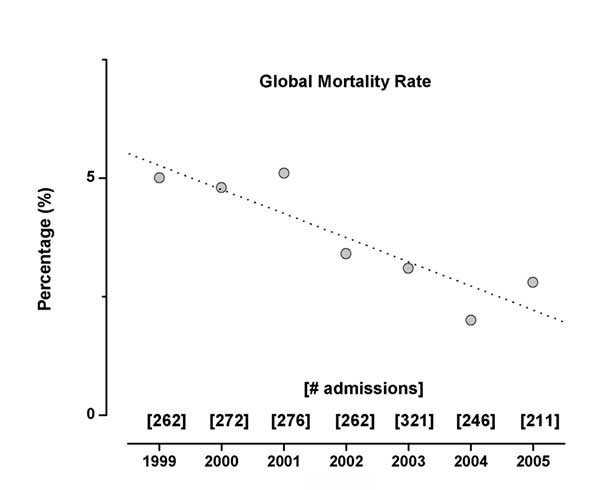 Conclusion
The global mortality rate in the whole cohort compares favourably with the Ryan study [2]: 4.1% (67/1665) vs 3.7% (70/1887) in this study. It should be emphasized that there is an improving trend over the 7 years, and that this improvement was mainly achieved among the most severe burns (Baux Score >100) (Fig. 3). This also highlights the need for a burn registry to objectively measure the quality in burn treatment.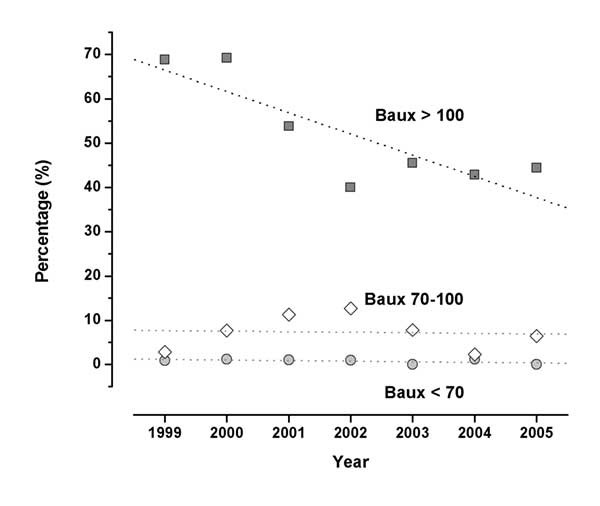 References
Krob MJ, D'Amico FJ, Ross DL: Do trauma scores accurately predict outcomes for patients with burns? J Burn Care Rehabil 1991, 12: 560-563. 10.1097/00004630-199111000-00011

Ryan CM, Schoenfeld DA, Thorpe WP, et al.: Objective estimates of the probability of death from burn injuries. N Engl J Med 1998, 338: 362-366. 10.1056/NEJM199802053380604
About this article
Cite this article
Pirson, J., Brusselaers, N. & Zizi, M. Mortality in the Brussels burn unit: a 7-year longitudinal study. Crit Care 10 (Suppl 1), P426 (2006). https://doi.org/10.1186/cc4773
Published:

DOI: https://doi.org/10.1186/cc4773
Keywords
Public Health

Mortality Rate

Logistic Regression

Longitudinal Study

Patient Survival