Comfort of different types of ventilators in noninvasive ventilation
Critical Care volume 8, Article number: P12 (2004)
Introduction
We asked whether there are differences in breathing comfort between ventilators using blowers or valves for flow generation. We also studied Zeus®, a new anaesthesia workstation with a closed breathing circuit that allows augmentation of spontaneous breathing.
Methods
Eleven healthy, awake volunteers (six female, five male;35 ± 6 years) supplied with fixed standard nose masks (Respironics) were connected to seven different ventilators. Three were blower based: BiPAP Vision® (Respironics), Breas LTV 1000® (Pulmonetic Systems), Zeus® (Dräger Medical); and four were valve based: Evita 2®(Dräger Medical), PB 840® and PB 7200® (Puritan Bennett), Veolar® (Hamilton Medical). Four ventilatory modes were used: continuous positive airway pressure (CPAP) (positive end expiratory pressure [PEEP] 3 mbar), pressure support ventilation (PSV) (pressure support [PS] 5 mbar, PEEP 3 mbar), pressure-controlled synchronized intermittent mandatory ventilation (PC-SIMV) (10 bpm, Pinsp 10 mbar, PS 5 mbar, PEEP 3 mbar), and volume-controlled synchronized intermittent mandatory ventilation (VC-SIMV) (10 bpm, VT 6 ml/kg, PS 5 mbar, PEEP 3 mbar). Volunteers were instructed to breathe freely for a few minutes. Sixteen questions concerning cycling and breathing effort during inspiration (I) and expiration (E) had to be answered on a scale from 1 (very good, extremely comfortable) to 5 (very poor, extremely uncomfortable). Two final questions evaluated breathing comfort during I and E as a whole. SPSS® 11.0, ANOVA, P < 0.05.
Results
Breathing comfort differed significantly between the ventilatory modes (VC < PC < PSV < CPAP; P < 0.001). To compare ventilators, PC-SIMV and VC-SIMV were excluded, as BiPAP Vision® is not capable of delivering these modes. During E blower-based ventilators were scored better (2.2 ± 1.0 versus 2.6 ± 0.9; Fig. 1).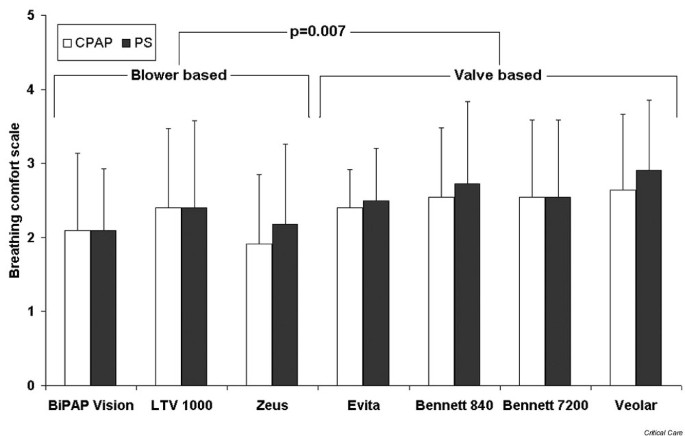 Conclusions
Awake volunteers experience PC and VC ventilatory modes – although synchronized and with supported spontaneous breaths – as extremely unpleasant. Differences between ventilators are far less, but during expiration blower-based ventilators scored better than valve based. Despite its totally closed breathing circuit, Zeus® belonged to the more comfortable group of ventilators.
About this article
Cite this article
Vogelsang, H., Sirtl, C., Bellgardt, M. et al. Comfort of different types of ventilators in noninvasive ventilation. Crit Care 8 (Suppl 1), P12 (2004). https://doi.org/10.1186/cc2479
Published:

DOI: https://doi.org/10.1186/cc2479
Keywords
Continuous Positive Airway Pressure

Spontaneous Breathing

Pressure Support Ventilation

Ventilatory Mode

Noninvasive Ventilation