Relation between transdiaphragmatic pressure and oxygen consumption in patients with intestinal obstruction
Critical Care volume 6, Article number: P6 (2002)
Background and goals
Dysfunction of the diaphragm generally causes an additional load on other respiratory muscles [1]. It may be expressed by the increased oxygen cost of breathing and oxygen consumption (VO2) [2]. The increased abdominal pressure in patients with an intestinal obstruction may cause the dysfunction of the diaphragm.
Materials and methods
We studied the relation between VO2 and the end tidal transdiaphragmatic pressure (PdiET) in 16 patients with the diagnosis of an intestinal obstruction. The investigations were carried out after operation and before extubation. The average age of the patients was 41 ± 12. The same technique of anesthesia was performed in all patients. The APACHE II count was 22 ± 3. The device Capnomac Ultima- measured VO2.
Results
The relation between PdiET and VO2 are submitted in the Figure.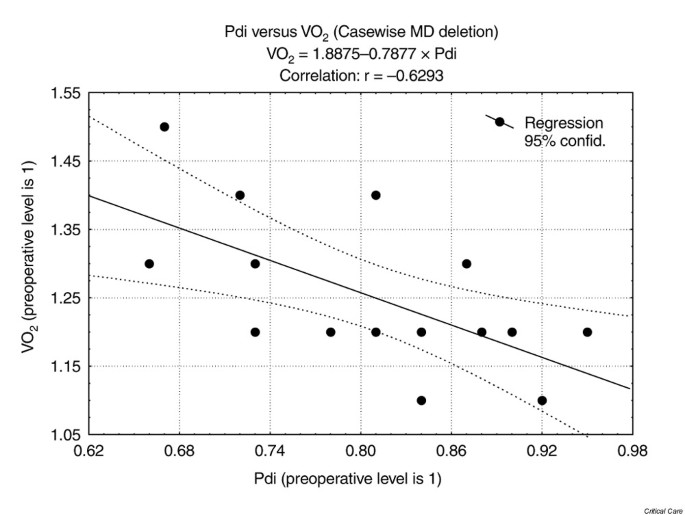 Conclusion
The patients with an intestinal obstruction demonstrate the moderate linear correlation (r = 0.63) between PdiET and VO2.
References
Green M, Maxham J: The respiratory muscles. Clin Sci. 1985, 68: 1-10.

Luce JM, Culver BH: Respiratory muscle function in health and disease. Chest. 1982, 81: 82-
About this article
Cite this article
Gubaidullin, R., Butrov, A. Relation between transdiaphragmatic pressure and oxygen consumption in patients with intestinal obstruction. Crit Care 6, P6 (2002). https://doi.org/10.1186/cc1761
Published:

DOI: https://doi.org/10.1186/cc1761
Keywords
Oxygen

Public Health

Oxygen Consumption

Emergency Medicine

Linear Correlation