Poster presentation

Open Access
Global longitudinal strain value for predicting left ventricular remodeling after primary percutaneous reperfusion therapy in acute myocardial infarction
Critical Care volume 19, Article number: P162 (2015)
Introduction
After an acute myocardial infarction with ST-segment elevation (STEMI) treated with percutaneous coronary intervention (PCI), the left ventricle (LV) can undergo negative remodeling (R-). We aimed to investigate whether global longitudinal strain (SGL) of the left ventricle (LV) predicts remodeling.
Methods
Transthoracic echocardiography with speckle tracking imaging (TTE-STI) was performed 2 to 3 days after primary PCI and 6 months later in patients with diagnosis of STEMI. LV R- criteria were: LVEF increase ≤5% and end-diastolic volume increase ≥15%. Logistic regression and ROC curve analysis was used for the statistical analysis.
Results
Eighty-three patients (56 ± 11 years) with STEMI at any LV localization and subjected to primary PCI were studied during 2012: LV R- patients (n = 35, 42%) and no LV R- patients (n = 48, 58%). Diabetes mellitus (41% vs. 19%; P < 0.001) and TnI levels (1.2 ± 2.1 μg/l vs. 0.4 ±0.3 μg/l; P = 0.005) showed higher incidence in LV R- patients. SGL was -12.5 ± 5.6% in no LV R- patients and -6.5 ± 3.4 in LV R- patients. In the regression analysis just LV SGL and SL in left anterior descending territory remained significant, OR: 1.85 (1.24 to 2.76) (P < 0.001) and OR: 1.63 (1.15 to 2.31) (P < 0.001), respectively. The analysis of ROC curves revealed that at the cutoff level of -12.46%, SGL identifies LV R- with a sensibility of 81% and a specificity of 86% (AUC = 0.88: 95% CI: 0.79 to 0.96; P < 0.001) (Figure 1).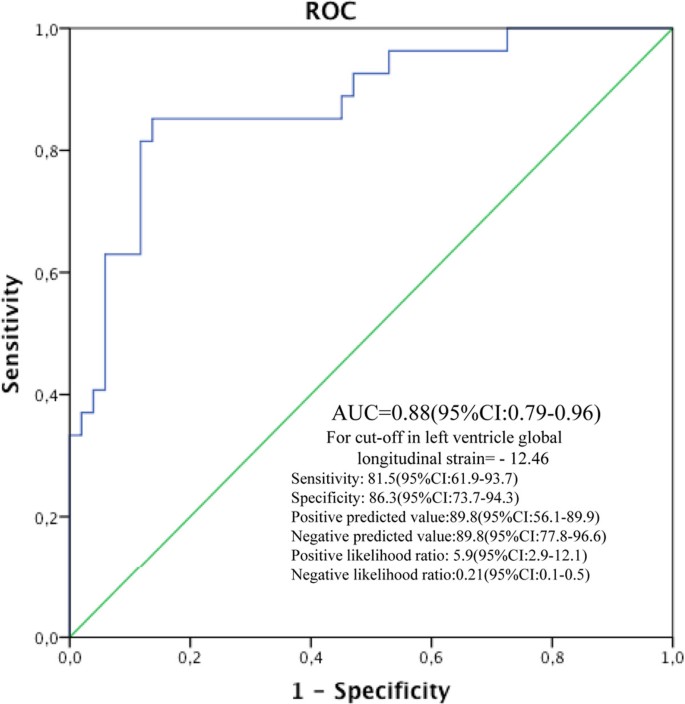 Conclusion
SGL assessment in the first days after primary PCI is useful in the prediction of LV R- independently of the myocardial infarction localization.
About this article
Cite this article
Jiménez, J., Iribarren, J., Lacalzada, J. et al. Global longitudinal strain value for predicting left ventricular remodeling after primary percutaneous reperfusion therapy in acute myocardial infarction. Crit Care 19 (Suppl 1), P162 (2015). https://doi.org/10.1186/cc14242
Published:

DOI: https://doi.org/10.1186/cc14242
Keywords
Left Ventricle

Percutaneous Coronary Intervention

Acute Myocardial Infarction

Transthoracic Echocardiography

Ventricular Remodel