Poster presentation

Open Access
Prevalence and clinical significance of early endotoxin activity in septic shock patients
Critical Care volume 19, Article number: P48 (2015)
Introduction
The endotoxin activity (EA) assay is a useful test to risk stratify critically ill patients and assess for Gram-negative (GN) infection. However, the prevalence and significance of early high levels of EA in patients with septic shock (SS) has yet to be elucidated.
Methods
We designed a prospective observational study including adult patients with clinically diagnosed SS. EA was measured on arterial blood by a chemiluminescent assay within the first 24 hours from SS diagnosis. The finding of an EA value ≥0.6 was used as the cutoff for test positivity, as described elsewhere. In addition, laboratory, microbiological and clinical data were collected at inclusion. In-hospital follow-up was also conducted.
Results
A total of 107 consecutive patients were included. The overall median EA was 0.56 (0.44 to 0.71), with 46/107 (43%) patients testing positive for elevated EA (≥0.6). GN species were identified in microbial cultures as the infective etiology in 49/107 (46%) patients, of which 28 (57%) developed bacteremia. GN infections were associated with higher levels of EA compared with other microbial causatives (0.61 (0.52 to 0.77) vs. 0.52 (0.38 to 0.64), P = 0.021). Patients with EA ≥0.6 showed significantly higher lactate levels (2 (1 to 3) vs. 3.8 (1.7 to 6.4), P = 0.01), Sequential Organ Failure Assessment (9 (6 to 12) vs. 10 (8 to 14), P = 0.04) and inotropic score (20 (5 to 50) vs. 50 (16 to 100), P = 0.003) at inclusion. See Figure 1.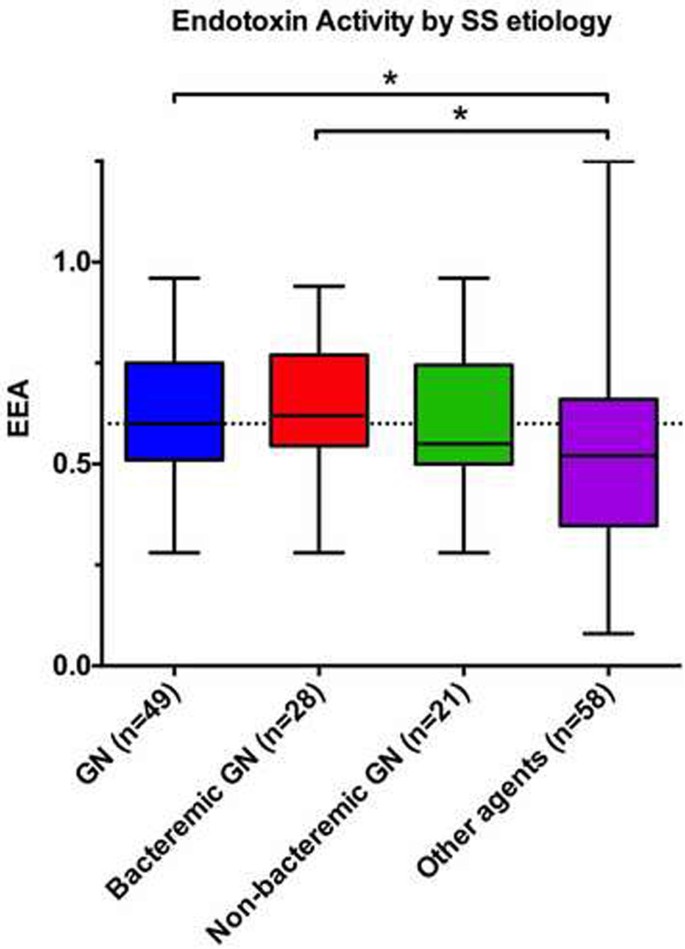 Conclusion
Elevated EA is a common finding in SS patients. In patients developing SS from a GN infection, higher levels of endotoxin activity could be measured within 24 hours. Furthermore, in our study, EA ≥0.6 identified a subgroup of subjects at greater risk for worse clinical outcomes. We therefore propose use of the EA assay for the early identification and risk stratification of SS patients.
About this article
Cite this article
Bottiroli, M., Pinciroli, R., Monti, G. et al. Prevalence and clinical significance of early endotoxin activity in septic shock patients. Crit Care 19 (Suppl 1), P48 (2015). https://doi.org/10.1186/cc14128
Published:

DOI: https://doi.org/10.1186/cc14128
Keywords
Septic Shock

Risk Stratification

Lactate Level

Sequential Organ Failure Assessment

Common Finding