Is early treatment of disseminated intravascular coagulation beneficial in septic patients?
We read with interest the recent issue of Critical Care, particularly the article by Gando and colleagues [1] about the validation of the scoring systems for disseminated intravascular coagulation (DIC). Mortality in patients with DIC according to diagnostic criteria of the Japanese Association of Acute Medicine (JAAM; 31.8%) was similar to that in patients with International Society of Thrombosis and Haemostasis (ISTH) overt-DIC (30.1%). A previous report [2] showed different results; mortality was significantly higher in patients with overt-DIC (34.4%) than in those with JAAM DIC (17.2%). The difference in the mortality between this report [1] and the previous report [2] may depend on not only the sensitivity of the diagnostic criteria, but also on the antithrombotic therapy (ATT).
Although most patients were considered to be treated with ATT at the early stage of DIC in this study [
1
], those treated in the other study [
2
] had late stage DIC [
3
]. As the presence of neutrophil extracellular traps [
4
] and hypercoagulation in DIC induce localization of infection, the administration of ATT may spread the infection. Therefore, ATT may worsen sepsis in the early stage of the disease while improving hemostatic abnormalities following organ failure in patients with severe sepsis. Overall, ATT may not improve the outcomes of patients with sepsis in the early stage, although it can potentially improve the outcomes of those with overt-DIC (Figure
1
). The timing of ATT may be too early in septic patients when using the JAAM diagnostic criteria and too late in those with ISTH overt-DIC.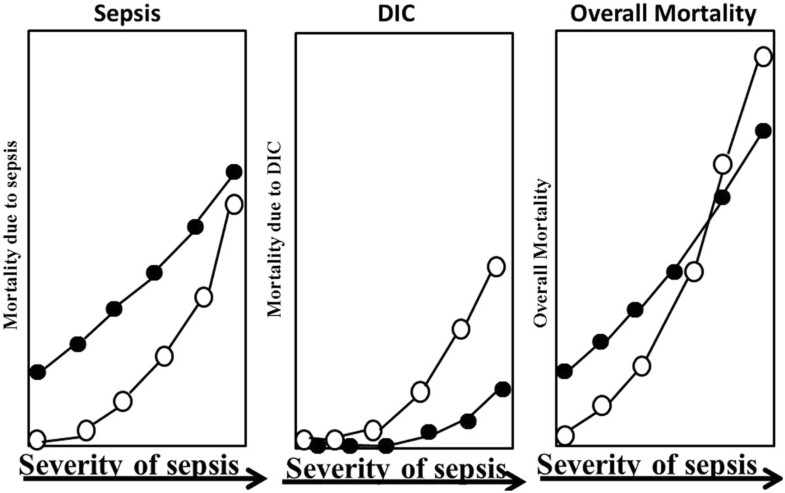 (1)
Department of Molecular and Laboratory Medicine, Mie University Graduate School of Medicine, Tsu, Mie 514-8507, Japan
(2)
Blood Transfusion Center, Mie University Hospital, Tsu, Mie 514-8507, Japan
(3)
Department of Hematology and Oncology, Mie University School of Medicine, Tsu, Mie 514-8507, Japan
(4)
Emergency Critical Care Center, Mie University Hospital, Tsu, Mie 514-8507, Japan
© Wada et al.; licensee BioMed Central Ltd. 2014
This article is published under license to BioMed Central Ltd. This is an Open Access article distributed under the terms of the Creative Commons Attribution License (http://creativecommons.org/licenses/by/4.0), which permits unrestricted use, distribution, and reproduction in any medium, provided the original work is properly credited. The Creative Commons Public Domain Dedication waiver (http://creativecommons.org/publicdomain/zero/1.0/) applies to the data made available in this article, unless otherwise stated.