Existing trial data do not support that hydroxyethyl starch is less harmful when given on more 'correct' indications
Published: 15 November 2013
Meybohm and colleagues hypothesise that so-called 'correct' administration of hydroxyethyl starch (HES) may be beneficial and may provide new guidelines for clinical use of HES, but this is not supported by trial data [
1
]. In contrast, subgrouping trials according to 'presumable correct indication' does not change the mortality estimate (see Figure
1
). There is also very little statistical heterogeneity (
I
2
) in the recent high-quality meta-analyses on HES indicating harmful effects independent of heterogeneity in trial design.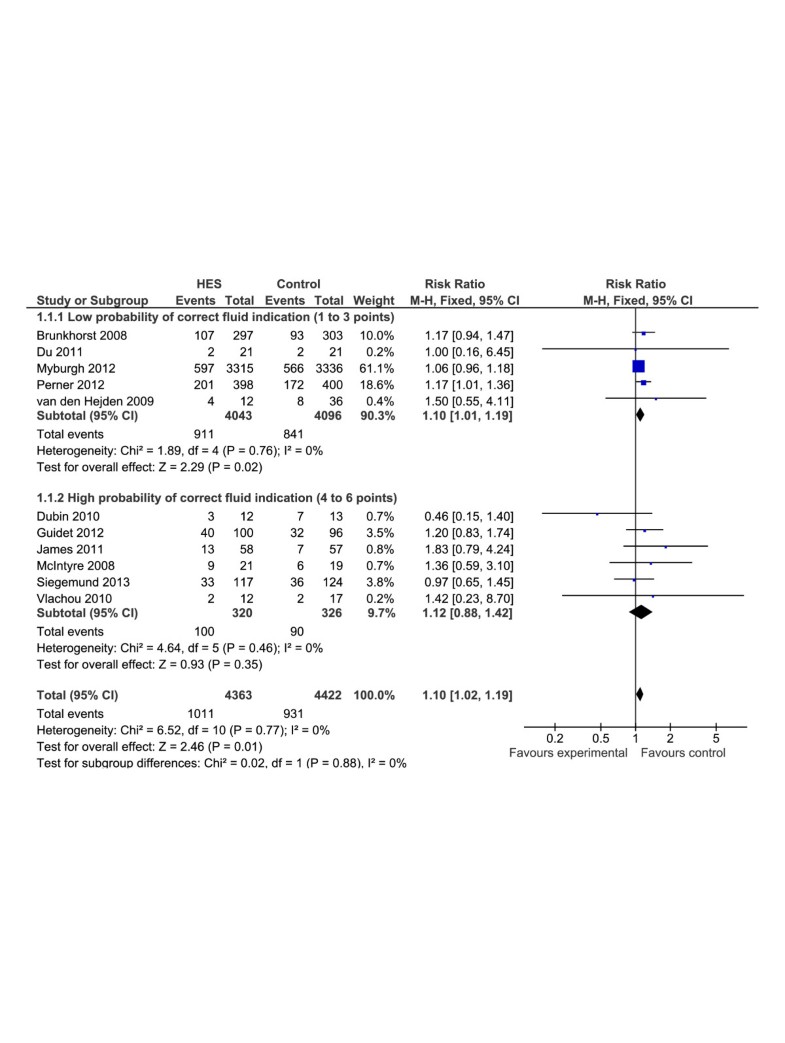 Several misinterpretations of the Scandinavian Starch for Severe Sepsis/Septic Shock trial publication [2] need correction. First, the exact dose of trial fluid was accounted for in 8,619 of 8,621 (99.98%) trial patient-days. The lack of fluid data after day 3 is thus due to early death or discharge from the ICU. Secondly, the amount of trial fluid did decrease over time because the percentages of patients who received trial fluid were 94%, 78% and 53% for days 1 to 3, respectively. In fact, the majority of trial fluid was given within the first 38 hours because day 1 only lasted 14 hours (median). Finally, we cannot see the claimed 'conflicts between study protocol specifications and published baseline data', which also must be a misunderstanding.
We strongly discourage clinical algorithms for HES use, which are not supported by data from high-quality trials and which are against the recommendations by independent, scientific and regulatory organs [3–5]. Such algorithms for HES use must undergo testing in trials with low risk of bias before critically ill patients are exposed to potential harm.
(1)
Department of Intensive Care, Copenhagen University Hospital – Rigshospitalet, DK-2100 Copenhagen, Denmark
© BioMed Central Ltd. 2013