Poster presentation

Open Access
Acute kidney injury decreases long-term survival over a 10-year observation period
Critical Care
2013
17(Suppl 4):P2
Published: 5 November 2013
Keywords
Acute Kidney InjuryCritical IllnessReferral HospitalDistant EventLower Survival Rate
Background
We hypothesized that one single episode of acute kidney injury (AKI) reduces long-term survival compared with no acute kidney injury (No AKI) following recovery from critical illness.
Materials and methods
A prospective cohort of 2,010 patients admitted to the ICU between 2000 and 2009 at a provincial referral hospital was followed to determine whether AKI influences long-term survival.
Results
Of the 1,844 eligible patients, 18.4% had AKI stage 1, 12.1% had stage 2, 26.5% had stage 3, and 43.0% had No AKI, using the KDIGO classification. The mean and median follow-up time was 8.1 and 8.7 years. The 28-day, 1-year, 5-year and 10-year survival rates were 59.6%, 44.9%, 37.4%, and 33.4%, in patients with any AKI (stage 1, stage 2, stage 3), which was significantly worse compared with the critically ill patients with no AKI at any time (
P
< 0.01). The adjusted 10-year mortality risk associated with AKI was 1.44 (95% CI = 1.2 to 1.7) among 28-day survivors. Patients who had mild AKI (stage 1) had significantly worse survival at 28 days, 1 year, 3 years, 5 years and 10 years compared with No AKI (
P
< 0.01) (Figure
1A
). Patients with sepsis and AKI who survived 28 days had significantly poorer 5-year and 10-year survival compared with nonseptic AKI (
P
< 0.01) (Figure
1B
).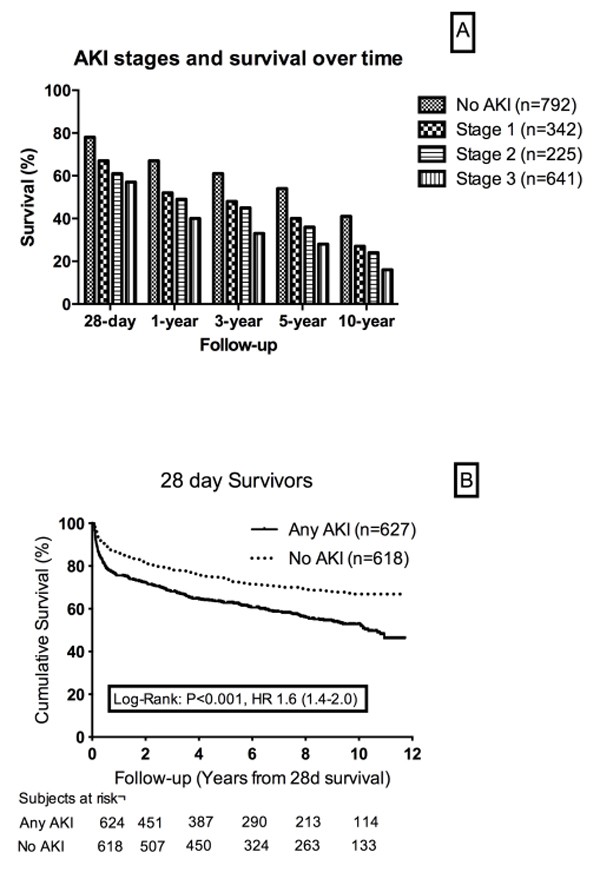 Conclusions
Patients with one episode of mild (stage 1) AKI have significantly lower survival rates over 10 years than critically ill patients without AKI. The causes and mechanisms of this association warrant further careful study. Close medical follow-up of these patients may be warranted and mechanistic research required understanding how AKI influences distant events.
Authors' Affiliations
(1)
Centre for Heart Lung Innovation, Division of Critical Care Medicine, University of British Columbia,St Paul's Hospital, Vancouver, Canada
(2)
Division of Nephrology, University of British Columbia,St Paul's Hospital, Vancouver, Canada
Copyright
© Linder et al.; licensee BioMed Central Ltd. 2013
This article is published under license to BioMed Central Ltd. This is an Open Access article distributed under the terms of the Creative Commons Attribution License (http://creativecommons.org/licenses/by/2.0), which permits unrestricted use, distribution, and reproduction in any medium, provided the original work is properly cited. The Creative Commons Public Domain Dedication waiver (http://creativecommons.org/publicdomain/zero/1.0/) applies to the data made available in this article, unless otherwise stated.