Algorithm-based management of bleeding in patients with extracorporeal membrane oxygenation
Pulmonary Embolism
Fibrinogen
Extracorporeal Membrane Oxygenation
Routine Laboratory Test
Heparin Therapy
We read with interest the paper published by Repressé and colleagues [1]. Coagulation management is a challenge during extracorporeal membrane oxygenation (ECMO) due to complex hemostatic and inflammatory responses associated with the underlying conditions that include infection, sepsis, surgery, and/or traumatic injury [2]. Repressé and colleagues present the first algorithm-based approach to bleeding in ECMO patients. However, additional perspectives are important to consider.
First, activated partial thromboplastin time or antiactivated factor × monitoring are routinely used to monitor heparin therapy in ECMO patients, despite intraindividual and inter-individual variability [
3
]. Rotational thromboelastometry (ROTEM
®
; TEM
®
International GmbH, Munich, Germany) is also increasingly used in the ICU to rapidly assess the coagulation status, including clotting factors, fibrinogen levels, and whole blood clotting [
4
]. Moreover, this test also facilitates fibrinolytic pathway evaluation, which cannot be easily explored by routine laboratory tests. We believe ROTEM
®
could be used to design an algorithm-based approach to bleeding in ECMO patients and follow fibrinogen consumption associated with hyperfibrinolysis, an important cause of bleeding. For this reason, anti-fibrinolytic agents should be considered in the multimodal approach (Figure
1
), an important point the authors omitted in their algorithm.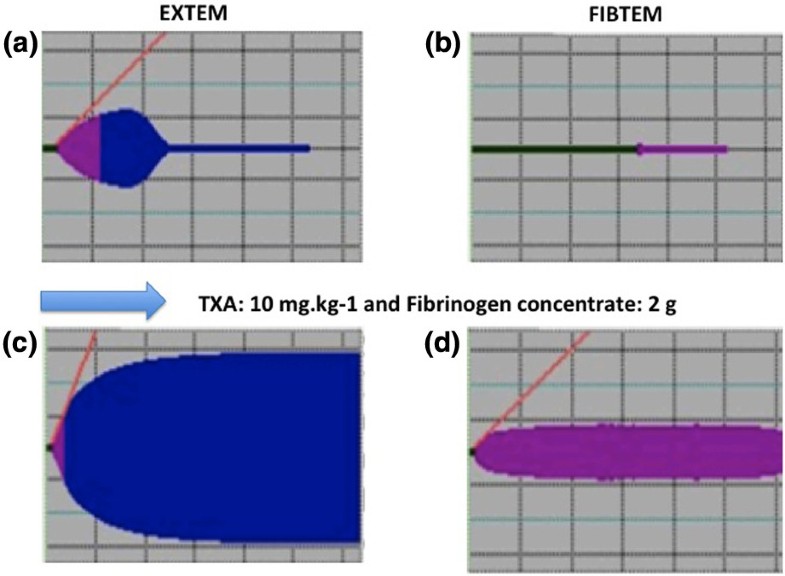 Second, adverse events including 32% venous thrombosis and a 2.5% incidence of fatal pulmonary embolism have already been reported in ECMO patients [5]. In another series, Combes and colleagues reported a 10% incidence of femoral vein and 7% incidence vena cava thrombosis [6]. Recombinant activated factor VII is associated with thromboembolic events [7] and should be used with caution until additional data help us evaluate the benefit-to-risk administration in bleeding ECMO patients.
ECMO:

extracorporeal membrane oxygenation
ROTEM:

rotational thromboelastometry.
(1)
Department of Anesthesiology, Queen Fabiola Children's University Hospital, 15 Avenue JJ Crocq, Brussels, B-1020, Belgium
(2)
Department of Anesthesiology and Intensive Care, Duke University School of Medicine, DUMC 3094, Durham, NC 27710, USA
© BioMed Central Ltd 2013