Clinical review: Neuromonitoring - an update
Published: 15 January 2013
Abstract
Critically ill patients are frequently at risk of neurological dysfunction as a result of primary neurological conditions or secondary insults. Determining which aspects of brain function are affected and how best to manage the neurological dysfunction can often be difficult and is complicated by the limited information that can be gained from clinical examination in such patients and the effects of therapies, notably sedation, on neurological function. Methods to measure and monitor brain function have evolved considerably in recent years and now play an important role in the evaluation and management of patients with brain injury. Importantly, no single technique is ideal for all patients and different variables will need to be monitored in different patients; in many patients, a combination of monitoring techniques will be needed. Although clinical studies support the physiologic feasibility and biologic plausibility of management based on information from various monitors, data supporting this concept from randomized trials are still required.
Keywords
Traumatic Brain InjuryCerebral Blood FlowCerebral Perfusion PressurePulsatility IndexTraumatic Brain Injury Patient
Introduction
The overall aims of neuromonitoring are to: 1) identify worsening neurological function and secondary cerebral insults that may benefit from specific treatment(s); 2) improve pathophysiological understanding of cerebral disease in critical illness; 3) provide clear physiological data to guide and individualize therapy; 4) assist with prognostication. In this article, we will outline the neuromonitoring techniques currently in use in critically ill patients and suggest how they should be best applied to help us care for such patients. We will focus on clinically available techniques and not discuss new approaches that are still largely in the research stage of development.
Pathophysiology of acute brain injury
The pathophysiology of acute brain injury is complex and can involve several secondary pathological cascades that contribute to aggravate neuronal injury (Figure
1
). The clinical rationale for neuromonitoring is to tailor therapy to patient-specific pathophysiology rather than to predefined thresholds or targets. It is thus important to briefly review some basic aspects of brain physiology to help understand the techniques and applications of neuromonitoring.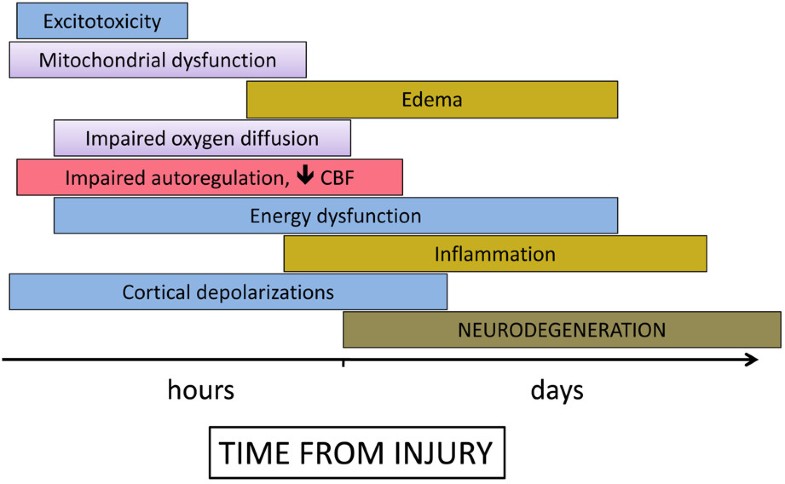 Cerebral metabolism
The human brain constitutes 2% of body weight, yet the energy-consuming processes that enable adequate brain function account for about 25% of total body energy expenditure and 20% of the oxygen consumption of the whole organism. Glucose is the main energy substrate of the brain and, given the low glycogen stores in the brain, brain glucose levels are highly dependent on blood glucose. Transport of glucose from the systemic circulation to the brain is a tightly regulated process mediated by specialized cell membrane glucose transporters (GLUT). Experimental and human studies show evidence of flow-metabolism uncoupling and increased glucose utilization after acute brain injury ('cerebral hyper-glycolysis'). Importantly, this can occur in the absence of low cerebral blood flow (CBF) and cerebral ischemia and may lead to a state of reduced availability of the main energy substrate (glucose) with a subsequent risk of cerebral energy dysfunction [1, 2]. However, hyperglycolysis also results in increased processing of glucose to pyruvate by astrocytes and conversion to lactate. Endogenous lactate, released in the extracellular space, can in turn be transferred, via specific monocarboxylate transporters, to neurons (a process known as the 'astrocyte-neuron lactate shuttle') [3]. Brain lactate may thus be used as an alternative aerobic energy substrate to glucose [4]. Indeed, studies in subarachnoid hemorrhage (SAH) patients suggest that a pattern of increased cerebral hyper-glycolytic lactate is associated with better outcome [5].
Cerebral blood flow, oxygen delivery and ischemia
Cerebral ischemia is a frequent cause of secondary brain injury [6]. In normal conditions, reduced systemic pressure triggers an active vasodilatory response that keeps cerebral blood flow (CBF) constant over a wide range of mean arterial pressures (MAPs), thereby preventing brain hypoperfusion (cerebral pressure autoregulation) [7]. In brain-injured patients, cerebrovascular reactivity may be impaired, and a decrease in MAP or cerebral perfusion pressure (CPP) may thus translate into reduced CBF and secondary ischemia [8].
Cerebral oxygen utilization is proportional to the product of CBF and the arterio-venous difference in oxygen content [9]. Mechanisms other than perfusion-limited ischemia (microvascular collapse, endothelial swelling, perivascular edema) may increase the diffusion gradient for oxygen between venous blood and brain tissue (PvO2-PbtO2), reduce cellular oxygen delivery and attenuate the ability of the brain to increase oxygen extraction fraction in response to reduced CBF [10].
Neurological examination of the ICU patient
Clinical neurological examination is a fundamental component of neuromonitoring and should take into account the effects of sedative drugs, which may markedly influence neurological responses. The degree of awareness should first be assessed. Clinical assessment is based mainly on evaluating eye and motor responses to verbal orders and noxious stimuli. The depth of coma can be evaluated by the Glasgow Coma Scale (GCS) [11] or the Full Outline of UnResponsiveness (FOUR) score [12], which includes assessment of the pupillary light and corneal reflexes and of the breathing pattern. Delirium is a fluctuating state characterized by altered attention, spatio-temporal disorientation, disorganized thinking and alteration of awareness. Delirious patients can be hypoactive, hyperactive or both alternately. The Confusion Assessment Method for the ICU (CAM-ICU) [13] or the ICU Delirium Screening Checklist (ICU DSC) [14] can be used to assess the presence and degree of delirium.
Neurological examination should then assess for neck stiffness, motor responses, plantar and deep tendon reflexes and cranial nerve functions. The presence of focal neurological signs should prompt brain imaging, which should also be considered, along with an electro-encephalogram (EEG), if there is no obvious cause for delirium or coma.
Integration of variables
A single monitoring technique may not fully describe the complex pathophysiological changes in the brain and the concept of multimodality monitoring, the simultaneous digital recording of multiple parameters of brain function, has been introduced [111]. Multicenter collaborations, such as BrainIT (Brain monitoring with Information Technology collaborative network) [112], have demonstrated that recording of many physiological variables across multiple patients is feasible and can provide new clinical insights [113]. Advanced statistical and mathematical tools can be applied to the large volumes of data obtained with the aim of identifying patterns of brain injury and providing clinicians with easier identification of specific targets [114]. Challenges in data integration and synchronization remain, but, ultimately, this concept should provide real-time, user-friendly advanced data analysis that, when applied at the bedside, could improve treatment.
Future trials
Neurological monitoring has developed rapidly over the past 25 years with widespread application of various monitors, but, although clinical studies suggest the physiological feasibility of this concept, there are still no published data from randomized trials to support that targeting any variables improves clinical outcome.
Neurocritical care research over the past 20 years has focused on the possibility that early pharmacological intervention might improve outcome, which has deflected attention from trials designed to answer simple questions about the everyday management of acute brain injury patients, such as optimum hemoglobin transfusion thresholds, hyperventilation, and arterial pressure management after hemorrhagic stroke, for example. More extensive availability and use of neuromonitoring technology should facilitate the development of large clinical trials networks to provide the infrastructure necessary to design and conduct studies to resolve some of these issues.
Conclusion
Monitoring of brain function in critically ill patients must begin with a careful clinical evaluation. Monitoring systems typically look at single variables and there is a need to integrate/combine systems in order to obtain a full and accurate assessment of the patient's condition so as to be able to select the most appropriate therapy. Importantly, neuromonitoring is a dynamic process and not a single measurement; the ability to follow changes over time is vital to assess response to therapy and predict prognosis. No monitor will, by itself, improve patient outcomes but wise interpretation of the data and integration of the information obtained into an individualized therapeutic plan should help optimize care of critically ill patients with brain injury.
Key messages
Monitoring of brain function should be considered in all comatose patients in the ICU.

Brain monitoring is centered on a careful clinical examination, although this can be limited in comatose and/or sedated patients.

The goals of neuromonitoring are to: identify worsening neurological function and secondary insults that may benefit from specific treatments; improve pathophysiological understanding of cerebral disease in critical illness; provide physiological data to guide and individualize therapy; assist in prognostication.

At present there is no 'ideal' single brain monitor; a combination of monitoring techniques may provide better insight into brain function than a single monitor used alone.

Trends over time and threshold values are both important when assessing brain function.

Clinical studies suggest the physiological feasibility and biological plausibility of management based on information from various monitors but data supporting this concept from randomized trials are still required.
Abbreviations
CBF:

cerebral blood flow
CMD:

cerebral microdialysis
CPP:

cerebral perfusion pressure
CSF:

cerebrospinal fluid
CT:

computed tomography
EEG:

electroencephalogram
GCS:

Glasgow Coma Scale
ICP:

intracranial pressure
MAP:

mean arterial pressure
MRI:

magnetic resonance imaging
PAV:

percent α trend variability
PbtO2:

brain tissue PO2
qEEG:

quantitative EEG
SAH:

subarachnoid hemorrhage
SjO2:

jugular oxygen saturation
SSEP:

somatosensory evoked potential
TBI:

traumatic brain injury
TCD:

transcranial Doppler
TDP:

thermal diffusion probe.
Authors' Affiliations
(1)
Milan University, Terapia Intensiva Neuroscienze,Fondazione IRCCS Ca' Granda, Ospedale Maggiore Policlinico, Milano, Italy
(2)
Department of Neurosurgery, University of Pennsylvania, Philadelphia, USA
(3)
Department of Neurosurgery,Los Angeles, David Geffen School of Medicine at UCLA, USA
(4)
Department of Critical Care Medicine, Faculty of Biology and Medicine,CH, CHUV-University Hospital,University of Lausanne, BH, Lausanne, Switzerland
(5)
Neuroanestesia e Neurorianimazione,H San Gerardo, Dipartimento di Medicina Perioperatoria e Terapie Intensive, Monza, Italy
(6)
Center for Clinical Brain Sciences, Critical Care and Pain Medicine,EH4 2XU, University of Edinburgh, Western General Hospital, Edinburgh, UK
(7)
Division of Neuroscience Critical Care, Meyer 8-140,MD, Johns Hopkins University School of Medicine, Baltimore, USA
(8)
Department of Intensive Care Medicine, Raymond Poincaré, Teaching Hospital and University of Versailles Saint-Quentin en Yvelines, Garches, France
(9)
Department of Intensive Care, Erasme Hospital, Université libre de Bruxelles, Brussels, Belgium
Copyright
© BioMed Central Ltd 2013