Poster presentation

Open Access
Differences in neurophysiologic effects between CPAP and a novel high-flow therapy system
Critical Care volume 16, Article number: P133 (2012)
Introduction
CPAP therapy for respiratory insufficiency is an established and accepted mode of therapy; however, patient compliance remains an issue. Recent studies have shown that high-flow therapy (HFT), which uses high flows of warmed and humidified air/O2 mixtures through a nasal cannula, can also be effective in treating respiratory insufficiency. Although a nasal cannula is commonly preferred over a CPAP mask, patient comfort with HFT and CPAP has not been measured empirically. We sought to examine the autonomic neurophysiologic responses as a measure of comfort between these therapies.
Methods
We used the Sensewear Armband (Bodymedia Inc., USA) to measure the Galvanic Skin Response (GSR) in 11 healthy volunteers (36 to 53 years). The 60-second averages of each test condition were made after 20 minutes of stabilization. Test conditions were pre and post baseline (no intervention), 10 cmH2O CPAP (Resmed, Sydney, Australia) and 15 LPM HFT (TNI, Würzburg, Germany) both in room air. Repeated ANOVA with P < 0.05.
Results
There were no statistically significant differences in GSR between pre and post baselines. CPAP produced an increase in GSR compared to both baselines (45%; P < 0.05) and to HFT (41%; P < 0.05). HFT produced no significant change in GSR compared to baseline. See Figure 1.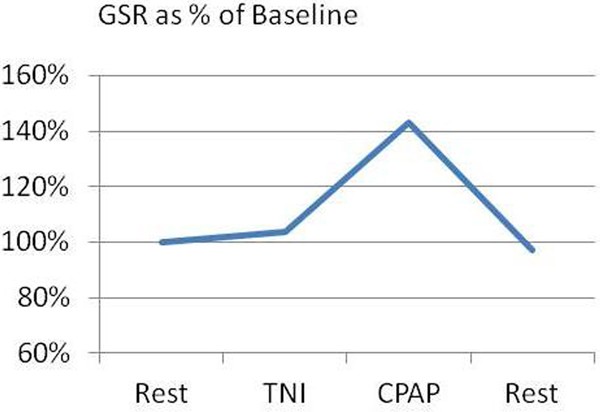 Conclusion
GSR is a measurement of the sympathetic component of the autonomic nervous system. It is commonly referred to as the 'Fight or Flight' response, and when elevated indicates a state of psychological or physiological stress. Our data suggest that CPAP produces an increase in the GSR compared to rest, whilst TNI therapy produces no change in GSR compared to rest. This increased stress may lead to lower patient compliance when using CPAP therapy compared to TNI therapy, which has very high patient compliance rates.
Rights and permissions
This article is licensed under a Creative Commons Attribution 4.0 International License, which permits use, sharing, adaptation, distribution and reproduction in any medium or format, as long as you give appropriate credit to the original author(s) and the source, provide a link to the Creative Commons licence, and indicate if changes were made. The images or other third party material in this article are included in the article's Creative Commons licence, unless indicated otherwise in a credit line to the material. If material is not included in the article's Creative Commons licence and your intended use is not permitted by statutory regulation or exceeds the permitted use, you will need to obtain permission directly from the copyright holder. To view a copy of this licence, visit http://creativecommons.org/licenses/by/4.0/. The Creative Commons Public Domain Dedication waiver (http://creativecommons.org/publicdomain/zero/1.0/) applies to the data made available in this article, unless otherwise stated in a credit line to the data.
About this article
Cite this article
Tiffin, N., Connelly, S. Differences in neurophysiologic effects between CPAP and a novel high-flow therapy system. Crit Care 16 (Suppl 1), P133 (2012). https://doi.org/10.1186/cc10740
Published:

DOI: https://doi.org/10.1186/cc10740
Keywords
Autonomic Nervous System

Patient Compliance

Compliance Rate

Respiratory Insufficiency

Patient Comfort