Clinical review: Intrapericardial fibrinolysis in management of purulent pericarditis
Abstract
Purulent pericarditis (PP) is a potentially life-threatening disease. Reported mortality rates are between 20 and 30%. Constrictive pericarditis occurs over the course of PP in at least 3.5% of cases. The frequency of persistent PP (chronic or recurrent purulent pericardial effusion occurring despite drainage and adequate antibiotherapy) is unknown because this entity was not previously classified as a complication of PP. No consensus exists on the optimal management of PP. Nevertheless, the cornerstone of PP management is complete eradication of the focus of infection. In retrospective studies, compared to simple drainage, systematic pericardiectomy provided a prevention of constrictive pericarditis with better clinical outcome. Because of potential morbidity associated with pericardiectomy, intrapericardial fibrinolysis has been proposed as a less invasive method for prevention of persistent PP and constrictive pericarditis. Experimental data demonstrate that fibrin formation, which occurs during the first week of the disease, is an essential step in the evolution to constrictive pericarditis and persistent PP. We reviewed the literature using the MEDLINE database. We evaluated the clinical efficacy, outcome, and complications of pericardial fibrinolysis. Seventy-four cases of fibrinolysis in PP were analysed. Pericarditis of tuberculous origin were excluded. Among the 40 included cases, only two treated by late fibrinolysis encountered failure requiring pericardiectomy. No patient encountered clinical or echocardiographic features of constriction during follow-up. Only one serious complication was described. Despite the lack of definitive evidence, potential benefits of fibrinolysis as a less invasive alternative to surgery in the management of PP seem promising. Early consideration should be given to fibrinolysis in order to prevent both constrictive and persistent PP. Nevertheless, in case of failure of fibrinolysis, pericardiectomy remains the primary option for complete eradication of infection.
Keywords
Pericardial EffusionPericarditisCardiac TamponadeComplete EradicationConstrictive Pericarditis
Introduction
Purulent pericarditis (PP) usually occurs in the compromised host [
1
]. Predisposing factors have changed over time. Pneumonia was the primary source of infection for the majority of patients (72%) in the pre-antibiotic era, compared with only 22% of patients in the post-antibiotic era [
2
]. Nowadays, most cases of PP are healthcare associated. Bloodstream infections or underlying non-infectious conditions such as thoracic surgery, chronic kidney disease, immunosuppression, or malignancy (Table
1
) are new predisposing factors.
Table 1
Classification of purulent pericarditis according to source of infecting organism
| | |
| --- | --- |
| I | Infection by contiguous spread from a pleural, mediastinal or pulmonary focus |
| II | Infection by contiguous spread of intracardiac infection |
| III | Infection following systemic bacteraemia |
| IV | Infection with contiguous spread from a postoperative infection |
| V | Infection following a subdiaphragmatic suppurative lesion |
Despite medical progress, PP is still associated with high mortality (20 to 30%) attributed to both early and late complications, namely persistent PP and constrictive pericarditis [1, 2]. These late complications may be prevented by early pericardiectomy, a surgical procedure known for its potential morbidity. Twenty years ago, intrapericardial fibrinolysis emerged as a promising alternative to surgery. Nevertheless, there is no consensus about its indication.
The history, pathophysiology, complications and surgical management of PP are described. In light of the physiological and histological data, we review the rationale of fibrinolysis in PP, the evidence for its efficacy, and all publications on indications, timing, results, and complications.
Methods
We searched for reported case series of PP managed with fibrinolysis. We reviewed the MEDLINE database since 1951. The following keywords were used: 'purulent pericarditis', 'infectious pericarditis', 'constrictive pericarditis', 'fibrinolysis', 'streptokinase' (SK), 'urokinase' (UK), 'tissue plasminogen activator' (tPA), and 'pericarditis'. We reviewed only English-language literature. We found 134 cases including 94 cases reported in one single study, providing pooled results of 60 tuberculous pericarditis patients and 34 PP patients. As patients with tuberculous pericarditis were excluded, only 74 cases were finally considered. As the specific outcome of the 34 PP cases was not available, our outcome analysis only focused on the 40 remaining cases [3].
Information related to modalities of administration, complications, and outcome of fibrinolysis was collected.
Definitions and aetiologic classification
PP is defined as a neutrophilic pericardial effusion infected by a bacterial, fungal, or parasitic agent. Tuberculous pericarditis is a lymphocytic effusion. Classification of PP comprises five aetiologic entities (Table 1) [1, 4]. The advent of antibiotics has changed epidemiological and aetiopathogenic features. The median age of patients has increased from 21 to 49 years [2], whereas the overall frequency of PP has decreased. Before the antibiotic era, PP accounted for 40% of all cases of acute pericarditis and was related to the contiguous spread of lung infections in 72% of cases. Nowadays, pneumonia remains the primary source of infection in only 22% of cases while PP is mainly associated with healthcare and bloodstream infections [1, 2, 5]. For instance, oesophageal and cardiothoracic surgeries can be responsible for the direct inoculation of the pericardial space whereas immunosuppressive therapy, dialysis, and chemotherapy are relatively recent predisposing conditions [2, 4].
Diagnosis
The only way to diagnose PP is to obtain pericardial fluid for microbiological culture and direct microscopic examination. In a context of pneumonia, transthoracic echocardiography or computed tomography scan of the chest may disclose complications such as pleural empyema or pericardial effusion [
6
,
7
] (Figure
1
). Interestingly, PP may have an insidious presentation without pericardial signs until occurrence of cardiac tamponade [
2
,
4
,
8
,
9
] (Table
2
). Indeed, in a postmortem series by Klacsmann and colleagues, among 55 cases of PP only 10 cases had been suspected and diagnosed ante mortem [
1
]. Poor diagnostic performance of the condition results in late diagnosis, at an advanced stage, after onset of pericardial adhesions [
10
].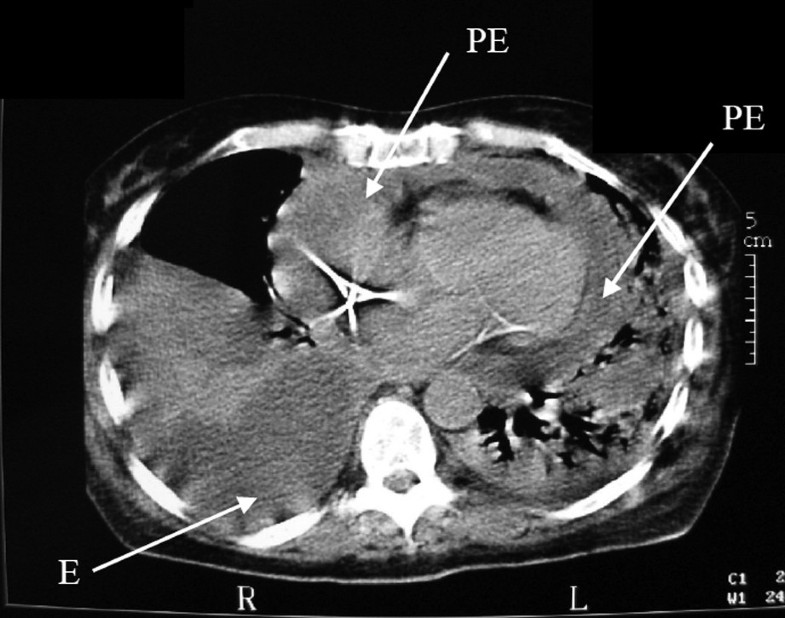 Table 2
Clinical features and complications of purulent pericarditis (from [2])
| | |
| --- | --- |
| Clinical feature | |
|    Duration of symptoms before presentation (days) | 7 ± 3 |
|    Chest pain | 31 |
|    Fever | 85 |
|    Pericardial friction rub | 33 |
|    Electrocardiographic abnormalities | 45 |
| Complication | |
|    Death | 29 |
|    Cardiac tamponade | 15 |
Complications
PP may lead to cardiac tamponade and septic shock. The treatment of these conditions has no specificity. On the contrary, constrictive pericarditis and persistent PP - two late-stage complications - imply specific considerations and management [1, 4].
Constrictive pericarditis is defined by the thickening and fusion of the pericardium causing low pericardial compliance and right heart failure. Haemodynamic compromise and low cardiac output may ensue because of adiastoly or impaired cardiac filling. Pericardial fibrosis is caused by chronic/subacute inflammation inducing fibroblast proliferation and collagen deposition. Two large reviews found the same frequency of 3.5% for constrictive pericarditis during the course of PP [2, 11]. In one smaller study with long-term follow-up, however, constrictive pericarditis occurred in 57% of cases, with few cases occurring during the first year.
We propose an original definition for persistent PP. This entity is defined by a chronic or recurrent purulent pericardial effusion occurring despite drainage and adequate antibiotherapy. This feature is well described in case reports. Persistence of PP is associated with occurrence of pericardial adhesions and loculation of pericardial effusion due to the presence of thick fibrin clots preventing complete evacuation of pus through pericardial drains or pericardiostomy [12–17]. Purulent discharge persists during several weeks and may lead to death due to septic shock or tamponade. At the stage of persistent PP, pericardiectomy is challenging and associated with high morbidity because of pericardial adherences and areas of fusion. Moreover, patients present with impaired general status [12–17]. Interestingly, this entity has not been previously defined or classified as a late complication of PP, resulting in a lack of epidemiological data. Finally, because of chronic inflammation, persistent PP may promote constrictive pericarditis. Nevertheless, these two entities have distinct clinical and pathophysiological features.
Pathophysiology of purulent pericarditis and of its complications
PP shares pathophysiological similarities with empyema. In the case of empyema, the contiguous spread of pneumonia causes pleural mesothelial barrier dysfunction leading to exudative pleural effusion [18]. The second step is bacterial invasion, which attracts leucocytes. Activated leucocytes promote coagulation, resulting in fibrin formation [19]. Fibrin deposits are responsible for pleural adhesion, thickening, and loculation of effusion, therefore preventing easy drainage and antibiotic diffusion. When the process is prolonged, inflammation leads to fibrosis due to collagen secretion.
Experimental models argue for a similar pathophysiological process in PP, leading from pericardial inflammation to pericardial adhesion and fibrosis [20, 21]. These studies indicate that pericardial loculation and intrapericardial fibrosis may occur respectively 1 week and 2 weeks after onset of the disease [20, 21].
Furthermore, these studies show that fibrin formation is the cornerstone in the pathogenesis of both persistent PP and constrictive pericarditis. Fibrin may thus be a target in the management of PP.
General management, surgery and fibrinolysis
General medico-surgical management
Management of PP requires a combined surgical and medical approach with complete drainage of the effusion and complementary antibiotherapy. Antibiotic regimen is initially empirical and should target Staphylococcus aureus. Anaerobes and Gram-negative bacteria should be targeted in case of a digestive origin [22, 23]. In recently hospitalised patients, methicillin-resistant Staphylococcus should be considered [23]. Considering the lack of guidelines on the duration of antibiotherapy in PP and by analogy with empyema, a treatment of at least 3 weeks seems reasonable [24]. Moreover, antibiotherapy should be maintained until removal of the focus of infection, and until improvement of clinical and biological signs.
Surgery
Until 1941 the mortality of PP was estimated to be 100% in untreated cases. Pericardiostomy decreased mortality to about 50%, and to 30% when associated with antibiotics [
17
]. Eradication of infected pericardial fluid is the cornerstone of PP therapy, although the way to obtain eradication remains controversial (Table
3
) [
25
]. Guidelines from the European Society of Cardiology make the following statement: 'Frequent irrigation of the pericardial cavity with UK or SK, using large catheters, may liquefy the purulent exudate, but open surgical drainage through subxiphoid pericardiotomy is preferable' [
26
]. Because of loculations and adhesions, simple evacuation by surgical or percutaneous drainage may not prevent constrictive pericarditis or persistent PP [
25
,
27
–
29
]. To avoid these complications, invasive surgical treatment has been advocated. In a retrospective series, partial pericardial resection or total pericardiectomy seem to be associated with a better outcome than simple pericardial drainage [
4
,
10
,
25
,
27
,
29
] (Table
4
). Taken together these studies suggest a curative role of pericardiectomy by achieving complete eradication of the infection and a role in preventing persistent PP and constrictive pericarditis.
Table 3
Different surgical modalities for pericardial effusion evacuation
| | |
| --- | --- |
| I | Subxiphoid percutaneous catheter |
| II | Subxiphoid tube drain |
| III | Subxiphoid tube or percutaneous catheter and fibrinolysis |
| IV | Pericardial window and pleural drain |
| V | Partial pericardiectomy with pericardial tube |
| VI | Anterior interphrenic pericardiectomy |
| VII | Total pericardiectomy |
Despite these convincing data, physicians are reluctant to perform preventive surgery associated with potential serious complications. Nevertheless, this procedure could be easier early in the disease, before apparition of adhesions. Furthermore, operative mortality is related to the preoperative disability of patients [30, 31] and haemodynamic compromise is rarely observed at an early stage. Some authors therefore advocate a systematic early preventive pericardiectomy [32].
Fibrinolysis
Intrapericardial fibrinolysis, a less invasive procedure, has been proposed as an alternative to surgery for PP management. The objective of fibrinolysis is to target fibrin formation, to optimise evacuation of a thick fluid, and therefore to prevent both persistent PP and constrictive pericarditis.
Conclusion
PP managed with simple pericardial drainage may evolve to constrictive and persistent PP. Despite the lack of definitive evidence, intrapericardial fibrinolysis may be an alternative to pericardiectomy as a treatment for PP and for prevention of persistent PP and constrictive pericarditis. Clinical and experimental data demonstrate that features of irreversible fibrosis may appear after 2 weeks. Considering that diagnosis of PP is often delayed, early consideration should therefore be given to fibrinolysis to ensure optimal efficacy. Complications of intrapericardial fibrinolysis have only exceptionally been reported. Physicians should thus not be reluctant to apply this promising technique. Nevertheless, in cases of failure of fibrinolysis, pericardiectomy remains the primary option to consider for complete eradication of infection and prevention of persistent PP and constrictive pericarditis.
Abbreviations
PP:

purulent pericarditis
RCT:

randomised controlled trial
SK:

streptokinase
tPA:

tissue plasminogen activator
UK:

urokinase.
Authors' Affiliations
(1)
Département d'Anesthésie et Réanimation Chirurgicale,d, Assistance Publique - Hôpitaux de paris, Paris 7 University (Denis Diderot), Hôpital Bichat Claude Bernar, Paris Cedex, France
(2)
Department of Thoracic Surgery,, Assistance Publique - Hôpitaux de paris, Paris 7 University (Denis Diderot), Hôpital Bichat-Claude Bernard, Paris Cedex 18, France
Copyright
© BioMed Central Ltd 2011