Poster presentation

Open Access
Procalcitonin is a powerful predictor of outcome after cardiopulmonary resuscitation
Critical Care volume 11, Article number: P325 (2007)
Introduction
We evaluated the time course and relationship of proinflammatory cytokines and procalcitonin (PCT) serum levels after cardiopulmonary resuscitation (CPR). We hypothesized that an increase of cytokine levels would precede a marked increase in PCT levels and that PCT would be the best predictor of the final neurologic outcome.
Methods
Data were prospectively collected from 71 patients. Blood samples were taken after admission to the hospital and after 6, 12, 24, 72 and 120 hours. PCT, IL-6, IL-8 and TNFα levels were measured using automated assays. On day 14 patients were divided into two neurologic outcome groups according to the Cerebral Performance Categories (CPC 1–3: bad; CPC 4–5: good). Differences between groups were evaluated using a t test. ROC curves were computed to analyze the predictive value of the markers for a bad outcome.
Results
There was an early and significant increase in TNFα, IL-6 and IL-8 after admission to the hospital (14.4 ± 5.2, 185 ± 248 and 89 ± 81 μg/l) and in the ensuing 6 hours (15.6 ± 8.7, 209 ± 239 and 176 ± 232 μg/l) in patients with bad neurologic outcome. Initially, PCT levels were indistinguishable between the groups; however, a striking increase was observed in patients with bad neurologic outcome peaking after 24 hours (16.7 ± 30.0 vs 6.9 ± 2.1 μg/l; P < 0.013). PCT values after 24 hours were the best predictor for a bad neurologic outcome with an area under the curve of 0.91 (cutoff value: 0.44; sensitivity 100%/specificity 62%).
Conclusion
TNFα, IL-6 and IL-8 serum levels are significantly elevated in the early phase after successful CPR in patients with bad neurological outcome. PCT increases are subsequently found and have a high prognostic value for the neurologic outcome.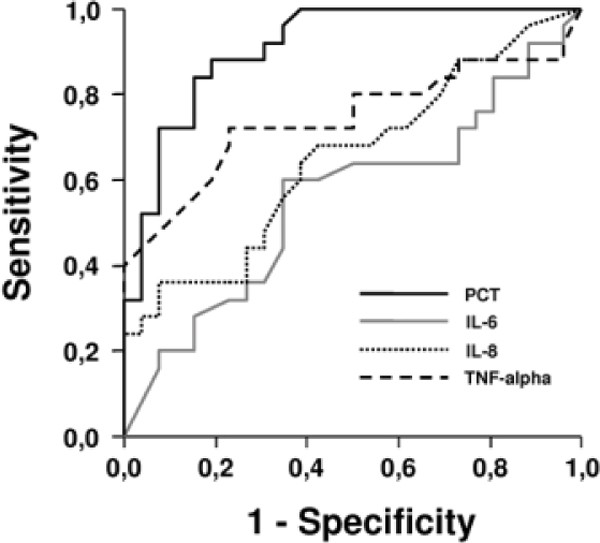 About this article
Cite this article
Stoppe, C., Brücken, D., Bickenbach, J. et al. Procalcitonin is a powerful predictor of outcome after cardiopulmonary resuscitation. Crit Care 11, P325 (2007). https://doi.org/10.1186/cc5485
Keywords
Proinflammatory Cytokine

Good Predictor

Cytokine Level

Performance Category

Neurologic Outcome