Relationship between oxygen extraction (OER) and age in septic patients
Critical Care volume 3, Article number: P143 (2000)
Introduction
A pathologic dependency between oxygen consumption (VO2) and oxygen transport (DO2) is characteristic of septic patients. Septic state appears to be associated with a defect in oxygen extraction (OER = VO2/DO2), causes possible cellular hypoxia, mitochondrial dysfunction and development of multiple organ failure. We studied the relationship between the mean OER and age in septic patients in a 12-bed ICU.
Methods
We investigated 53 septic patients (age range 20–93 years), invasively monitored in a descriptive study. DO2, VO2 and OR were obtained in each patient in triplicate during the first 24 h of sepsis diagnosis. Cardiac output (CO) was determined during thermodilution. Lactate concentrations were obtained in 46/53 patients (86%) and were elevated in 39%.
Results
We obtained a significant increase of the mean OER (r = 0.30; P = 0.027, two-tailed) in elderly septic patients. We noted also a significant decrease of DO2 (P < 0.0001) and VO2 (P = 0.004) in relation with age. No significant modifications were demonstrated with venous saturation of O2 (SvO2, P = 0.16), arterial saturation of O2 (SaO2; P = 0.7), hemoglobin concentration ([Hb], P = 0.56) and CO (P = 0.2)] in relation with age.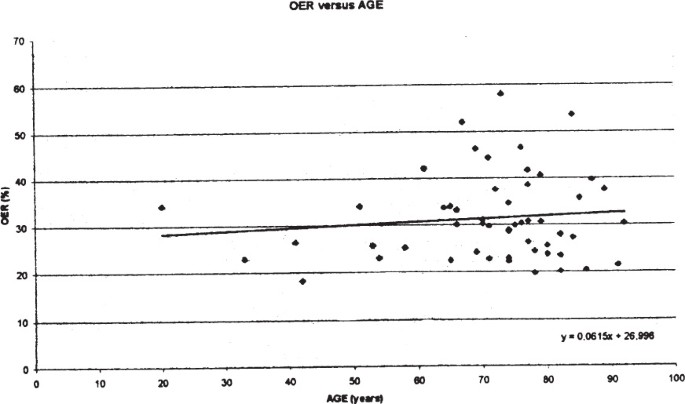 Conclusion
In this descriptive study, mean OER increases in elderly septic patients. These results are probably explained by the decrease of DO2 and VO2 in relation with age.
About this article
Cite this article
Piagnerelli, M., Carlier, E., Jamart, S. et al. Relationship between oxygen extraction (OER) and age in septic patients. Crit Care 3 (Suppl 1), P143 (2000). https://doi.org/10.1186/cc517
Published:

DOI: https://doi.org/10.1186/cc517
Keywords