Intravenous paracetamol (Prodafalgan) causes hypotension in critically ill patients
Critical Care volume 8, Article number: P244 (2004)
7132 Accesses

2 Citations
Introduction
Some critically ill patients cannot absorb enteral medications. We noted that intravenous (IV) Prodafalgan (PRDFG), a recently introduced parenteral bioprecursor of paracetamol, caused hypotension. A prospective study was conducted.
Methods
The population was ICU patients requiring IV PRDFG (rectal temperature ≥ 38°C, no enteral route). PRDFG (2 g) was infused over 15–20 min. The temperature, heart rate, systolic/diastolic blood pressure and mean blood pressure (MAP) were recorded before, during and 15–120 min following infusion. Interventions to correct hypotension were recorded.
Results
Seventy-two events, in 14 patients, of PRDFG administration were recorded. MAP dropped significantly 15 min following PRDFG infusion. Initiation or increase of noradrenaline occurred in 25% of the events and fluid bolus was given in 8%.
Conclusions
PRDFG caused significant hypotension, requiring active intervention in 33% of the events. This data substantiated the anecdotal knowledge on the relationship between paracetamol (acetaminophen) and hypotension in the critically ill and associated it with the IV preparation.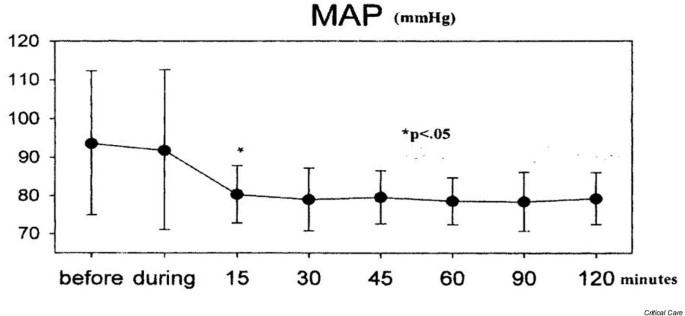 About this article
Cite this article
Hersch, M., Kanter, L., Gurevitz, M. et al. Intravenous paracetamol (Prodafalgan) causes hypotension in critically ill patients. Crit Care 8 (Suppl 1), P244 (2004). https://doi.org/10.1186/cc2711
Published:

DOI: https://doi.org/10.1186/cc2711
Keywords