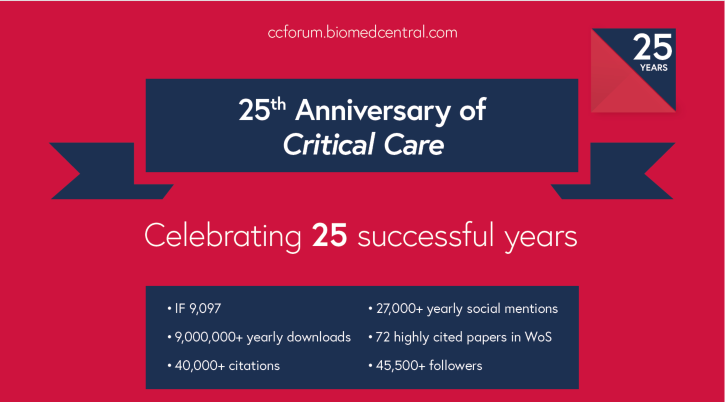 2022 marks the 25th anniversary of Critical Care.
Critical Care was launched in 1997 with the aim to support the development of new ideas and to be at the forefront of advancements in the field. Since its very beginning, it aimed at being innovative becoming a very early supporter of OA and the first fully OA in the field. Thanks to its Editors able to attract outstanding authors in the field, controversial and innovative topics, and highly experienced reviewers to provide comprehensive feedback to submitted manuscripts, in 25-year history Critical Care has developed into a highly respected and well-read journal with a good reputation among researchers and specialists in the field. With an IF(2020)=9.097, it is the 6th ranking journal in the WoS Critical Care Medicine subject category, the 1st ranking OA journal, and one of the most highly accessed and submitted journals at BMC, in what is a relatively new but rapidly growing field.
On this occasion we wish to thank the scientific community for the continuous support. We are especially thankful to the Editor-in-Chief, the Associate Editors, and the expert reviewers who generously contributed their talent and time to make Critical Care one of the most prestigious journals in its field. Last but not least, we are thankful to the broader readership that helped raise critical care awareness.
In the past 25 years, the journal has published novel, up-to-date studies contributing to improve the care of critically ill patients by acquiring, discussing, distributing and promoting scientific content that remains relevant to intensivists.
Now we're looking back at the great milestone achievements and highlights that have made Critical Care the field's leading journal, as it is today.